Can you customize your character in Pokémon Sword and Shield?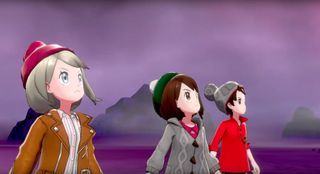 Can you customize your character in Pokémon Sword and Shield?
Best Answer: Yes, you'll be able to choose from eight different character options, and you'll also eventually be able to change clothes and accessories. You will also be able to customize your hair color and style, and your eye color between several different options.Canine steel: Pokémon Sword (opens in new tab) ($60 pre-order at Amazon)Wolf guard : Pokémon Shield (opens in new tab) ($60 pre-order at Amazon)Twin Wolf: Pokémon Sword and Shield Double Pack ($120 at Nintendo)
How customizable is my character?
You're able to choose between eight different looks off the bat, but there are also salons in various cities in which you can choose between many different hair colors and styles, as well as contacts to change your eye color. The overall facial shape is the same for all male characters, and again for all female characters.
Can I change my character's clothes?
Players are able to don a variety of shirts, pants, shorts, hats, socks, shoes, jackets, and bags in-game. Each city carries different clothes and accessories so you're going to want to shop around whenever you discover a new place. However, each new outfit comes with an in-game price tag, so many players may only purchase one or two favorite outfits while saving the rest of their Pokécoins for things more important to gameplay.
Making a unique look for Max Battle Raids
Being able to change the look of your character is going to be a bit more important in Sword and Shield compared to past games because of multiplayer co-op when doing Max Battle Raids. You'll want your character to stand out! Fortunately, Sword and Shield offers plenty of options, so each character can truly look unique.
As silly as it might sound, being able to customize the look and outfit of my character is a big draw for me. I spent a long time mixing and matching outfits to get the perfect look. Then I spent even more time picking the perfect hair color and style. If not thing else, having some say in what your character looks like makes you feel more connected to the game you're playing.
Canine steel
(opens in new tab)
Explore the Galar region in Pokémon Gen 8

During your journey, you'll encounter new and familiar Pokémon, battle gym leaders, use new fighting styles, and discover a brand new plot. Purchasing Pokémon Sword gives players the ability to encounter and potentially catch the legendary Pokémon Zacian.
Wolf guard
(opens in new tab)
Capture familiar and new Pokémon in Gen 8

As you explore the Galar region, you'll come across former Pokémon favorites and meet new faces. This game includes a new multiplayer co-op raid mode and the ability to fight with the new Dynamax combat style. Eventually, you'll get the chance to capture Zamazenta, the legendary Pokémon.
Twin Wolf
Pokémon Sword and Shield Double Pack
Get both games to catch them all

If you're looking to buy both games, you might as well get the double pack. That way, you'll have the opportunity to capture all Pokemon even if they are exclusive to one game or the other. Having both also allows you to catch both legendary Pokemon, Zamazenta and Zacian
Rebecca Spear is the dedicated gaming editor for iMore who loves playing games on Switch and iOS. She is a Zelda nut through and through and can also talk for hours about her favorite Pokémon games. She's written hundreds of guides and reviews over the last six years to the point that if you get stuck in a game somewhere, she can help you out. On any given day, you'll find her following the latest tech, digitally drawing with her iPad Air and Apple Pencil, reading a good book, or - you guessed it - playing video games. Follow her on Twitter @rrspear (opens in new tab) to see her post about her corgi, foster kitties, art, and favorite video game characters.
Get the best of iMore in in your inbox, every day!
Thank you for signing up to iMore. You will receive a verification email shortly.
There was a problem. Please refresh the page and try again.