Can't delete photo albums on your iPhone or iPad? Here's why!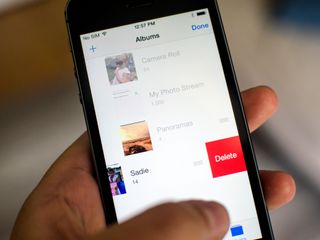 The Photos app that comes built-in to every iPhone and iPad not only lets you edit photos, it also lets you organize them into albums.
However, some iPhone and iPad users seem to experience some confusion when it comes to managing albums. Mainly, they can't figure out why some albums can be deleted, while others can't. If you're one of these people, or you just want to better understand how the Photos app works, here's what you need to know!
While most of us sync our data with iCloud these days, it's still safe to assume that some of us also sync with iTunes in order to manage older photos, videos, and media types.
If this is something you do, it explains why photo albums are causing you problems. Here's a breakdown of what you can and can't delete within the Photos app of your iPhone or iPad!
Photo albums created in iOS
If you created an album in iOS by tapping on the plus sign, naming it, and then adding photos to it, you can easily tap edit and delete that entire album whenever you'd like.
Deleting the album will not delete the photos from your iPhone or iPad. It only deletes that album. The photos themselves will remain in collections, other albums, and in Photo Stream!
Photo albums automatically generated in iOS
Newer versions of iOS automatically sort some types of photos into albums for you. For example, slo-mo videos can all be found in one album, as can panorama shots or regular videos.
These albums currently can't be deleted by the user.
Photo albums synced from a Mac or PC
If you've plugged your iPhone or iPad into your computer in order to transfer existing photos via iTunes, these are the albums that you can not delete. If you want to delete them, or specific photos within them, you'll need to go through iTunes again.
For example, if you want to delete select photos from an album, you'll need to delete them from the album on your computer and then apply sync changes in iTunes. If you want to remove an entire album, just uncheck it in iTunes and sync again.
Photo albums created by App Store apps
Some albums created by third-party apps used to give users trouble when it came to managing them, but deleting them is actually a lot easier than some people think.
In the Albums section of the Photos app, simply scroll to the bottom to see apps like Prynt, VSCO Cam, Snapchat – whatever! All you have to do is tap on Edit and delete the album from your phone. The photos and videos themselves won't get deleted, but the album as a whole will.
How do you organize your photos?
Are you someone who prefers to back up your photos with iTunes? Or are you more of an iCloud kind of person?
Regardless of how you keep your photos and videos organized, if you have any tips for better managing photos on your iPhone or iPad, feel free to share them in the comments!
Updated August 2018: This article has been updated to reflect steps from iOS 12.
Get the best of iMore in your inbox, every day!
Cella writes for iMore on social and photography. She's a true crime enthusiast, bestselling horror author, lipstick collector, buzzkill, and Sicilian. Follow her on Twitter and Instagram: @hellorousseau
iTunes and syncing are the worst part of owning an iPhone. I was trying to back up some photos off a friend's phone, I pretty much gave up and used the software "iMazing" instead. It's also generated a photo library which I have no way of deleting on my phone, I can probably delete it with iTunes but why should I have to? I try to avoid iTunes as much as I can

The Photos app should be jobbed out to an outside firm, because it's abundantly clear Apple has no idea what their own customers want. Not being able to add or delete photos at will is insanely frustrating.

The whole file syncing needs to be trashed. I just want to plug the phone into a computer (or manage wirelessly), and see folders for the appropriate data (e.g. music, photos). Then I should be able to just drag and drop things in and out of there. Without the syncing/library crap, you'd be able to delete things from your phone too.