Channels DVR: Everything you need to know!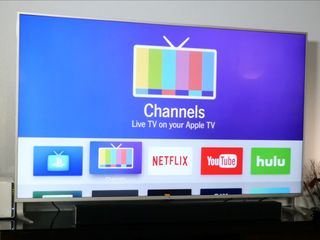 While other platforms have official apps for the HDHomeRun tuners, on iOS and the Apple TV we have Channels. This is every bit a premium app, but it delivers a reliable and super-slick experience that makes it worth every single penny.
For an additional $8 a month you can subscribe to Channels DVR, an add-on service that uses your Mac, PC, NAS or even a NVIDIA Shield TV as a storage bin for you to record your favorite TV shows so you can watch them back on youriPhone, iPad, or Apple TV.
What's new with Channels DVR?
Channels has added support for managing your recorded TV shows on iPhone and iPad. When you're ready to binge watch, you can stream it from an iOS device or your Apple TV It's your choice.
What does Channels DVR do?
Working in conjunction with the iPhone, iPad, or Apple TV app we're already familiar with, it adds the ability to record your favorite shows and movies to your PC or NAS drive.
Record all of your favorite shows with Series Passes
Record every game for your favorite teams with Team Passes
21-day guide
Search for and schedule things you want to record
Manage everything directly from Channels on iPhone, iPad, or Apple TV
Use as many HDHomeRun devices as you want
The bottom one is great to have for larger homes with multiple tuners. You only need one DVR account and everything will work intelligently so you never notice which tuner you're using to record which show.
What can I use Channels DVR on?
Channels DVR can be used on iPhone, iPad, and Apple TV. You can stream recorded shows, manage the shows you want to save, and more. It's in public beta right now, so support and features might change over time. It is, however, totally stable and useable without issue.
You can run the recording engine on a number of devices including Mac, Windows, Linux, the NVIDIA Shield TV and a selection of NAS drives. The full list can be found linked below.
What you can run Channels DVR on
How does it work?
You basically have the same Channels app you've always had paired up with a back-end that handles the recording. You can't record content directly to your iPhone, iPad, or Apple TV; rather it will be stored to your designated 'server', that is the device you have the recording engine running on.
It runs in the background so you never need to know it's there unless you need it. The settings are adjustable through a web app, with your guide, recording data and videos available for playback in the same one.
As far as scheduling recordings, it's a very easy process. You simply have to go into your guide, click on the settings cog and hit record. Channels DVR gives you the option to set a buffer before and after the scheduled times of the broadcast, particularly useful if you're dealing with live events.
Channels breaks down by TV, movies, and sports, as well as giving you 21 days of guide data to figure out your DVR plans for the next couple of weeks. Season passes and event team passes for your favorite sports teams are also included. The best DVR is a smart one that you don't have to do a lot of manual tweaking on, and Channels DVR fits that bill. Spend a little time giving it the parameters for your passes and leave it to do the rest.
Channels DVR on iPhone, iPad, and Apple TV
There's absolutely no setup involved, that's the first thing. Once Channels DVR is setup on your home network the app will automatically detect it and you're ready to go. You'll even immediately see any recorded content shown in "Up Next" on the main Apple TV home screen.
It all works as you'd hope and in a basically identical way to the web app. All the same features are present, just now wrapped up in the beauty of the iOS and Apple TV Channels app. If you want to record the show you're currently watching you just need to swipe down on screen or the remote and the option will appear.
The DVR and your recorded content just become extra tabs within the app. There's no learning curve, nothing to get the hang of. It's just an extension of why Channels is so good already. It's a great environment to watch TV in.
Should you get Channels DVR?
If you're already using something else, namely something like Plex DVR, then Channels may feel a little limited right now. What's there is very good though. It performs well, is easy to setup and use and isn't very expensive. If you're not concerned with mixing your TV with your entire media library, a la Plex or Emby, then the 8 bucks a month for Channels DVR is worth it. It turns your iPhone, iPad, or Apple TV into a proper TV box for proper TV use and it does it in an elegant fashion.
And it's only going to get better.
Master your iPhone in minutes
iMore offers spot-on advice and guidance from our team of experts, with decades of Apple device experience to lean on. Learn more with iMore!