Hulu with Live TV — Everything you need to know!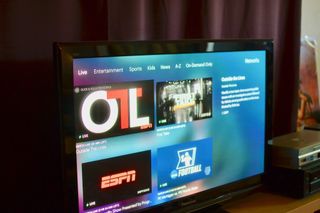 (Image credit: iMore)
Hulu's live TV streaming service is available to subscribers inside the compatible app. It is not entirely unlike other streaming services like Sling TV or DirecTV Now. If you're wondering what it's all about, we've got everything you need to know right here.
What's new for Hulu with Live TV?
April 21, 2019: Hulu cuts the price of add-on features
Hulu recently cut the price of its add-on features, making Hulu with Live TV an even better deal than ever, especially considering how much YouTube with Live TV just increased ($15, if you're wondering). Hulu seems to be making a mark just by lowering its prices as other streaming services are raising theirs.
The new prices for add-ons are as follows:
Enhanced Cloud DVR - $10 (previously $15) Unlimited Screens - $10 (previously $15) Enhanced Cloud DVR + Unlimited Screens Bundle - $15 (previously $20)
January 23, 2019: Hulu to drop basic plan but increase price of Live TV
Hulu has announced it will lower the price of its entry-level tier from $9 to $6 per month starting February 26, 2019. It will also increase the monthly price of its Live TV service from $40 to $45 per month.
This price increase comes along as Hulu shores up more channels and dedicated content for its Live TV service.
August 23, 2017: Hulu brings Live TV features to primary app for iPhone and iPad
Hulu is discontinuing its separate Hulu with Live TV app for the iPhone and iPad, and has brought its new design and Live TV support to the primary Hulu app. Hulu has also announced that the Live TV feature is now available on web browsers. Live TV is supported in Safari, Chrome, Firefox, and Microsoft Edge.
How do I get Hulu with Live TV?
All you need now for Hulu with Live TV is the standard Hulu app or to visit Hulu from a web browser (opens in new tab). You won't see the Live TV features until you've updated your subscription with the Live TV add-on. Once you've added it, you'll have to log out and log back into the app.
If you previously signed up for Hulu through the iOS app, you will have to contact customer service to have them walk you through switching to paying for Hulu directly. Make sure you are given the 7-day free trial and not charged the full first month price up front.
What is Hulu with Live TV?
Hulu now offers live TV streaming from its supported apps. It works a little like Sling TV or DirecTV Now. Starting at $45 per month, you have access to more than 60 broadcast and cable channels, including live sports (some restrictions apply based on your location), plus the normal on-demand content that Hulu offers without the Live TV subscription.
It comes with 50 hours of Cloud DVR storage, which allows you to record live TV and watch it later in your My Stuff section. For an additional $10 per month, you can upgrade to 200 hours of Cloud DVR storage and add the ability to fast forward through recorded commercials (not available with the base subscription).
You can stream Hulu with Live TV content from any supported device, including Apple TV, Amazon Fire TV, Roku, Xbox, iPhone and iPad, Android, and Windows Phone (and a lot more). Plus, from the web on Mac and Windows.
With the base subscription, you can stream Hulu with Live TV on two separate devices simultaneously. For $10 per month more, you can add Unlimited Screens, which lets you stream content from an unlimited number of devices connected to your home network or up to three devices outside of your local Wi-Fi range.
Can I subscribe to premium channels with Hulu with Live TV?
Yes. Just like the standard Hulu subscription, you can add on Showtime for $11, Cinemax for $10, STARZ for $9, and HBO for $15. These channels include all the same content you'd get with a traditional cable subscription or via the stand-alone service offered by each.
To add a premium channel, log into your account at Hulu.com (opens in new tab) and go to your account page. Select Manage Addons to add any or all of the premium channels you want.
You don't have to subscribe to Hulu with Live TV to add the premium channels. These addons are also available to standard Hulu subscribers.
What devices support Hulu with Live TV
A lot of them, actually. Currently, Hulu with Live TV is supported on iPhone, iPad, Apple TV (4th Generation), Android phones and tablets, Xbox One, and Chromecast. Hulu promises that more devices will be supported in the future.
What channels are included with the base subscription?
Currently, Hulu with Live TV includes more than 60 broadcast and cable channels for the base subscription price.
ABC
ABC News Live
CBS
CBSN
Fox
NBC
A&E
Animal Planet
Big Ten Network (BTN)
Boomerang
Bravo
Cartoon Network
CBS Sports Network
Chedder Business
CNBC
CNN
CNN International
Cozi TV
CW
Discovery Channel
Disney Channel
Disney Junior
Disney XD
E!
ESPN
ESPN 2
ESPN News
ESPN U
ESPN College Extra
ESPN Bases Loaded
ESPN Goal Line
Food Network
Fox Business
Fox News
FS1
FS2
FreeForm
FX
FXM
FXX
FYI
NBC Golf
HGTV
History Channel
HLN
Investigation Discovery
Lifetime
MSNBC
MotorTrend
National Geographic
Nat Geo Wild
NBCSN
Olympic Channel
Oxygen
Pop
ESPN SEC Network
SyFy Channel
TBS
Turner Classic Movies (TMC) Telemundo
TLC
TNT
Travel Channel
Tru TV
Universal Kids
USA
Viceland
What about sports? Can I watch my favorite teams?
Yes and no. Hulu with Live TV includes support for ESPN and other sport channels, but content viewing is restricted by your location. There will be some games that you can't watch live because they aren't contracted in your area.
How does this simultaneous multi-device streaming work?
With the base subscription, you can watch Hulu with Live TV simultaneously on two different devices. If you upgrade to the Unlimited Screens plan, you can watch Hulu with Live TV on all your devices at the same time if they are connected to your home network. When away from your Wi-Fi location, however, you can only use up to three mobile devices at the same time outside of your home network.
Your subscription to Hulu with Live TV won't work on any other TV-connected device outside of your home network. So, giving your buddy your log in credentials won't do either of you any good.
Can I record live tv and watch it at my leisure?
You sure can. Hulu with Live TV comes with 50 hours of storage in the Cloud DVR. You can also upgrade to 200 hours for an additional cost. Adding content to your "My Stuff" section automatically records the shows and movies on your list so you can watch them at any time. You can also remove content you're finished with.
How to record live TV using Cloud DVR in Hulu with Live TV
Troubleshooting
Are you having trouble with Hulu with Live TV? Put them in the comments and we'll troubleshoot your issue for you.
Get the best of iMore in your inbox, every day!
Lory is a renaissance woman, writing news, reviews, and how-to guides for iMore. She also fancies herself a bit of a rock star in her town and spends too much time reading comic books. If she's not typing away at her keyboard, you can probably find her at Disneyland or watching Star Wars (or both).
I'm glad YouTubeTV raised prices. Not because I want to spend more, it's because they finally added some of the content they were sorely missing. The YouTubeTV app on Roku is the best of all streaming services, bar none. Hulu TV suffers from lack of local channels (a must if you are just outside the range of local TV without an ugly super tall antenna...) YouTubeTV carries all my local, which they usually do in most places. I still watch a lot of Pluto TV though... Free, who can't love that.

Hi, just leaving direct tv now due to continued failed connections and interruptions even though my internet connection is great. Im not interested in a lot of sports but I do like fall football and the olympic channel. I want the biggest channel line up. I need no Spanish. I love all of the reality tv ie.. live pd, love the
science channel, A&E, First 48, Animal planet, nat geo, nat geo wild. What would you suggest? Thank you for your time.