Google Chrome for iPhone and iPad: Everything you need to know!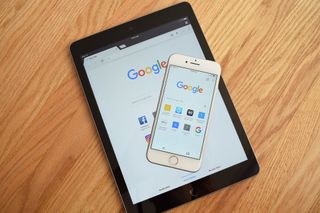 (Image credit: iMore)
May 17, 2018: Google is changing how Chrome indicates site encryption
Google Chrome will soon change the way it notifies users of site encryption. Currently, sites that use HTTPS (an encrypted communication protocol) are marked "secure" in the Chrome browser. Google says users should expect all sites to be secure, so it plans to make HTTPS the default, only indicating when a site uses unencrypted HTTP to serve up content.
In essence, instead of pointing out secure sites with a visual indicator, insecure sites will get all the attention. When you connect to a site using HTTP, Chrome will display the words "not secure" in the search bar.
Google says it wanted to make the change sooner but HTTPS use was too low. Fortunately, that has changed:
You can learn more about HTTPS in Google's Web Fundamentals documentation.
Google Chrome is a web browser like Safari, but it's built by Google instead of Apple. It's the de facto Android browser and lets you do pretty much everything you can do with Safari, but it's wrapped up in a different package with a few other neat features.
It also happens to be the most-used browser in the world, so if you're thinking of switching, you're not alone!
How is Chrome different from Safari?
At it's core, Chrome is still just a web browser like Safari, but it's tied to Google's ecosystem and your Google account. Chrome can do everything Safari can — save bookmarks, share links, creating reading lists — but it's presented a bit differently. Some (I) would argue that Chrome's a little more intuitive — even on iOS.
The other major difference is that Chrome was assembled from code libraries from Google as well as third parties, whereas Safari was created by Apple. Chrome is also a relatively new browser, having only been released in 2008, predated by Safari, Internet Explorer, and Firefox.
Why would I choose Chrome over Safari?
If you have Android devices or have a lot of your files, pictures, and more tied up in the Google suite of apps, then you'll want to use Chrome. You can sign into Google Chrome with your Google Account and your bookmarks, reading lists, autofill preferences, and more will sync across all of your devices.
You might just like it better, too. Since it is a third-party app, none of its settings are in the Settings app; they're all right there for you to control without having to leave Chrome. I understand that Safari's settings are where they are because it's a native iOS app, but you may like the convenience of having everything in one spot.
9 times out of 10, Chrome is faster than Safari. This does come at a small price, however, in that it's a heavier user of your iPhone or iPad's CPU, which means having many apps open while Chrome is running may slow your device down a bit. It'll also probably eat up your battery a bit more than Safari would.
Are there any costs involved?
Just your soul.
Kidding, Google Chrome is completely free.
What are the downsides to using Chrome?
As mentioned, Chrome is kind of a resource hog. Its speed and excellent performance are thanks to just how much of your CPU it uses while it runs. This can take up valuable processing power and can definitely eat into your battery. If you're not using it constantly, then you might not notice, but if you leave Chrome running with many tabs open, you might notice a bit of a slowdown.
You can't make Chrome your default browser on iPhone, which really is a pain in the ass, but Apple wants you to use its browser. So if you open a link from an email or app, it'll automatically open in Safari.
Will I miss out on any Apple features?
Yes and no. Handoff works just fine — if you're switching to Mac, you can just click the little Chrome button that appears next to your Dock and away you go.
Apple Pay, however, is limited to Safari, so you'd have to switch if you want to make an Apple Pay web purchase on your iPhone or iPad. Other than that, you're really not missing out.
Questions?
Have any more questions about Google Chrome for iPhone and iPad? Sound off in the comments below.
Master your iPhone in minutes
iMore offers spot-on advice and guidance from our team of experts, with decades of Apple device experience to lean on. Learn more with iMore!
Mick is a staff writer who's as frugal as they come, so he always does extensive research (much to the exhaustion of his wife) before making a purchase. If it's not worth the price, Mick ain't buying.