So you think you can podcast? Win a guest spot on our show! [contest]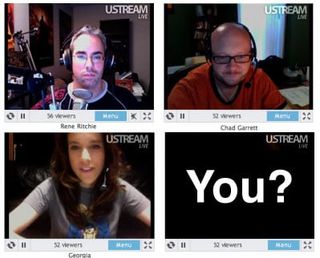 Want to be a special guest spot on our iPhone Live! or iPad Live! podcast? Here's the thing, Rene and Chad are fine and all but I need some new blood, some fresh opinions. Could that be you?
If you think you're the one, if you think you could handle being on a live internet show, then make us a quick video titled "TiPb Podcast Contest Entry", upload it to YouTube, and paste the link in the comments below.
Keep the video short -- 1 minute is plenty -- but show us what you've got. Show us why you should be on iPhone Live! or iPad Live! Give us a rant. Give us some insight. Give us something compelling about whatever TiPb-appropriate subject you like best.
Make it creative. Make it fun. Most importantly, make it entertaining. Hell, use a muppet if you want!!
We'll pick our favorite and you'll get a guest spot on our show and all the fame and bright lights that go with it.
So why are you still reading this, get moving!!!!!!
[Thanks to @iTroldahl for the idea!]
Senior Editor at iMore and a practicing therapist specializing in stress and anxiety. She speaks everywhere from conferences to corporations, co-host of Vector and Isometric podcasts, follow her on Twitter @Georgia_Dow and check out her series at anxiety-videos.com.
Great idea! I LOVE you Renea & Georgia but I miss the Chadster. I think it's more fun to have more people & more points of view.

So do I get a free guest spot for the idea? ;)

You still have to enter!!!!
Im excited for this contest should be great fun Woot

Here's my entry.:
http://www.youtube.com/watch?v=fG51yGy4HdQ
Rob Terry
@RobT43

Can't wait. We have so many fantastic viewers. This is going to rock.

Nice video Rob! Awesome stuff!

I'd love to represent #TeamJailbreak. If there is anyone that proves jb is easy and you can't mess up your iPhone no matter how hard you try its me :)
http://www.youtube.com/watch?v=_kMMC3I-kqA

Gonna make my video this weekend and hopefully have it uploaded by Monday :)

I hope you pick me! :)http://www.youtube.com/watch?v=nWVcSI_-lRI
If you want another video entry about my ideas and opinions about Apple and their products, feel free to let me know!
David

Watched all the entries so far and they are great!!! Rob Kenny and David !!! Its going to be a touch choice already.
Cant wait to see the rest of the entries... who will be joining us =))

@Georgia I'm glad! Tough choices are what make contests so much fun. :)

Howdy Folks!
Here's my submission for the TiPb.com podcast. Hope to see you online soon!
http://www.youtube.com/watch?v=Y_IUisYOmWY
Alan G

Interesting to note that Rene appears to have more viewers than everyone else. Interesting... very interesting...

Great videos thus far guys. Keep them coming!

Maybe I'll get a tattoo. Wins every time!

Here is my submission - http://www.youtube.com/watch?v=7lSFIZB-_58
and I was having so much fun I created a trailer for my submission here - http://www.youtube.com/watch?v=Fxs4garoPYc

Wow...that trailer Vactor did was off the chain! He should win just for that alone.

Here's my entry...
http://www.youtube.com/watch?v=twluKQJH70A
Had some real fun with my daughter making this one. Hope you like how we ham it up...
ToeJo

Top 5 Reasons I should be on the next podcast:
http://www.youtube.com/watch?v=CdttOzJE8MI
Also, love what TiPb does - keep at it!

Until when do we have to submit the video?
Hope it's not TOO soon,
@likewise7
Recent Apple enthusiast.

Here's mine...
http://www.youtube.com/watch?v=86htW0htFpg

Here's my contest entry!
http://www.youtube.com/watch?v=ZWiDT5rD1ug
Fun and cool stuff, TiPb!

Ok so finally got YouTube to work right. here is the real video. had to delete the previous.
http://www.youtube.com/watch?v=Q1RQlrkeRow

Proof Steve Jobs is Evil!?!http://www.youtube.com/watch?v=6dazuOJw_FY
Do the numbers add up?

Question: Will my last post be held for Moderation because it had a link(which you asked for) to a video?

So I figured I had to do this, as I was thinking about it last night before bed. Here you go, what little free time I had today went to this. :D
http://www.youtube.com/watch?v=UMlXMAojGAk

Alright... here is my entry for the contest... looking forward to joining you guys soon...
http://www.youtube.com/watch?v=bPvGh9anX_4

Ok those were Chad Awesome !!! I cant wait to see what else we get.
Hurry and get those entries in !

http://www.youtube.com/watch?v=m3DbbrLb3rk
pick me!

http://www.youtube.com/watch?v=CJbiAkr1RGE

I would love to enter but my voice is for silent movies and my looks are for radio.
You lucky good looking people :(

If I had known the contest would be open for so long, I might have invested more time into my entry. A part of me is considering re-entering. :P

http://www.youtube.com/watch?v=OBP5vxXKoxs

Georgia hasn't announced the winner(s) yet.
Alan G

Here is my entry. (and yes, that's android on my iPad):http://www.youtube.com/watch?v=oHg5SJYRHA0

ahhhhhh rmxrider ricked rolled us!

http://www.youtube.com/watch?v=pjYhXZL9bSA
PIck me or I'll cry.

OMG I thought i had done something original. sigh maybe i should look at other entries before i submit mine next time.....

Sooooo, did you decide the logistics were too difficult and didn't think we could figure out how to uStream into the podcast? Or, did lawyers and insurance people decide it wasn't a great idea as who knows what the person might do or say without a dump button?
Too bad - would have loved to join
Get the best of iMore in in your inbox, every day!
Thank you for signing up to iMore. You will receive a verification email shortly.
There was a problem. Please refresh the page and try again.