32 Best Cyber Monday iPhone deals 2021: iPhone 13 Pro, Max and more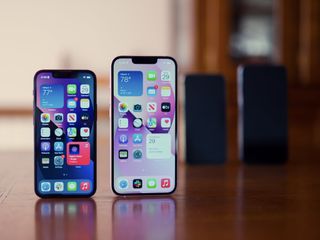 (Image credit: Joseph Keller / iMore)
If you're in the market for an iPhone upgrade, there's no better time than Cyber Monday to consider your options. Every major carrier and retailer seems to be offering a deal right now, which is excellent news for those looking to save some cash. Plus, the latest iPhone 13 models just hit the market, so now is your first chance to save some real cash on the newest devices or bag a bargain with a previous-gen model.
At Apple, iPhone prices stay the same all year, but third-party retailers and carrier partners have a little more wiggle room when it comes to iPhone deals. So with shoppers ready to buy, Cyber Monday is the time for these places to incentivize buyers and get them in the door with some killer savings.
Whether you're looking for the best iPhone 13 Pro deal or just want to snag the absolute cheapest iPhone price possible, you don't have to look further than right here. We keep track of iPhone deals all year long so we can let you know precisely the right deal for you, significantly ahead of the holidays when it becomes a lot harder to parse the genuinely good deals and those worth avoiding.
Where to find the best Cyber Monday iPhone deals
With the holiday shopping season upon us, you have plenty of choices when it comes to where to buy an iPhone. You'll probably first want to figure out how you want to buy it first, though. Do you want to buy it outright or on Apple's Upgrade Program? Would a carrier deal including service make more sense for you and your family's needs? Answering these questions will make it easier to narrow down where to look for iPhone deals, though the below links are an excellent place to start.
When do the Cyber Monday iPhone deals begin?
Right now! All of the Cyber Monday iPhone deals we're going to see this year are already available. While Cyber Monday 2021 doesn't officially kick off until November 29, that hasn't stopped retailers and carriers from unveiling their best iPhone deals already. With production and shipping issues galore this year, it makes total sense to buy early if you can, so this is no bad thing.
Best Cyber Monday iPhone 13 deals
In 2021, Apple unveiled its iPhone 13 lineup. The regular iPhone 13 and iPhone 13 mini feature excellent new cameras, improvements to battery life, and an excellent selection of colors, making them the best iPhone for most people. However, with the below deals, you can score Apple's latest model for less.
Best Cyber Monday iPhone 13 Pro deals
The iPhone 13 Pro and iPhone 13 Pro really up the ante when it comes to Apple's flagship phones with the addition of a 120Hz Super Retina XDR display with ProMotion, Telephoto camera, and up to 1TB of storage. It's a beast of a phone and carries a hefty price tag for all that power, though you don't have to pay full price for one if you know where to look.
Best Cyber Monday iPhone 12 deals
Though it's no longer the latest model, Apple has kept the iPhone 12 around and reduced its price, making it an attractive option for those that don't need the top-of-the-line features and would prefer instead to save a few bucks. In addition, retailers and carriers are particularly interested in moving iPhone 12 units, so you might be able to score some significant savings here.
Best Cyber Monday iPhone 11 deals
Despite being a few years old at this point, iPhone 11 is still a fantastic phone with a 6.1-inch display, dual-camera setup, and still-speedy A13 Bionic processor. It will still get a few more years of software updates, too. So those wanting a cheap but large phone should consider it if a good deal crops up.
Best Cyber Monday iPhone SE deals
iPhone SE continues to keep its place in Apple's iPhone lineup as the device for those that want a physical Home button with Touch ID instead of Face ID. Updated in 2020, it has recent specs like an A13 Bionic chip and a 12MP camera. Plus, there's a lot to say for the familiarity of that design. With a $399 starting price, it's already an inexpensive entry point to the iPhone, but Cyber Monday deals should drop that even lower.