Final day! You can still save $1000 on an iPhone 14 Pro and more in the last few hours of the Cyber Monday iPhone deals
The best iPhone Cyber Monday deals going from all carriers or to buy outright.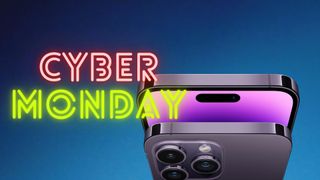 (Image credit: Future)
Cyber Monday is in its waning hours, but the Cyber Monday iPhone deals aren't showing any signs of slowing down. There are still savings on the iPhone 14 and iPhone 14 Pro, as well as some great prices on slightly older devices. Our particular favorite is a massive deal from Verizon, netting you an almost ridiculous amount of savings and some free stuff.
We'll be keeping this page up to date with all the best Cyber Monday iPhone deals as they drop, making sure you're in the loop with prices that suit your needs and budgets. There are reductions on the whole range from the latest iPhone 14 and 14 Pro as well as previous generations, so you'll save no matter the iPhone you're searching for. We'll keep updating this page with all the best deals, so keep coming this Cyber Monday to see if there's anything new for you.
The Best Cyber Monday iPhone deal: iMore's pick
Our pick for best iPhone had to be this iPhone 14 Pro deal from Verizon, which we still can't believe it's real. Pinch yourself, this is the one:
The best Cyber Monday Apple deals
If you're only after a very specific Apple deal then you can check out some of our other Cyber Monday deal pages:
Cyber Monday iPhone deals highlights
Top iPhone Cyber Monday deals
Best Cyber Monday iPhone 14 and iPhone 14 Plus deals
The iPhone 14 is the latest in the standard iPhone line-up. Available in both standard and larger Plus flavors, there are several updates to the iPhone 14 worth caring about. The notch remains, still housing the FaceID camera and other assorted sensors. The camera on the back has seen a bump, and the Mini has been replaced by the enormous iPhone 14 Plus.
Best Cyber Monday iPhone 14 Pro and iPhone 14 Pro Max deals
The iPhone 14 Pro and iPhone 14 Pro Max are the most powerful iPhones in the family. They've lost the notch at the top of the screen, replaced with the dynamic island that hides the hole-punch camera with a clever floating notifications tray. The screens are bigger, backlight brighter, and the battery has been improved too. You will pay for all this extra phone, but that doesn't mean you have to pay full price.
Best Cyber Monday iPhone 13 deals
In 2021, Apple unveiled its iPhone 13 lineup. The regular iPhone 13 and iPhone 13 mini feature excellent cameras, improvements to battery life, and a nice selection of colors making them the on of the best iPhones for most people. With the below deals, you can score Apple's latest model for less.
Best Cyber Monday iPhone 13 Pro deals
When they where released last year, the iPhone 13 Pro and iPhone 13 Pro Max really upped the ante when it came to flagship phones. There's a 120Hz Super Retina XDS display, a Telephoto camera and up to 1TB of Storage. Now that it's been replaced by the iPhone 14 Pro and Pro Max, you could see some epic deals on last years most powerful iPhone.
Best Cyber Monday iPhone 12 deals
Though it's no longer the latest model, Apple has kept the iPhone 12 around and reduced its price making it an attractive option for those that don't need the top-of-the-line features and would prefer instead to save a few bucks. Retailers and carriers are particularly interested in moving iPhone 12 units so you might be able to score some big savings here.
Best Cyber Monday iPhone SE deals
iPhone SE continues to keep its place in Apple's iPhone line-up as the device for those that want a physical Home button with Touch ID instead of Face ID. Updated in March 2022, It's packing an A15 Bionic, a 12MP camera, and TouchID. It's also the only small form factor iPhone available now, so that may sway you over as well. It is frequently available for free from some carriers, so Cyber Mondayy could bring some excellent savings.
Where can I find the best Cyber Monday iPhone deals?
With the holiday shopping season upon us, you have plenty of choice when it comes to where to buy an iPhone. You'll probably first want to figure out how you want to buy it first, though. Do you want to buy it outright or on Apple's Upgrade Program? Would a carrier deal including service make more sense for you and your family's needs? Answering these questions will make it easier to narrow down where to look for iPhone deals, though the below links are a good place to start.