Daily Tip: How to use the compass in Google Maps to improve navigation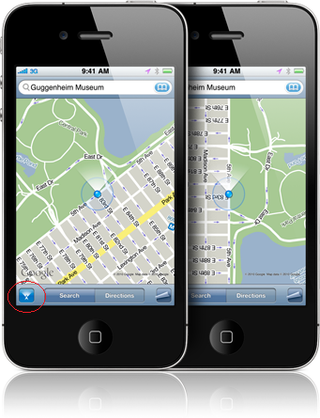 Using Google Maps to get directions but confused and frustrated because the map doesn't turn when you do? The good news is, there's a very easy way fix this and get north really pointing north when you need it.
Starting with iPhone 3GS, Apple began including compasses (technically magnometers) in their iOS devices. To activate the compass and get directions that actually have a sense of direction:
Open up Google Maps
Double tap the location button in the bottom left corner of the screen
This enables the digital compass, and while active it will rotate the onscreen map to match the direction you're facing. Again, this tip will only work with the iPhone 3GS, iPhone 4 and all iPads, as these models have a built-in magnometer.
Have any other tips or tricks for getting better navigation? Let us know!
Daily Tips range from beginner-level 101 to advanced-level ninjary. If you already know this tip, keep the link handy as a quick way to help a friend. If you have a tip of your own you'd like to suggest, add them to the comments or send them in to dailytips@tipb.com. (If it's especially awesome and previously unknown to us, we'll even give ya a reward…)
UK editor at iMore, mobile technology lover and air conditioning design engineer.
Google Compass is a Google Maps tool that enables users to plot and record compass bearings, distances and magnetic declination or variation for single or multiple routes. Users may choose between plotting a single-leg or multi-leg route and Google Compass then overlays an interactive Silva compass on a Google Map. Users can drag the compass and position it to point in any direction. Users can then plot a route on the map using the compass. The compass tool will automatically adjust for differences between magnetic and true north for any location on Earth and also provide users with the latitude and longitude coordinates of their routes. Google Compass routes can be saved and stored for later retrieval.

used this a fair bit recently, but annoyingly every time i get my phone out i have to do the figure of eight thing and look like a muppet!

Thank you for that, I was confused there for a while.

the compass is horrible and the app is useless. If the compass worked great , more developers would include it in their map applications.

I don't see that icon in the bundled Google Maps app on my iPad 2, and it's running iOS 4.3.5. :(

Or you could just get an android phone and use google maps navigation

Lots of relaly cool features but I think they could have made it look a bit more stylish a little too boxy for my taste.Great post!

we like to honor many other itnernet sites on the web, even if they aren?t linked to us, by linking to them. Under are some webpages worth checking out
Thank you for signing up to iMore. You will receive a verification email shortly.
There was a problem. Please refresh the page and try again.