Daily Tip: How to change the amount of lines shown in an email preview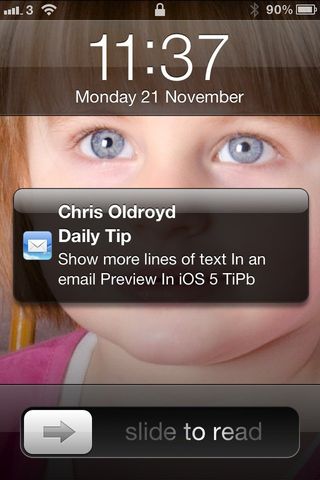 Curious how to change the amount of lines shown on an iPhone, iPad, or iPod touch email preview? If you get a lot of email, it is really handy to see a preview of the first few lines to know if it is important enough to read and deal with. If you're concerned about privacy, you may prefer to display nothing at all. Out of the box, the iPhone and iPad only show the first two lines of text from an email but that can be changed to show much more, or nothing at all.
Click on Settings
Click on Mail, Contacts and Calendar
(opens in new tab)
Scroll down to Preview
Click on Preview
You will now see a screen that lists the number of lines of text you will see in an email preview
(opens in new tab)
If it is set on two lines, this is how it will look
(opens in new tab)
Change the setting to your preferred amount of lines, four in this example
When set at four lines, you can now see much more of the email message without opening it.
(opens in new tab)
That is all there is to it, simple but a very handy tweak.
Daily Tips range from beginner-level 101 to advanced-level ninjary. If you already know this tip, keep the link handy as a quick way to help a friend. If you have a tip of your own you'd like to suggest, add them to the comments or send them in to dailytips@tipb.com.
Get the best of iMore in your inbox, every day!
UK editor at iMore, mobile technology lover and air conditioning design engineer.
how to edit emails on my iPhone . would like to delete addressees at the opening of an email and send only content.
Help