Daily Tip: how to contact iTunes support with billing and account questions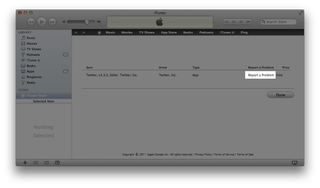 Double-billed, have a purchase you didn't make, or just have a problem with an iTunes purchase and wondering who to contact an how? There are millions of users and credit cards on file with iTunes, so every once in a while weird issues are bound to pop up. Unfortunately iTunes doesn't have a phone line to call but they do have a pretty good support team that answers e-mails and deals strictly with iTunes billing issues. Keep reading and we'll show you how to contact them!
All you'll need to do in order to contact iTunes customer support is find the problem invoice on your iTunes account and e-mail them a little blurb explaining the issue. You can find your invoice in either the email receipt iTunes sends you after you purchase an app (or a few apps, they try to bundle them to lower credit card transaction fees), or by logging into your account via the iTunes desktop app and then clicking on Purchase History.
Once you have the right invoice...
<
ul>
Click on the Report a Problem link directly from the problem purchase and you'll be routed to the iTunes support site

(opens in new tab)

instantly. Just jot down your invoice number.
Once on the iTunes support site, on the left hand column navigate to iTunes Store Account and Billing.
Next select the topic you need. Most likely Billing Inquiries.
Then click E-mail us and fill out the form. Your invoice number isn't required but I've found they respond a lot faster if you submit complete information. Also make sure you provide a valid e-mail address and that your Apple ID is correctly input.



You're done! You'll receive an automated message stating an iTunes rep will respond within 24 hours. Shortly after, you'll receive correspondence from an iTunes rep that can help you resolve your issue.
I've always had a great experience when dealing with them. They always seem to respond promptly and resolve the issue at hand. What was your experience? Let us know!Tips of the day will range from beginner-level 101 to advanced-level ninjary. If you already know this tip, keep the link handy as a quick way to help a friend. If you have a tip of your own you'd like to suggest, add them to the comments or send them in to news@tipb.com. (If it's especially awesome and previously unknown to us, we'll even give ya a reward...)
iMore senior editor from 2011 to 2015.
I've tried that, didn't help at all. The case was i downloaded an app that i already bought and got charged for the second time. Contacted them, no reply, and finally NOT RESOLVED!

I hate that I can't have anyone to talk to. Amazon is same way. I talked to some person named Naiju on some web chat thing. Really hate these off shore companies.

I've always had a great experience dealing with them. They've refunded several issues I've has with double purchases etc. Really simple.

So what happens if your account doesn't show any reports? I've made 3 purchases in the last month and in the last 3 days there have been 2 not made by me. I dont' know what to do and I'm frustrated because I fear that the purchases are going to keep happening! Help!

i have lost a lot music of itunes when i updated how do i get them back it will tell me files not fund

Fucking pricks won't provide a number to call. I've been emailing back and fourth for four days now, giving them more and more information, trying more and more "solutions" that don't solve the problem. I tried calling apple, and they insist there is no number to call, why the fuck can't I just talk to a goddamn person so my problem doesn't get ignored?

thats completely crap. yea their nice and all and focus, but I went to them for help and they still didn't solve my problem. There losing money from me by not having a phone to contact from. I still have a oweing bill for a week now and i have the money in my account for the past 4 days and all this time im waiting I could be buying more music and tV shows and movies...Now i'm just having second thoughts about keeping it. I mean they ask you for your number in your account but no one trys to help I don't understand.

I agree apple ppl so nice when we buy there devices after u r on you'r on.I got $100 itune card in my account but can't use it ,updated all my information emailed it to the same useless site that mr know it all is talking about.no reply I 'v sent them 4 emails 2 weeks ago still waiting.they dont have a number because they don't wana deal with millions of complains and problems that they causing it's a lot easier when u ignore or simply delete the email.so tel me mr kazmucha how much did u get paid to make apple and itune look good.

Hi I have followed the tip today and I had an email back within 3 hours! My 6 year old daughter brought some seeds for a game on a in app purchase, I had not realised what she had done until I got the bill, the cost was £112 they were fantastic and refunded the money back, and explained how to prevent this from happening again!! So many thanks for this tip as it does work! Xx

Hy,i are try to creates itunes account but the sever do not want to accep my pasword,the suver say my password less then 8 digit,my email pasword is only 6 digit,i try to make 8 digit also the sever,sever say again must have word on my pasword make word but still sever do not want accep my,!!!!!!!!! Can u answer my ????,but i tell u my email addresss password only 6 digit!!!!!!!

I don't get their billing cycle. My MC bill comes in, several charges...check purchases on itunes, and only 3 this YEAR..2012, but there are numerous $1.06 charges, plus one for over $14..where does this come from?? I have a question in to support about this...we'll see.

Have been automatically billed for a service I do not care to have nor will I use it.
My 3G phone cannot open the ITunes store and of course they provide no number and I cannot find an email address anywhere. I have no option except to dispute this billing with my bank. iTunes is absurd!!

This posting was TOTALLY USELESS. When I clicked on "report a problem" nothing happened. I then clicked on iTunes Support Site and what I got didn't look anything like the one copied above; AND there was no tab called iTunes store and account billing.
As far as I can tell, there is no way whatsoever for me to contact Apple/iTunes to complain about the company that has fraudulently been billing me.
Chris

Great items from you, man. I have take into account your stuff prior to and you are just extremely fantastic. I actually like what you've bought right here, certainly like what you are saying and the best way in which you say it. You're making it enjoyable and you still care for to stay it sensible. I can not wait to read far more from you. This is actually a wonderful site.

I agree with the person who said this article is pointless. I have no invoice for two charges of $33.99 on my account, and when their customer support team answered me they told me that there is another itunes account that has the same CC as mine! I replied right away saying I have NEVER had another itunes account and I left my number saying I need to SPEAK with someone immediately. Now three hours have gone by and haven't heard a damn thing. Being a longtime iTunes user I extremely upset, so much so that I might reconsider ever using itunes again. How can this huge corporation have no humans available when their customers are having issues, especially ones who are overcharged or charged for things they never purchased? This is by far the worst customer service I have encountered.

I would would really like to know what apps I downloaded on Apple to get support to a live person ,like Internet provides ,is like shooting to the moon
Thank you for signing up to iMore. You will receive a verification email shortly.
There was a problem. Please refresh the page and try again.