Daily Tip: How to save a picture from an email message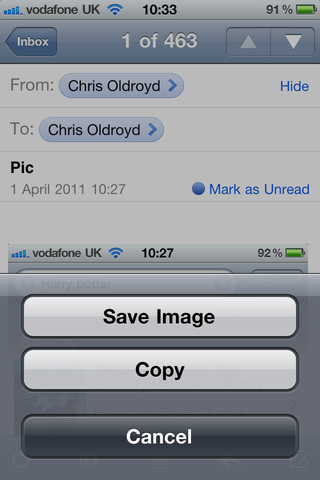 New to iPhone, iPod touch or iPad and trying to figure out how to save a picture from an email or MMS message; or need to paste the picture into a new message? It is very simple to do and we show you how, after the break!
Here's how to save a picture from a Mail message:
Open the message in Mail that contains the picture.
If the file has not been downloaded from the server, just click on it and it will download and appear on the screen.
Tap and hold your finger down on the image and a box will pop up with three options.

The first option is Save Image. This will save the picture in your Photos App under Camera Roll.
The second option is Copy. This will put the picture on your clipboard where you can then paste it into any other application that allows paste.
The final option is Cancel to return to your mail message.
That's it. It really is that simple! If you have any other good Mail tips let us know in the comments!
Tips of the day will range from beginner-level 101 to advanced-level ninjary. If you already know this tip, keep the link handy as a quick way to help a friend. If you have a tip of your own you'd like to suggest, add them to the comments or send them in to dailytips@tipb.com. (If it's especially awesome and previously unknown to us, we'll even give ya a reward…)
Get the best of iMore in your inbox, every day!
UK editor at iMore, mobile technology lover and air conditioning design engineer.
"That's it. It really is that simple!"
Are you kidding, thats more steps than needed. Come on apple make your next phone do what users want to do the easiest possible way. Workarounds are exactly that, they shouldnt be needed to perform a simple task.

Umm. Huh? Its 1 step. You'd already have the message opened and the pic downloaded...why else would you want to save or copy?

I'll bet he's never had to drive round looking for a phone booth.

Looks like 6 steps... if all you do is count and don't bother to read. Otherwise it is more like one step.

How do you delete a photo from the iPad