Daily Tip: How to setup a keyboard shortcut for a username, email address or well used phrase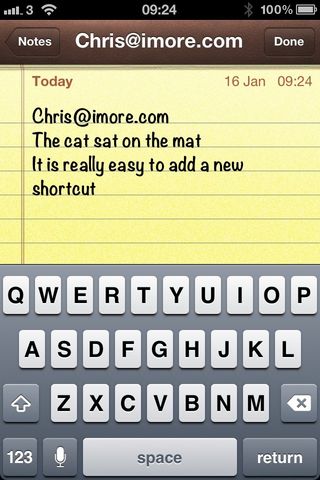 Wondering how to save time and effort entering common information like your name, email address, or phone number? The good news is iOS 5 has a special feature called "Shortcuts" that lets you define a word or phrase to a key combination. Follow along and we will show you how easy it is to setup and how it can save you a lot of time too:-
(opens in new tab)
(opens in new tab)
(opens in new tab)
You will now see a predefined shortcut which is triggered by typing omw
Click on Add New Shortcut
(opens in new tab)
Type in a username, email address or phrase you use a lot
Now choose a letter combination to trigger the shortcut
(opens in new tab)
Hit Save and that's stored for future use
Add as many as you like
(opens in new tab)
When you are finished you will see a list of your shortcuts under General>Keyboard
Now open up an app that you can type into, we will use Notes
Type in the shortcut for one of your phrases, you will see the whole phrase open up in a bubble below
(opens in new tab)
Hit the Space Bar and the whole phrase appears
(opens in new tab)
(opens in new tab)
(opens in new tab)
It really is as simple as that, but if you set them up and remember the shortcut this can save you a stack of time.
Daily Tips range from beginner-level 101 to advanced-level ninjary. If you already know this tip, keep the link handy as a quick way to help a friend. If you have a tip of your own you'd like to suggest, add them to the comments or send them in to dailytips@imore.com. (If it's especially awesome and previously unknown to us, we'll even give ya a reward…)
Get the best of iMore in in your inbox, every day!
UK editor at iMore, mobile technology lover and air conditioning design engineer.
Damn, I thought I was the only one who did this! Very useful tip.

This works across multiple languages/keyboards and special characters and emoji as well.

Wow. I didn't know this existed. Was this new with iOS 5? You guys rock!

ok awesome but ios has a bunch of words stored in their dictionary i dont like - how do i change that? (for instance when i type "lolz" a bubble pops up (autocorrect) that says "lols") can we edit ios's dictionary? do i make any sense? lolz

You teach ios while you are typing just click the x in the bubble and iOS learns that is how you edit it

This is the best tip I've found yet. This was the only thing Icould find to taught BlackBerry over iPhone (shortcuts)... and now I can't do that anymore... thank you so much for this tip

i find that using @@ for my email works well
Thank you for signing up to iMore. You will receive a verification email shortly.
There was a problem. Please refresh the page and try again.