Dark mode, single sign-on and much more headed to tvOS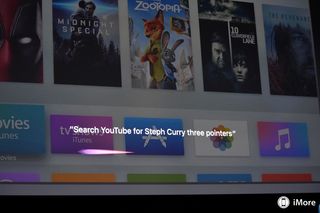 Apple TV users are in for quite the treat thanks to a set of upcoming apps, features and more. On stage at WWDC 2016, Apple revealed that Sling TV will be available with live cable on the fourth generation Apple TV starting today.
In addition, Fox Sports Go will be available this summer, along with Molotov TV — a French live TV service with more than 100 channels. Lastly, a new game called SketchParty will bring Pictionary-esque fun to your Apple TV.
As for features, users will be able to easily use Siri voice search to find specific movies by topics. For example, you can search "high school comedies from the 80's" and get just that. Siri will then search more than 650,000 movies and TV shows, along with YouTube.
Apple also introduced Live tune-in, which will let you open a specific app right to its live streaming component. Currently, the feature works with ESPN, Disney, CBS, and FX.
In a boost for ease of use, tvOS now also features single sign-on for cable providers. Now, when signing into an app with your cable provider credentials, you'll only have to do so once and that sign-on will carry over to other compatible apps. A dark mode is also on its way, which should be easier on the eyes.
In other bits and bobs, the Apple TV will also be able to sync download between it and your iPhone. Now, ocne you download an app on your iPhone, your Apple TV will download it as well. ReplayKit will allow you to live broadcast and save gameplay.
Lastly, Apple revealed that the new Apple TV now has 6000 native apps since launching in Fall 2015.
A developer preview of all of these features will be available today, and a public release wil lland this fall.
For more, keep following along with all of our WWDC 2016 coverage.
Press release:
Powerful New Siri Capabilities & Single Sign-On Coming to Apple TV
SAN FRANCISCO — June 13, 2016 — Apple® today announced powerful new Siri® capabilities, single sign-on for Apple TV® and many more great new features for users, making the entertainment experience in the living room even better. With expanded Siri capabilities, including searching across even more apps, YouTube search, topic search and tuning right into more live channels, customers can get to their favorite content even faster. The future of TV is apps, and with single sign-on customers can authenticate all the video channels from their pay-TV providers by simply signing in once to enjoy all of their network-TV apps.
"The future of TV is apps, and Siri on Apple TV has changed the way we interact with our television and these expanded features will continue to deliver viewers what they want to watch even faster," said Eddy Cue, Apple's senior vice president of Internet Software and Services. "There are over 6,000 apps to enjoy on your Apple TV including over 1,300 video channels, which are even more fun to watch with the new Siri features combined with single sign-on."
New Siri Features & Functionality Since the launch of Apple TV, Siri has gotten more powerful, now searching over 650,000 TV episodes and movies. Siri is available in even more countries with expanded capabilities.
Topic search for movies*: With the ability to ask Siri for a movie by topic or theme, you have even more ways to find the films you really feel like watching, such as "Show movies about baseball," "Find documentaries about cars," or "Find high school comedies from the '80s."
YouTube search: Later this month, users can ask Siri to search YouTube, so you can say "Search YouTube for cute pug videos."
Live tune-in: Ask Siri to go directly to a live channel inside a supported app, such as "Watch CBS News" or "Watch ESPN."
Manage HomeKit™ accessories: Apple TV gives users control of HomeKit-enabled accessories so you can ask Siri to "Turn on the lights" or "Set the temperature to 70 degrees." Apple TV also allows users to control HomeKit accessories when they are away from home or use it for home automation with the Home app on their iOS device.
Single Sign-on for Pay-TV Apps For the first time, customers in the US will have a simplified way of enjoying pay-TV video channels by using single sign-on. Starting this fall, users only have to sign in once on Apple TV to enjoy immediate access to their favorite video channels that are included as part of their pay-TV subscription.
Once a user is signed into one network app, any other app on Apple TV from participating pay-TV providers will automatically log the user into all other supported apps requiring authentication.
During the single sign-on process, customers can view a page of all the authenticated apps that a pay-TV provider offers to more easily discover, download and enjoy all of their favorite video channels.
Any network-TV app can take advantage of this technology to enable single sign-on and simplify the process for their viewers.
Single sign-on will be available on both Apple TV and iOS.
The Future of TV is Apps The latest Apple TV just launched last fall, giving developers unprecedented access to a modern platform like iOS but for the living room. With over 6,000 apps already available for Apple TV, the future of television is apps. Users can enjoy amazing experiences on the biggest screen in their home, work out with Zova or Daily Burn; plan their next trip with Airbnb or TripAdvisor; play SketchParty TV or NBA 2K16 with friends and family; buy their favorite designer brands on Gilt; learn to cook with Kitchen Stories Cookbook; catch up on news with ABC News; or watch their favorite shows, movies and sports with HBO NOW or Sling TV. Developers have only just begun tapping into the potential of tvOS™ and initial feedback has been tremendous.
"tvOS on Apple TV takes the Sling TV app to new heights, creating a seamless combination of technology and entertainment," said Roger Lynch, CEO, Sling TV.
"We easily extended our iOS game experiences to the living room — something that is incredibly difficult to do on traditional consoles," said Hannibal Soares, CEO, BoomBit.
"tvOS has allowed STARZ to create an experience on Apple TV unlike anything we've done before and our subscribers are loving it!" said Chris Albrecht, CEO, Starz.
New tvOS APIs and tools available for developers include:
ReplayKit to enable developers to record and live broadcast from their apps;
PhotoKit to allow third-party app access to photos and videos in iCloud® Photo Library and iCloud Shared Stream;
HomeKit to create apps to control HomeKit devices from Apple TV;
App badging on the Home screen, to make it easier for users to know something new for them is available inside an app; and,
Game Center enhancements and support for up to four game controllers at a time.
Additional Apple TV Features and Updates
iOS users can download the new Apple TV Remote app with touch navigation, Siri and game play support.
Apple Music® has an all-new design, bringing greater clarity and simplicity to every aspect of the experience. The Library, For You, Browse and Radio tabs have been completely redesigned to provide an even greater sense of place, and a Search tab has been added to make finding music even easier.
Photos for Apple TV now supports the new Memories feature, making it easy to rediscover meaningful moments in a user's photo library and share them on the big screen.
While users love the bright and fresh Apple TV interface, some may prefer a darker background to fit a home theater environment or darker rooms, so now users can select a dark background for Apple TV.
Universal apps will now automatically download on Apple TV and show up on the Home screen when an app has been added to a user's iOS device.
When a keyboard appears on Apple TV, one will also appear on nearby iOS devices that are logged into the same iCloud account, making entering text even more convenient.
Availability The tvOS developer preview is available immediately for Developer Program members at developer.apple.com. The new tvOS will be available this fall as a free software update for Apple TV. For more information, visit apple.com/tvos-preview. Features are subject to change. Some features may not be available in all regions or all languages. Siri will be available for Apple TV users in 12 countries.
*Siri availability and functionality varies by country. Subscription required for some content.
Apple revolutionized personal technology with the introduction of the Macintosh in 1984. Today, Apple leads the world in innovation with iPhone, iPad, Mac, Apple Watch and Apple TV. Apple's four software platforms — iOS, macOS, watchOS and tvOS — provide seamless experiences across all Apple devices and empower people with breakthrough services including the App Store, Apple Music, Apple Pay and iCloud. Apple's 100,000 employees are dedicated to making the best products on earth, and to leaving the world better than we found it.
○ Everything about WWDC 2020
○ WWDC 2020 remote lineup
○ Download the Apple Developer app (opens in new tab)
○ iOS/iPadOS 14
○ macOS 10.16
○ watchOS 7
○ tvOS 14
○ Discussion forums

Get the best of iMore in in your inbox, every day!
I love that you'll be able to use your AppleTV remote to ask Siri to control your HomeKit devices. Its omission made no sense given that the AppleTV already controlled HomeKit and was used as its central hub.

I home someone from iMore is/was able to ask for some details about single sign-on. For example, I would love to use the single sign-on, but there are still a couple of apps I'd like to sign in using my friend's account. (Don't judge me! Much :) ) Will there be an override for individual apps?
Thank you for signing up to iMore. You will receive a verification email shortly.
There was a problem. Please refresh the page and try again.