Does iMessage have an issue verifying your account? Here are some troubleshooting tips!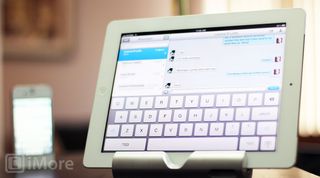 While iMessage is a great service that lets iPhone, iPad, iPod touch, and Mac users correspond for free with any other iOS user, it can also be a bag of hurt at times. One of the largest issues I see people complain about is the verification issue. Namely, iMessage will randomly sign you out of your account and you're kicked back to the login screen when you launch the Messages app. You sign back in and iMessage asks you to choose the numbers and emails you'd like, you click next, and the verification step rudely throws you back to the login screen.
If this sounds like an issue you've had, follow along and we'll walk you through how to try and resolve it.
Check iCloud system status
The first thing you'll want to do before attempting to troubleshoot an issue is to check and make sure iMessage is up and running and no server-side issues have been reported. You can do so by clicking on the link below and viewing the status for iMessage. If you see a green icon next to it, all is well and you can continue on to the next troubleshooting tip. If there are known issues at that time, wait and see if they resolve on their own before continuing.
Verify your iOS time and date settings are correct
One of the biggest reasons people get kicked out of iMessage is because it can't verify the correct time. If the server shows a different time than what your system time on your device shows, this can cause verification to fail. I had to turn auto-update off on my iPad mini as we live so close to a time zone line it kept kicking me between central and eastern time. This was causing iMessage to go nuts.
Verify the date and time are correct under Settings > General > Time and Date. If it is, move on to the next step. If it isn't, correct the time and date manually and then try to verify iMessage again.
Update iOS
If you're running an older version of iOS, you may have issues receiving picture messages or sending and receiving iMessages altogether. While this isn't a problem we see very often, I have encountered users that had issues with iMessage because they were running an extremely outdated version of iOS.
Unless you jailbreak or have a specific reason to stay on an older version of iOS for app compatibility reasons, we highly suggest making sure your iOS software is always up to date.
Restore your device
This is obviously a last ditch effort if all else fails and you still can't get iMessage to behave properly. In some cases, corrupt software could be causing the problem. This is not common at all though and every other option should be looked at.
If iCloud system status is showing iMessage to be up and running, we'd check back after a few hours and see if new reports are surfacing before wiping your device. You can even report an issue to Apple yourself to see if it can be remedied on their end first.
And if all else fails, restore your device and try again.
Other issues?
If you have other issues with iMessage or none of these steps work, our forums are a great place to get help. We even have a forum dedicated to iMessage. If you've found another iMessage bug or found a way to solve an existing one, make sure to drop it in the comments below!
Master your iPhone in minutes
iMore offers spot-on advice and guidance from our team of experts, with decades of Apple device experience to lean on. Learn more with iMore!
iMore senior editor from 2011 to 2015.