How to update iPhone, iPad, and iPod touch to iOS 6 via iTunes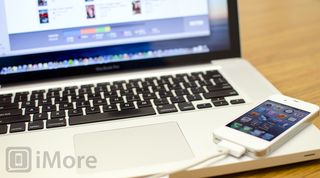 iOS 6 is here -- read our complete iOS 6 review! -- and you'll want to make sure you update in order to take advantage of all the new features iOS 6 has to offer. While you can update over the air if you're already on iOS 5, you can also update via iTunes.
So if the update isn't showing up for you directly on your device and you just can't wait any longer to update, follow along to update the old fashioned way using iTunes.
What you need
You'll need to make sure your device is capable of running iOS 6. Features and their availability may be subject to device model but if you're device is listed below, you're good to go.
iPhone 3GS
iPhone 4
iPhone 4S
iPod touch 4th generation
iPad 2
New iPad (iPad 3)
Next you'll need to make sure you have the latest version of iTunes which will be version 10.7. You can either visit iTunes.com (opens in new tab) to snag the latest update or if you're on a Mac, just run a software update and it should come through.
Back up your iPhone, iPad, or iPod touch
In the event something goes wrong with your update, you'll always want to make sure you have a current backup. If you haven't made one recently via iCloud or iTunes, make sure you do before proceeding.
If you're using iCloud, you can follow our tutorial on how to backup your iPhone, iPad, or iPod touch with iCloud.
If you aren't yet using iCloud you'll want to manually create a backup in iTunes before updating.
Plug your current iPhone into your computer and open iTunes. Your phone should start to sync and backup automagically.
If it doesn't start to sync automatically, click the Sync button in order to back up your device. (You can alternately right click your device name in the navigation bar and click back up as well. Either way will work just fine.)
How to update to iOS 6 via iTunes
Now that you've backed up your device you're ready to update to iOS 6.
Plug your iPhone, iPad, or iPod touch into your PC or Mac.
Open iTunes and click on your device name in the left hand navigation pane.
Under the Summary tab, click on the button labeled Check for Update.
iTunes should alert you that there is an update available for your device.
If you're ready to update right now, choose the Download and Update option.
Confirm any prompts that pop up and let iTunes do its thing.
Get the best of iMore in in your inbox, every day!
iMore senior editor from 2011 to 2015.
No update available for me on either the OTA or iTunes (10.7)

I wish I didn't have to re-download all my apps!

Aw that sucks. Did you not back up??

It's not showing available here......

Keep trying. It took me about 10 times before I got to a License Acceptance screen.

Off and downloading 25 minutes to go

I connected but it says 41 minutes remaining for the update download. It's going to be slow!

OTA has crashed 5 times now...

If I have a GM version of iOS 6 installed will it even prompt me to update?

My download is done. Started at 11:58 CT. It took 19 minutes total

So, what's the word on Jailbreaking?

something was going wrong and now my ipad deleted all the data and it getting pin/puk locked what to do?

I don't know about anybody else, but I can't seem to get iTunes to do the update for my. Both on my iPhone 4 & iPad 3 it said that the device was ineligible for the build. Running iTunes 10.7 on Mountain Lion. I'm checking the forums to see if there's a know problem.

Why doesn't iTunes allow resume download? I live on a college campus with very slow internet and no wireless. Had about ten minutes left and the download was disrupted and it has to start from zero now.

Worked like a charm.
I'm up and running all apps accounted for. I didn't have to reinstall anything of course I did let iTunes do all the heavy lifting.

new iPad try to update with iTunes and it fail, now a connect to iTunes icon appear on iPad´s screen, and i´m not unable to restore, walkways fail to connect to the server =/

Hi, I've just tried the update and similar thing has happened, I got an error message and now my ipad is not showing in i tunes and the connect to itunes icon has appeared on the ipad. Any suggestions on how to fix? thanks

Updated my two iPhone 3GS via iTunes without a hitch ... bravo Apple!

why would it restore everythign but my music?

for iphone 3gs ios 6 is available?????

but mine said that 4.2.1 is current update

U said 11 months ago that u can't update your IOS 4.2.1 to IOS 6. Have u updated it after? What did u do? Can u rely it to me? Thanks!

i try it but my phone its not working :( i have a message on i tunes it says ( we`re sorry we are unable to continue with your activation at this time please try again later or contact customar care
i dont know what to do its not working :(

7 hours remaining ? Great.

Annndddd it just got restarted. Another 7 hours to go.

will this work on my iphone 3g
Thank you for signing up to iMore. You will receive a verification email shortly.
There was a problem. Please refresh the page and try again.