Eager iPhone 6 buyers already lining up in London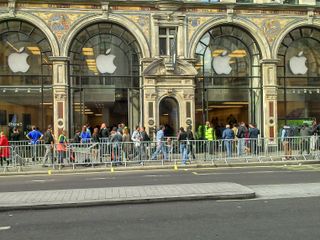 Whatever you're doing on this fine Sunday evening, if you're reading this you're likely not already in line to buy the iPhone 6 or iPhone 6 Plus. Right? Despite Apple offering pre-orders and in-store reservations this year for the launch, there is already a tent pitched outside the British flagship store on Regent Street, London as spotted by the team over at Techview.
Of course, people lining up to buy the latest iPhone isn't at all uncommon, and at Regent Street in particular literally thousands of eager buyers descend on launch morning. With 5 days to go, whoever's inside the tent is going to have to endure the best part of a week on one of London's busiest shopping streets. Maybe they missed the pre-orders?
Come Friday (OK, maybe Thursday night) we're going to begin venturing out ourselves, as are many of you. What's the earliest you ever lined up for a new iPhone? And where and when are you planning on doing it this year?
Source: Techview
Editor at iMore, part time racing driver, full time British guy. Follow him on Twitter and Google+
Lined up last year for the 5S and was looking forward to doing it again this year but the convenience of preordering from my bed Friday morning won out. It was a lot of fun last year meeting some great Apple fans! Sent from the iMore App

It's a phone... I don't stand in line for phones. Posted via iMore App

Here, Here!!!!! Sent from the iMore App

Hear, hear! Posted via the iMore App for Android

This Sent from the iMore App

My iphone 5 works just fine, I won't & never would be sad enough to wait @ store for anything as I have a life which is not run by electronics Sent from the iMore App

Good for you. My "5" also works fine, and I'm going to keep it.
Won't be used much after the 19th, when I get my "6" though.
I'll just need it for testing iOS 7 apps on the R4 screen size.
But keep up that noble green work or whatever it is you're doing.

I guess there is no chance of going to a store on the 19th and walking away with an iPhone 6 without a pre order or camping out. Oh well... October it is! Maybe... Posted via the iMore App for Android

Just go Saturday. They get shipments everyday.

Does anyone know if t mobile will have some in stores Friday? And will they have display phones so I can see which size to get or do I have to go to an apple store for that. Sent from the iMore App

If they have any, it will be the 16GB models of the 6 and 6+ only. They generally don't carry anything but the base model. It is likely they will have the display, but milage may vary on how quickly they get those displays up..

Ok thanks. I'm getting 64 gigs. And either 6 or 6+ depending on which I prefer once I got them in my hand. Sent from the iMore App

I don't believe that's accurate. They do carry iPhones beyond the base model memory. They did last year, anyways. Sent from the iMore App

Was thinking of lining up this year, will see on launch day

Are these people retarded? One word: pre-order. Sent from the iMore App

I always preorder when I can. 6 plus 128 to be delivered Friday. The longest time in line? 12 hours for iPhone 1 on my 55th birthday. My wife is still saying, "Idiot". I am a teacher and longtime Apple supporter as they have always supported education. ( all iPhone models purchased on day 1 ). I upgrade each year.

Should be exciting! Sent from the iMore App

Mostly eBay trolls looking to sell their iPhone 6 Plus in Asia.

Lined up just once, in 2008 for the iPhone 3G.
What a f-ck up that was, with the "Mobile Me" launch fiasco.
And the AT&T servers getting massively overloaded.
Took an hour to set up my phone after the wait in line. Never. Again.
Only. Pre-ordering. From. Now. On.
(And that goes for the Apple Watch too, by the way.)

I plan to get up at around 6am and go to sherway gardens in Toronto. The line probably won't be long and I can sign up for my upgrade with fido. I had a preorder but cancelled it and regret it. Sigh.

Pff, glad we have 2 stores Apple Stores across the street from each other and all 4 major carriers in my neck of the woods so I don't have to worry about this. I actually pre-ordered (with Personal Pickup) an i6 32GB but really want the i6 plus so regardless I will not be leaving empty handed.

What city? Sent from the iMore App

Glendale, about 5 miles north of Downtown Los Angeles. Verizon and Sprint are inside the Same Mall that one of the Apple Stores is in. There is another Apple Store across the street, and T-mobile and AT&T are 2 to 3 blocks away. Everytime I go make a line 2 hours before the Apple Store opens, there is no more than 50 people ahead of me. While I do expect a bigger crowd, I don't expect it to be hell since there are alternatives in the area. Definitely not like New York and even this store in London.

You're lucky , you got one of those rare non-existant 32GB

Sorry, I meant 64GB Space Gray.

I hate the line thing -- have done it a couple times and always swear I'll never do it again. Last year, the 5s couldn't be pre-ordered -- did the line and got one. Was glad pre-ordering was available this year and don't care that my projected delivery date is Oct 1st -- waiting a little past launch day is much better than waiting in that line again ;-)

I did it once. I believe it was for the 4. Even though I pre-ordered, I had a plane to catch that day for my wedding so I had to have it before we left. (Wedding vids & Honeymoon cruise pics and all) It was fun but tiring. I got there at 4am the day of and picked an apple store I knew was not usually crowded. I think I was out by 10. Now those line holder guys have it made. I had a guy in front of me doing that. Some rich guy drove by every 30min-1hr and brought him Starbucks, a chair, panera bread, or whatever else he wanted to keep him in line. In the end, the rich guy bought two iPhones and the line holder got one. I'd like to hear stories from former/present line holders. That would be an interesting read. Sent from the iMore App

Shops around must be really pleased. Regent Street isnt really a street that can accomodate such a sitting, nevermind tents and all. I for one wont be waiting in any line. Or pre-ordering anything for that matter. For Apple does not sale directly in/to my country. A European Union country, at that. The only thing I can count on is a small number of units next month or so (imports from Greece) in the few authorized resellers we have, at an excrutiating price (usually start at around 850/900 euros for an entry level iphone). Regular stocks at a decent price (everything is off contract here) will not come before early 2015. I'll have to travel abroad to get one.

never queue for a phone , lifes crazy enough as it is , some people love too crazy everything apple do Posted via iMore App

I agree with you. Any device isn't worth standing in line for. Just wait and preorder it! :) Brought to you by the Nexus 5, or the mighty Surface Pro 3

I waited in line for iPad 3 in a mall Applestore for a few hrs. Now I just pre-order.

Otigional iPhone I got in line 5 min before store opened and walked out with an iPhone about 20 min later.
iPhone 3G got in line about 2 hrs before store opened and walked out with an iPhone about 40 after store opened. Servers were down so they weren't requiring activation before leaving the store so I activated mine after work.
iPhone 3GS walked in store on launch day afternoon and got 16gig 3GS.
Skipped iPhone 4.
iPhone 4S walked in store every day starting on launch day, and for about 2 weeks I couldn't get the 4S 64 gig, so I finally ordered in store at AT&T. Got 4s about a week later.
Skipped iPhone 5
iPhone 5s walked into store a few hours after launch and in about 5 min walked out with 64gig iPhone 5s.
Will skip 6/6+
Probably pass on 6s/6s+ too unless they make a 4" version. Sent from the iMore App

DA, in the U.S. every retail chain sells Apple products, just about all of them, there is no need to wait for days at an Apple store, unless you don't have a life?? Sent from the iMore App

I can confirm this. Walked past Regent Street store today at around 12pm and saw at least 5 people already camped out in the queue.
Get the best of iMore in in your inbox, every day!
Thank you for signing up to iMore. You will receive a verification email shortly.
There was a problem. Please refresh the page and try again.