From the Editor's Desk: Disney+ is going to be way better than Apple's TV+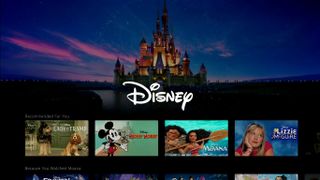 The brand-based media streaming wars are in full swing. For years, we celebrated on-demand entertainment from streaming services like Netflix and Hulu. Then, more companies jumped on the on-demand bandwagon, either offering "live TV" type cable subscriptions or singular apps that allow us to watch whatever we want from a specific distributor (Shudder TV is one of my favorite streaming movie services).
Apple and Disney both announced their foray into streaming entertainment at the same time and both are offering exclusive content at a reasonably low price. Both have promised lots of original and exclusive content in the future but both only have about a half dozen (slightly more for Disney) original shows at launch.
I'm way more excited about Disney+, launching this Tuesday, November 12, than I was about Apple's TV+ launch and it has nothing to do with the original programming.
For me, it's all about the rest of the content that Disney+ will offer at launch. That's hundreds of movies, TV shows, feature animations, cartoons, reboots, documentaries, and more.
Disney+ has a much better package deal, right now, that Apple couldn't possibly compete with. If I'm not interested in any of the half-dozen exclusive shows on Disney+, I still have hundreds of other entertainment options to consider. With Apple, I just have to wait for a new show to launch and hope I like that one.
I didn't hesitate to jump on a three-year Disney+ three-year subscription because I know I'll have enough content I'm interested in to keep me watching for at least three years.
With Apple, if I didn't have a 1-year subscription included with my iPhone 11 Pro purchase, I would probably not have subscribed past the 30-day free trial. Even at $5 per month, it's not worth it, to me. Not right now. Not with the limited content available. Not compared to Disney+.
Because I have a whole year to learn to love Apple's TV+, it's totally possible that next November, I'll be hooked on at least a couple of shows and that $5 monthly subscription will be worth it, but TV+ is still not the streaming service I wanted it to be.
Why? Because Apple doesn't own a back catalog yet. There aren't hundreds of "Apple Entertainment" movies dating all the way back to the 1950s. Apple doesn't even have licensing rights to movies and TV shows from existing distributors the way Netflix and Hulu do.
It's not that Apple hasn't or isn't trying to make deals with distribution companies. These companies just aren't willing to play the game Apple's way, whatever that is.
What I want from TV+ is a service that regularly puts out original content, but also gives me access to a back catalog of existing TV shows and movies. It'd be great to see smaller streaming services like Criterion, Shudder, and DC Universe make deals with Apple to provide additional content we could watch on-demand. I'd pay more than $5 per month for that. And, with a billion pockets having access to additional content, Apple and these streaming providers could both benefit (though, I'm sure Apple would come out ahead in the deal).
As it stands now, I'm glad I don't have to make a choice between TV+ or Disney+. With a free one-year subscription, I don't have to worry about whether I'm getting my money's worth of TV+. Hopefully, by the time I am faced with that decision, TV+ will have won me over, but Disney+ is, by far, a better package at launch.
Lory is a renaissance woman, writing news, reviews, and how-to guides for iMore. She also fancies herself a bit of a rock star in her town and spends too much time reading comic books. If she's not typing away at her keyboard, you can probably find her at Disneyland or watching Star Wars (or both).
Agree 100%. Disney has much more to offer. Maybe it is the nostalgia of some of the disney classics, but can't say I will keep TV+ once the free year is up. That could change if they really bring some shows out, but doesn't seem like that will happen anytime soon.

Of course Disney has more to offer, they already have tons of shows. Apple is working on new content, and it'll take a while to get up to speed

Clearly (which I mentioned in my comment)...

I think Disney have the upper hand in this tussle, especially in the US. Outside of the US, it's a different story, as Disney+ wont launch till March of 2020. By then, we will have a much better selection from Apple. People need to be patient with Apple, as they are going into this blind, and they aren't selling us any catalogue content. It is a strange way to do steaming TV, and this will tell us how the shape of TV will be. If Apple are right on original content, then there will be higher spending on programming by everyone. Oh, and I am exceeding jealous of you guys over there, getting the Mandalorian next week. 🙁😡🤬😭

For me it's actually the other way around but that primarily because I rarely watch anything Disney. I now have the two month Disney+ trial and I literally only have watched it one time.

Oh heavens - not even remotely close - think Tyson vs 8th grade boxer, and frankly Disney is being a street thug about it. All Disney content disappearing from every streaming alternative except for Disney+. It's their right to do that, but short of buying our own back catalog of movies, they will be the only game in town for most of the top listed movie entertainment. "Cord-cutting" in this avalanche of ever increasing subscriptions is going to drive folks back to cable. If you price YouTube TV/Hulu Live, with streaming from Netflix, Disney+, picking up non-sports content, CBSNow, etc, it reaches right into the same price point as DirectTV/Dish/Comcast, etc. And then you have to juggle your own menu...

These are two distinct products with different missions.

So as an ADULT, Disney+ service offers next to nothing that might interest me.
I have seen all the Star Wars movies and all of the Marvel movies and I own many of them. I have no desire to rewatch them over and over. I am getting Marveled-out, and even Star Wars seems to be getting diluted and I fear there will be too much Star Wars for my tastes soon. So I am really not certain what ADULT original NEW content that this service would offer me that might be enticing. I'm sure it will be great for kids. For me though, I really cannot imagine much that will entice me to watch. TV+ is OK so far, but at least it has content I am interested in going forward - as an adult ..

We get it, you're sooooo mature and grown up. Move along.

I agree with your assessment of TV+ and I have signed up for Disney+. However, tomorrow starts my subscription to Disney+ and I cannot find out how to use it with Apple TV HD4K. I cannot find an app. I have a Vizio Smart TV but it doesn't offer an app either. Any suggestions?
Get the best of iMore in in your inbox, every day!
Thank you for signing up to iMore. You will receive a verification email shortly.
There was a problem. Please refresh the page and try again.