Enjoy buying movies and TV from Google Play? Here's how to watch them on your iOS device!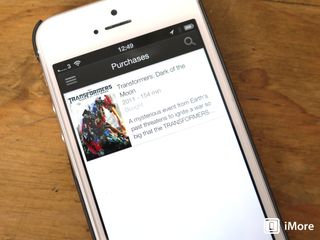 If you use an iPhone, an iPad or an iPod touch, then there's a strong possibility you already get your online TV and movie fix from iTunes, Netflix or Hulu. But, what about Google Play Movies and TV? If you were an Android user that's now crossed over to using iOS, you may well have a bunch of stuff you bought from Google. Or, you just might prefer to buy things from the Play Store. But, you're stuck, right? No mobile app to watch them on iOS means you're limited to where you can watch them? Actually, that's not quite true. There is a way, and it's ridiculously simple. Here's how to watch your Google Play video content on your iOS device.
All this requires is that you have the official YouTube app installed on your device. Once you open it up, slide out the main menu from the left, and tap the option to sign in with your Google account. Once you've done that, any YouTube preferences you have such as playlists, watch later, favorites, along with your YouTube subscriptions will all appear in front of you. As will a menu item labelled "Purchases." You may need to tap the down arrow next to your username to make it appear.
The Purchases tab will contain all of your Google Play Movies and TV content, available for you to watch within the YouTube app. It's through YouTube you watch your content on your computer, but it isn't immediately obvious that you can do the same through the iOS app. You can only stream, there's no way to cache it for offline viewing, so it operates more like a Netflix than an iTunes. There's also no links to the store, it's literally just a list of your stuff. But, it's really simple, and it gives you another source of video to watch on your iOS device.
And that's all there is to it. It'd be nice to get a dedicated player, but this is as good a way as any. If you prefer buying from Google over iTunes though, shout out in the comments and let us know why you prefer it.
Get more iMore in your inbox!
Our news, reviews, opinions, and easy to follow guides can turn any iPhone owner into an Apple aficionado