All Free Switch Demos Worth Playing Right Now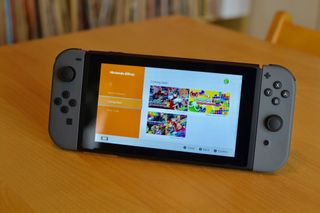 (Image credit: iMore)
Have you ever wanted to buy a Nintendo Switch game, but you weren't sure if you would actually enjoy it? There are plenty of games on the eShop that have free demos for you to play before you purchase the game — just make sure you have enough space on the microSD card in your Switch before you download them! Here is every Nintendo Switch game with a free demo that you can play right now.
Pokémon: Let's Go, Pikachu!
Pokémon: Let's Go, Pikachu! is a remake of the original Pokémon Blue, Red, and Yellow games, but this time you can choose Eevee as your starter Pokémon. Enjoy the classic Pokémon game that started it in all in a fresh new way, inspired by Pokémon Go.
Pokémon: Let's Go, Eevee!
Pokémon: Let's Go Eevee features Eevee instead of Pikachu as your starter Pokémon. Otherwise, it's the same remake of Pokémon Blue, Red, and Yellow, and features the original 151 Pokémon. The mobile Pokémon Go game inspires the gameplay mechanics, with a focus on catching instead of battling wild Pokémon.
Metroid Dread
In this fifth instalment of the Metroid mainline series, follow the bounty hunter Samus Aran as she desperately seeks to escape the planet ZDR. The Metroid Dread demo takes you through the game's first hour or so, teaching you the mechanics and introducing you to the new, horrifying enemy whose presence prevails through the game, the E.M.M.I..
Puyo Puyo Tetris 2
Puyo Puyo Tetris 2 continues to blend the two classic puzzle games into a unique entity. Take the best of both the Tetris and Puyo Puyo worlds with this game, featuring bright colors, quirky characters, and a huge number of gameplay modes.
Monster Hunter Rise
Monster Hunter Rise is the perfect marriage between old-school Monster Hunter and modern titles. With an added dimension of verticality achieved through Wirebugs, test out one of 14 weapons against formidable monsters in this demo. There are different quests for all difficulty levels, so jump right in!
Clubhouse Games: 51 Worldwide Classics
Clubhouse Games: 51 Worldwide Classics boasts 51 games involving die, cards, toys and more. Play alone or with friends in these classic games that are easy to pick up, yet hard to master. Play the demo to try out some of these familiar and international games that have stood the test of time.
Dragon Quest Builders 2
Dragon Quest Builders 2 brings you even more building fun in the world of Dragon Quest! You'll explore huge islands, gather craft materials, design your own towns, level them up, and defend them from hordes of monsters. There's plenty of new content in this sequel, such as fast travel, swimming, dashing, gliding, and even first-person perspective gameplay.
Triangle Strategy
From the team that brought us Octopath Traveler comes Triangle Strategy, another gorgeous 16-bit RPG. This time around, the game is centered around tactics and strategy, and seems to be a spiritual successor to Final Fantasy Tactics. If you like Fire Emblem games and 16-bit graphics, this demo is perfect for you.
Snipperclips
This is a multiplayer puzzle-solving game that's great when you have friends over. You will have to figure out how to snip your friends into a particular shape and fit it into the hole to get through each level. Some levels have different challenges you have to complete, which always include fitting into one shape or another.
Pokkén Tournament DX
Every Pokémon lover was thrilled when this game came out because it was finally a Pokémon game on the Nintendo Switch. You get to fight Pokémon in an arena against AIs, but you can play against your friends too.
Rayman Legends
Seeing Rayman back on the screen is great, and you can play this game with four of your friends as well! As Rayman, Globox, and the Teensies, you and your friends can tackle every map as your favorite characters. You can also play against your friends in tournaments with wireless multiplayer.
OCTOPATH TRAVELER
Octopath Traveler is an RPG developed by Square Enix that play similarly to classic JRPGs from the SNES. You choose from one of eight different characters and have control over their choices, which will change your story and experience.
Blaster Master Zero
This game is an old-school arcade-type game, similar to classic Super Mario Bros. This 8-bit side scroller is a great adventure game that will take you back to your arcade days without having to spend your own tokens.
Disgaea 5 Complete
Disgaea is an RPG game where you have to stop the evil Killia from taking over your realm. You'll have to go through the world and form alliances to take on all of the evil beings.
Mario & Sonic at the Olympic Games Tokyo 2020
Mario and Sonic characters team up in this fun sports crossover game. There is a campaign story mode, as well as a bunch of sports mini-games to enjoy with friends. You'll play in both 2D and 3D events, giving you a sense of nostalgia and modern at the same time.
ARMS
For a truly unique fighting game, you'll want to check out ARMS. Every fighter in this game has a unique ARMS style, which equates to deep, strategic gameplay with the controls. There are several different game modes as well, along with multiplayer and tournament modes.
Captain Toad: Treasure Tracker
Captain Toad: Treasure Tracker is a gem for any puzzle platformer fan. Help Toad avoid dangers while tracking treasures in trap-filled courses. You'll also encounter some favorite Mario enemies in each course, and another player can join you too. The latest DLC adds 18 new challenges and five brand new courses.
Yoshi's Crafted World
Yoshi returns in a gorgeous craft world made of everyday objects. You'll be leaping high, gulping down enemies, and embark on an epic treasure hunt with Yoshi as he sets out to find all the collectibles. The game is gorgeous and perfect for the entire family.
VOEZ
VOEZ is all about music and capturing the notes as you see them on the screen. It takes place in a made-up Japanese town, and it follows the story of high schoolers forming a band that goes international. There are over a hundred songs you can play through, and there are three different levels of difficulty.
Kirby Star Allies
Everyone's favorite pink puff is back in action in Kirby Star Allies! Gather up enemies by hitting them with hearts and play with four of your friends in the latest Kirby title. With so many new things to copy and new friends, Kirby is sure to be unstoppable.
Mighty Gunvolt Burst
If you loved Mighty Gunvolt when it was released in 2014, then you will love Might Gunvolt Burst. This is a full-blown game, but the demo will make you feel like you're playing the older, bite-sized game. Packed full of 2D fun, make sure to try out this game before you buy it.
Bravely Default II
Bravely Default II is full of that turn-based JRPG goodness you enjoyed in the Final Fantasy games of old. This Final Demo gives players a taste of the game after it was refined thanks to player feedback from the previous demo. Try out the new jobs and prepare yourself for another classic RPG adventure.
Slime-san
Save Slime-san as he flees from the giant worm that's following him throughout each level. This cute platforming game is sure to keep your attention as you try to collect items while running away from your threat. You can play with a friend and make the most out of this game.
ChromaGun
Get your hands on the ChromaGun, a lab-created gun that can change the color of any wall. This Portal-type game has all of the fun of Portal with its own little twist. Distract the worker droids with walls of one color, and make your way through the exit. Easy enough, right?
Lost Sphear
Rebuild your beloved lost town and other parts of the world in Lost Sphear. As a power threatens the fabrication of reality, you have to use Memory to restore all that has been lost in the world. Download this demo to start rebuilding the world and your loved ones.
Sushi Striker: The Way of the Sushido
Sushi Striker is a tasty match-three RPG with delicious sushi and fast-paced, frantic puzzle action. Match and devour sushi to battle enemies who stand between you and victory. This is one of the more unique match-three RPG games out there, and it's worth a look.
Monster Hunter Generations Ultimate
Monster Hunter Generations Ultimate is the ultimate tribute to the history of Monster Hunter, and it's great for newbies and veterans alike. Embark on epic hunts of big monsters, take them down, and use their parts to craft powerful armor and weapons to hunt even more monsters.
Mega Man 11
Mega Man 11 is here, and this demo gives you a taste of what to expect from the classic 2D action platformer. Take control of the Blue Bomber and battle the Robot Masters and take their powerful weapons for yourself, becoming the ultimate fighter.
Fitness Boxing 2
Fitness Boxing 2 has already hit the Switch and we really like it, but if you're curious about what kind of workout to expect, you can download the demo and try it out yourself. Break a sweat!
Hyrule Warriors: Age of Calamity
Hyrule Warriors: Age of Calamity is the latest entry of the Legend of Zelda series, with a major focus on action gameplay. This demo allows you to enjoy the first chapter and you can grind your way up to as high as level 20. You can even transfer your data into the final game once you purchase it.
Pikmin 3 Deluxe
Pikmin 3 Deluxe is the latest WiiU port to make the jump to the Nintendo Switch. Featuring tons of quality of life changes, Pikmin 3 is a delight to play seven years later, and even more so on the Nintendo Switch. Your progress in the demo can also be transferred to the final game. You'll even unlock some bonuses for doing so!
Monster Boy and the Cursed Kingdom
Monster Boy and the Cursed Kingdom takes the best from a classic series and gives you a fresh and modern adventure. There are six forms of unique combat and platforming abilities that make the game interesting, and you can find new paths and secrets in the vast world. It's worth looking into if you like RPGs.
Katamari Damacy REROLL
Katamari Damacy is back and now on Switch! Roll everything up and put them into the cosmos in this classic game, now updated with fresh graphics and new cutscenes with the King of All Cosmos and Prince of All Cosmos.
Cadence of Hyrule: Crypt of the NecroDancer Featuring The Legend of Zelda
If you love The Legend of Zelda and enjoy rhythm-based dungeon crawler roguelikes, then Cadence of Hyrule is perfect. It is a combo of music-based rhythm gameplay from the original Crypt of the NecroDancer and The Legend of Zelda. Plus, it includes all of the baddies from the classic franchise.
NBA 2K20
For basketball fans, NBA 2K20 is not to be missed. Play as your favorite NBA players, and even go through your career in the Story mode. The graphics are super realistic, and you won't believe that you're playing instead of watching an actual NBA game.
ONINAKI
Square Enix is back at it again with a new JRPG, ONINAKI. This game is about a Watcher who is on a journey to protect Life from Death. What's fun about this one are the hack-n-slash style battles, along with deep customization options for your daemons and weapons.
Dragon Quest Builders
Dragon Quest Builders is a building and combat game where you have to build up a town's level while also defending it from the evil Dragonlord's monsters.
Ori and the Blind Forest: Definitive Edition
Ori and the Blind Forest is not a new game, but it is finally available on the Switch. This gorgeous action platformer features Ori, who must confront a dark nemesis to save the forest of Nibel.
Disgaea 4 Complete
Disgaea 4 Complete features Valvatorez, a hero who must spark a rebellion against the corrupt Hades. Disgaea 4 has a ton of characters to recruit, train, and use in your arsenal to take down Hades.
Resident Evil 6
Resident Evil 6 is now on Switch, bringing along fan favorites and new faces to this epic chapter of the survival horror franchise. You can also play solo or with up to three other people. This includes all previous DLC.
Resident Evil 5
Another excellent entry in the popular survival horror franchise is Resident Evil 5. This one features Chris Redfield and Sheva Alomar, who both venture out to Africa to investigate an outbreak. This also includes all DLC content as well.
Daemon X Machina
Daemon X Machina is a fast-paced action game featuring mech battles that will appeal to any fan of giant robots. You're a mercenary and must defend Earth through high-speed combat against giant, corrupted robots by controlling your mech unit. It's one of the cooler games out there, but you should try it out before buying the full game.
Dragon Quest XI S: Echoes of an Elusive Age - Definitive Edition
Dragon Quest XI S: Echoes of an Elusive Age - Definitive Edition is the latest in the main Dragon Quest games on the Switch. Take on the role of the Luminary, a hunted hero who will end up protecting the land from destruction. You can switch between HD or 16-bit visuals in this game, so you can play whichever mode you're feeling up to at the moment.
Cristales
Cristales is an indie love letter to classic JRPGs. Sporting a fresh, new art style and traditional RPG gameplay, look out for this indie gem among the myriad of games on the eShop. Why not give it a try now?
Kingdom Hearts Melody of Memory
Kingdom Hearts is the long running RPG crossover between Square Enix and Disney. While the games are great in their own right, the music has been universally lauded by pretty much everyone. While the Switch doesn't have its own Kingdom Hearts game, you can at least indulge in some of its fantastic music from the palm of your hand.
When the Past was Around
When the Past was Around was revealed at December's Indie World showcase, and is quite a charming and surreal experience. Fans of old-school point and click adventure games will find a lot to love here.
Kirby Fighters 2
Kirby Fighters 2 is for people who like to play Super Smash Bros. but only pick Kirby. In this four-player fighter, you play as Kirby and only Kirby. Try on different outfits that contain different powers, and beat up your friends.
Final Fantasy Crystal Chronicles Remastered Edition
Final Fantasy Crystal Chronicles Remastered Edition is the remaster of the original Gamecube release. Featuring improved graphics and English voice acting, experience the game with friends again or for the first time. Playing the demo will also allow you to play with others who own the game.
The Legend of Heroes: Trails of Cold Steel III
Play as Rean Schwarzer as he tries to uncover a dark plot on his homeland while training a new crop of soldiers. This is the third game in the series, but extended knowledge of the previous games isn't really a requirement.
New Super Lucky's Tale
New Super Lucky's Tale is a retro-style platformer that features both 3D and 2D environments to hop your way through. Originally released on the Xbox, New Super Lucky's Tale features remixed levels, cinematics, and a rotatable camera.
Puyo Puyo Tetris
Puyo Puyo Tetris is a puzzle-solving game based on the best-selling game of all time with a little Sega twist. This game has both a single-player and multiplayer mode in which you can face off against friends. You can also play online against other players to test your skills against others.
The Wonderful 101: Remastered
Lots of gamers missed out on The Wonderful 101 when it originally released on the Wii U. Now it's fully remastered and back on the Nintendo Switch. Try it out and see if you like one of PlatinumGames' wildest titles.
Summer in Mara
Take it easy and explore the island of Mara with Koa, an adventurer girl who is looking to explore the world and discover the secrets that the ocean keeps.
Fitness Boxing
Need to get active but don't want a gym membership? Fitness Boxing could be a good way to get your exercise in. You can box to the beats of popular songs, and there's a ton of content to unlock. Exercise can be fun!
Trials of Mana
Trials of Mana is the 3D remake of the hit classic RPG released in 1995 as Seiken Densetsu 3. There's a lot to explore in the latest entry of the Mana series
What the Golf?
The golf game for people who hate golf. Try a hole or three of this wacky physics-based indie game.
Moving Out
Fans of Overcooked will love Moving Out, a game that is all about working together to move furniture out of one place and into a moving truck as safely as possible. Or not.
Balan Wonderland
Legendary game creator and father of Sonic the Hedgehog, Yuji Naga joins forces with Square Enix to form a wondrous action platformer.
Little Nightmares II
Little Nightmares II is a sequel to the horrifying puzzle platformer arrives on the Switch. Try out the game in this demo.
Immortals Fenyx Rising
With Immortals Fenyx Rising, Ubisoft has delivered a masterful open world adventure inspired by The Legend of Zelda: Breath of the Wild. Step into a brand-new open world and experience it for yourself.
Try it before you buy it
Demos can be a great help in exposing players to games and genres they may never have gotten into otherwise. If it's free, why not download a few? After all, some of the best games on the Nintendo Switch offer a taste of what they're like before you purchase them. Step out of your comfort zone and get into the game!
Master your iPhone in minutes
iMore offers spot-on advice and guidance from our team of experts, with decades of Apple device experience to lean on. Learn more with iMore!