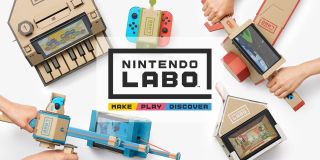 In January of 2018, Nintendo did something that they are so often wont to do. They introduced us to a new word; Labo. Moments later millions of voices suddenly cried out, "What is a Labo?"
Instead of struggling through sleepless nights staring at your Nintendo Switch and wondering what the heck a Labo is, let me give you a quick rundown of everything we know about Nintendo Labo.
What's new with Nintendo Labo?
March 8, 2019 — Labo VR Kit arrives this April!
Nintendo has announced the next new Labo experience: virtual reality! The Nintendo Labo Toy-Con 04 is VR Kit, giving you a new perspective to try these unique experiences.
The Labo VR Kit offers up a "VR" viewfinder as the core facilitator of fun. It's not advanced VR in the sense that it can understand where you are in space, nor does it have the kind of hardware needed for truly immersive VR experiences. But it does offer a wealth of fun possibilities should you be looking to scratch your playful itch.
Alongside the VR goggles are a bunch of accessories to help deepen the gameplay, including a blaster, camera, elephant, bird, and wind pedal. All of it will be used to explore and interact with the various game worlds that'll be available, one of which is a look at life underwater that you can capture using the camera.
There will be various ways to buy these new Toy-Con controls. You can buy a starter set that includes the VR goggles and the blaster for $40.
The others can be bought seperately, with a pack of two costing you $20. You can buy the camera and elephant as part of Expansion Set 1, and the bird and wind petal as part of Expansion Set 2.
Or, simply grab all of them in one go for the full $80 asking price. Toy-Con 04 will launch April 12, 2019.
July 27, 2018: Nintendo announces Labo Vehicle kit!
There is great news for kids and adults who are obsessed with various modes of transport. Nintendo has announced that on September 14 they will be releasing the Nintendo Labo Vehicle Kit. This kit will include ways to build and play with a Toy-Con Car, Toy-Con Submarine, Toy-Con Plane, Toy-Con Pedal, and key. It is going to run you about $70 and we will make sure to let you know as soon as pre-orders are available.
May 14, 2018: Jimmy Fallon and Roots to play full band with Ariana Grande using Nintendo Labo
Fans of The Tonight Show, Ariana Grande, Nintendo Labo, or any of the above are in for a treat tonight, May 14, as Fallon and The Roots are set to perform No Tears Left to Cry with superstar Ariana Grande using nothing but Labo created instruments.
IGN got a sneak peek at tonight's performance and spoke with Fallon.
The episode airs May 14 at 11:35/10:35CT. You can check out IGN's interview to watch the sneak peek right now.
April 20, 2018: Bill Nye gets in on the Nintendo Labo launch day fun
Today, Nintendo released a fun 4.5-minute video of famed "Science Guy" Bill Nye playing around with Labo in the Toy-Con Garage. With a little help from one of Nintendo's representatives, he puts together an RC Car, fishing rod, piano, and more. To watch everyone's favorite mechanical engineer get excited about a vibrating bug sure does make you want to start playing with Labo!
In case you didn't already know, Labo is available in stores now. If you haven't already pre-ordered yours, head out to your nearest Best Buy and pick one up!
April 5, 2018: Nintendo promotes Labo and Toy-Con Garage with special web series on YouTube
Ahead of its April 20 launch, Nintendo has been hard at work creating how-to videos for fun toy ideas you can make using the Toy-Con Garage feature of your Labo app. Part 1 of the series covers the basics, explaining the input and output nodes, as well as giving us a peek at some of the projects we can create. Part 2 teaches us how to make an RC tank, complete with giant monsters. In part 3, the Labo techs explain how to make a six-string guitar, and even how to alter the type of guitar it is! Presumably, this will be an ongoing series to help spark creativity in Labo users.
Check out the Invent New Ways to Play series on YouTube
What is Labo?
Labo are individual construction kits. Their intent is to make design and engineering fun. Each individual kit will come with perforated pieces of cardboard which can be punched out of a specially designed sheet. These cardboard pieces can then be put together to build various toys, which Nintendo calls Toy-Cons. You can use your Switch to guide the building of your kit, like a digital manual. It's kind of like Lincoln Logs or LEGO, but can interact with the Nintendo Switch in various ways.
What does Labo do?
Once you have built your Toy-Con you can insert a Joy-Con controller into it. This will allow you to interact with the Labo software on your Switch in a variety of ways. Build a Labo fishing pole and you can be catching fish on your Switch in no time. Are you more interested in music? You can build a piano with 13 functional keys which, when paired with the Switch, will have you playing grand overtures to Nintendo. Apparently, you can even go off script and design your own Labo creations with the software. It seems to be an interesting marriage of creativity, design, engineering, and gaming. If you're worried that your kids aren't getting enough learning with their gaming then this might be the solution you've been looking for. Mavis Beacon this is not.
How much does it cost?
There are two main kits you can buy, plus a customization set with stencils, stickers, and more.
Nintendo Labo – Variety Kit
This will include the Labo Variety kit software and 5 different projects to build. These projects include two RC cars, one fishing rod, one house, one motorbike, and one piano. The only thing you will need to bring is your Switch and your imagination. If you want to pick up the Variety Kit, it's going to set you back $70.
Nintendo Labo – Robot Kit
If you or your kids have dreams of becoming a robot, then check out the Robot Kit. This kit includes the required Robot Kit software and everything you need to build a robot rig that you will actually get to wear. Toss in your Joy-Con and the software and you will be able to destroy buildings with your physical movements. If you're looking to pick up the Robot Kit you're looking at $80
Nintendo Labo – Customization Set
In addition to the two main kits, you can also pick up a customization set which will allow you to give your creations some personal style. This set includes two stencil sheets, two sticker sheets, and two rolls of custom Labo tape. At current, there does not seem to be pricing available for the Customization Set.
What's the Toy-Con Garage all about?
Nintendo has also announced one of the cooler aspects of Labo. As far as I am concerned, Toy-Con Garage is what can make Labo truly interesting. It will be included in every version of the software so it doesn't matter which kit you buy. It is essentially the modern day coding equivalent of those science kits you would get as a kid in the eighties, where you would wire up a circuit in order to make a piezo buzzer make a horrifying sound. However, it seems as if there is a lot more freedom and encouraged exploration. It's a great way for young people to learn basic coding principals like if/then statements. You are given a simple visual coding language and encouraged to try any and everything. The following video from Nintendo will give you a little better idea of what is possible.
Where can I get it?
The easiest place to pick up a Nintendo Labo Kit is from Amazon, where you can buy the Variety Kit for $70, gthe Robo Kit for $80, and the Customization kit for $10.
You can also easily pick up your prefered Labo Kit in most brick & motar stores that usually sell Nintendo products.
Everywhere you can buy Nintendo Labo Kits
Labo looks to be something entirely different from Nintendo. Taken at surface level it can be seen as a bizarre offering. However, when you consider how Nintendo has often pushed and experimented with the various forms of gaming it makes all the sense in the world. This looks like it could be a lot of fun. I know that I would have loved to do this with my parents when I was a kid and I don't see any reason why children of today wouldn't enjoy it in the same sort of way.
What Labo are you excited about?
Are you getting the Variety Kit or Robo Kit (or maybe both)? What are you most excited to build with Labo?
Updated March 2019: Nintendo announced Toy-Con 04: VR Kit! All the details we know so far have been added.
Master your iPhone in minutes
iMore offers spot-on advice and guidance from our team of experts, with decades of Apple device experience to lean on. Learn more with iMore!
Lory is a renaissance woman, writing news, reviews, and how-to guides for iMore. She also fancies herself a bit of a rock star in her town and spends too much time reading comic books. If she's not typing away at her keyboard, you can probably find her at Disneyland or watching Star Wars (or both).