Ferrari continues its CarPlay support with the stunning GTC4Lusso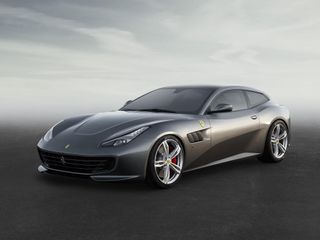 Ferrari was one of the very first car makers to support Apple CarPlay, and at the site of its first debut, there's another Prancing Horse boasting the technology inside. The awkwardly named GTC4Lusso is making its first appearance at the 2016 Geneva Motor Show and it's something of a looker. Though honestly, would you expect anything less from Ferrari?
CarPlay is but one piece of a much improved in-car infotainment system from Ferrari, something of a weak point in past iterations that included Apple's vehicular operating system. The full specs look something like this:
A 10.25" full HD capacitive touchscreen for multi-touch use.
New completely redesigned and simplified HMI – all functions can now be accessed both via the screen or physical controls – 2 rollers and 4 buttons.
A new 1.5 Ghz Jacinto 6 CPU with 2GB of RAM: the processor is eight times more powerful than the previous system.
Split View: different types of content can be viewed simultaneously.
Sat-nav with 3D maps.
In-cabin temperature can be set and front seat settings controlled
Connectivity via Apple CarPlay.
Multitouch is a pretty big deal, as Ferrari (and many other car makers for that matter) have clung to resistive touchscreens for far too long. Hopefully the whole experience inside the GTC4Lusso is now something worthy of the price tag and the reputation of the badge on the outside.
****...just read your other news about Kia rolling out CarPlay this year, too. What to choose, now. What to choose?
Get the best of iMore in in your inbox, every day!
Thank you for signing up to iMore. You will receive a verification email shortly.
There was a problem. Please refresh the page and try again.