Find My Friends updated with better controls for sending notifications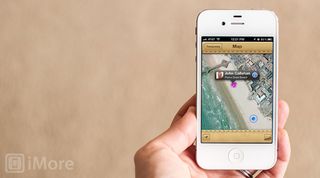 Find My Friends has been updated with a new user interface for setting up location-based notifications. Alerts tell you when you or a friend arrives or departs from a given location, and with this update, you now have control over what distance from the location alerts are triggered.
To set your desired distance, open Find My Friends and go to Me, then hit Notify. Under Send My Location, choose either "When I Leave..." or "When I Arrive..." in order to select your location. Your current location will come up by default, though you can select another. The default setting is 300 ft, and cannot be made smaller, but you can make your threshold has large as you want to past that. If you're meeting friends at a location, a restaurant, for instance, set the alert trigger for when you get to the correct street to let your friends know that you've arrived.
If you're a Find My Friends user, grab the update and let us know what you think.
Joseph Keller is the former Editor in Chief of iMore. An Apple user for almost 20 years, he spends his time learning the ins and outs of iOS and macOS, always finding ways of getting the most out of his iPhone, iPad, Apple Watch, and Mac.
Wow. Well I never understood really how this app could be useful. It seems like it might be a dangerous thing. I think the app is very cool but don't know if I want anyone knowing exactly where I am and when I leave a location. Can you explain how this is useful?

You have to add friends. Not just anyone can see where you are at. Like I added my wife and she had to accept me and vice versa. It's safe and just a cool way to see where your friends are at at any time.

Thanks BrianTufo, theREALtechdaddy, and dawggg63 Do I need two apple id's to make it work for my wife and I?

It's entirely opt in and you can "hide" your location any time with a simple toggle.

Typically, I will use it to inform me when my daughter leaves school so I'll know when to meet her bus, and when my wife leaves work to know when to have supper ready. I will occasionally use it to know if friends that I am to meet up with are running behind. Keep in mind, it is very easy to toggle off if you want to be off grid.

I use it with people I give rides to a lot. Say they're drunk at some bar - I can easily get directions to them to pick them up.

My wife and I use this app a lot. It's helpful for me to know about when she will get home since I'm the family cook. Since it's permission based, not everyone can see where you are, only the ones you allow.

We've used this app for our family since it came out and this update makes it even better. We use it for our 12 year old son and my mother who lives alone and often travels at night. She like knowing we can find her if needed. Basic courtesy and common sense (to allow for privacy) is all that's needed. This is a really nice service and app.

it would be great if this app can scan your social media, email, and phone contacts and add them

I often wish the same but I think I appreciate the deliberate nature of the opt in of its use, aka sending an email request and accepting it. Less chances for accidental or unintentional opt ins.

This is a good app for families with kids that use iPhone and businesses with issues phones. I don't know many friends that will accept for you to know where they are located at any given time.

I'm still surprised that you don't receive an alert when someone uses the "notify me" feature to monitor your location.

One thing I really don't like about this feature is that it turns on geo fencing for the phone being tracked, which causes battery drain.

I fret about battery use too but I have seen a greatly improved geo fencing strategy from Apple since it came out. So long as that GPS arrow pointer indicator on the homescreen is "hallow" and not colored in, then it's only pinging your location sporadically. I've really had no battery issues and I use this service all the time.

This is an absolute wonderful update for an amazing application. My family and I have been using this app since it first arrived on the scene. Besides just keeping tabs on everyone, it helps a lot with driving directions. Have you ever asked the question: where are you going to be home from work so that I can start dinner? This app ensures that everyone in my family always have a hot meal b

I never understood how this app could be useful either, seemed like the perfect app for a stalker or something, but now thanks to some comments I can understand or see a different point of view about it, looks very useful in family setting for monitoring kids specially.

Before reading the comments on this post, I really didn't see the point of this app other than for very clingy people who stalk each other. Having kids myself who take public transit to get to and from school and reading other's comments here... maybe this would be useful. For now, my kids just send a text... "We are leaving, should be there by XXX".

We used this app while skiing so we can keep tabs on where everyone is. Too bad Apple Maps doesn't have slope information like Google Maps, but still good enough to tell if someone is chillin at the lodge.
Also would be useful at disney world or any other group vacation. You have to remember, there is also a Temporary option as well, that expires at a certain time. So you can use it in a lot of 1-off situations easily without having to remember to turn your location services off.

This app to me is just not at all of interest. But it might be a good kid tracker.

The update works really well! Finally a constructive update!

This has saved me so much headache. I've recently moved to Las Vegas and I'm still slightly loss at times and cannot find my way. Sometimes Maps are great way to find someone if you both decide to meet at a certain place; however, with this application, we can easily find each other without great hassle.

Too bad this crap dont work since Apple forced it on everyone
Get the best of iMore in in your inbox, every day!
Thank you for signing up to iMore. You will receive a verification email shortly.
There was a problem. Please refresh the page and try again.