Highly adjustable and sophisticated in its design, the latest Herman Miller x Logitech G collaboration, the Vantum gaming chair, will slip as easily into a chic modern office as it will a gaming cave. Comfortable and good for your posture, it doesn't come cheaply, though.
Pros
+

Highly adjustable

+

Great for your posture

+

Incredibly easy to assemble
Cons
-

Expensive

-

Arms can't be removed

-

'Active' seating position not for everyone
You can always trust iMore. Our team of Apple experts have years of experience testing all kinds of tech and gadgets, so you can be sure our recommendations and criticisms are accurate and helpful. Find out more about how we test.
"Gaming chair" need not equal "primary colored racing chair." That seems to be the message the Herman Miller x Logitech G Vantum is projecting. A fresh collaboration from the premium office furniture manufacturer and Logitech's gaming-focussed division, the Vantum instead wants to tick the adjustability and comfort boxes that gamers request while packaging it up in a design that wouldn't look out of place in a fancy office.
It comes together in a seat that's very comfortable, happy to accommodate people of all sizes, and with a slick design that doesn't scream "GAMER!" at the top of its lungs. The Vantum commands a high price tag, but does well to make its high cost feel well-earned.
Herman Miller x Logitech G Vantum: Price and availability
The Herman Miller x Logitech G Vantum is available now, price at $995 / £845. That's expensive for a gaming or office chair, no doubt about it. But it's also far more affordable than other Herman Miller chairs, which usually command an asking price north of $1000. That's despite the quality on offer here, which doesn't feel as though it's scrimping on the premium that the brand usually delivers.
And keep in mind that you're getting a 12-year warranty here too — you'll usually see a 3-5 year warranty as standard for a chair, depending on the brand. So there's presumed longevity and support factored into that price too. Still, a great chair can be bought for just a few hundred dollars, too. So weigh up your options before dropping close to a grand, however good the Vantum has proved to be — there are lots of great cheap office chairs out there.
Herman Miller x Logitech G Vantum: What's good?
The Herman Miller x Logitech G Vantum gaming chair is a real looker. Rather than the racing-chair aesthetics of your usual high-end gaming chair, the Vantum instead is far more refined and sophisticated.
Specs and measurements
Total Height (including base): 44.25" / 112.4cm
Floor to Seat Height: 18 - 22" / 45.7 - 55.9cm
Armrest Adjustments Angles: 3-way
Recline: 98.1° - 117.1°
Backrest Height: 24" / 61cm (not including headrest)
Backrest Width (to Shoulders): 17" / 43.2cm
Seating Area Depth: 14.5 - 17.5" / 36.8 - 44.5cm
Seating Area Width: 20.5" / 52.1cm
Armrest Depth: 10" / 25.4cm
Armrest Width: 5" / 12.7cm
Armrest Height (from floor): 24 - 31.75" / 61 - 80.6cm
Wheel Size: 2.5" / 6.4cm
Maximum Recommended Weight: 350lbs / 158.8kg
Three colorways are available — an all-black option, a red and black option, and a white and black option.
All three have discrete red accents where their adjustment dials sit. Mixing mesh fabrics with hard matte plastics, the Vantum's rigid plastic frame has an almost skeletal look, with just the "bones" of the chair's back frame present, rather than a full shell covering the rear side.
It gives the impression of a much lighter, less imposing piece of furniture, letting it more easily fit in a standard office environment than your average, 'loud' gaming chair.
It's as easy to set up as it is lovely to look at, too. It ships in a very large box, but that's because, thankfully, it comes almost fully assembled.
There's just three parts that need slotting together — the wheeled feet with a gas-powered shaft, the seat and backrest, and the headrest — and no tools are required to connect them. It's just a matter of sliding the components together, and you're good to go, taking less than five minutes. Short of being fully assembled, it's the easiest office chair I've ever had to put together.
When completed, the seat weighs 16.7kg, a good weight for keeping the seat in place without being so heavy as to be a drag to move.
The Vantum opts to put its user in an "active, forward-leaning" position by default, intended to make you more alert for "better reaction time and increased focus" — important traits for the pro gamer, but just as useful for the would-be slacker struggling to keep their engagement up when working from home. It's good for your posture too, straightening your back out and encouraging you to lift your chest and keep your chin up.
Ample padding (making use of polyurethane foam) is in the seat and headrest, while the polyester mesh backing (made from 100% post-consumer recycled materials) includes a suspension backrest with adjustable lumbar (your lower back) support and thoracic (the upper and middle parts of your back) support.
Adjustment options are plentiful and very pleasant to sit with. Tilt, tension, and recline can all be adjusted with a recline range of 19 degrees (between 98.1 117.1 degrees) giving you some lean-back flexibility. It won't go completely flat… but that's what beds and couches are for…
Under the seat on the left-hand side is a red knob for adjusting how far back the chair can tilt, through six numbered steps, while a red knob on the right lets you adjust how much pressure is required to get that lean back, through seven numbered steps. I loved that these were specific, numbered steps, letting me precisely find and record the combination that I found most comfortable. It's particularly helpful if you're sharing the seat with someone else with differing tension preferences.
Onto the seat, and its wide 20-inch cushion should be comfortable for a large majority of people. There's an extra inch on either side between the end of the cushion and where the arms start, giving a little leeway for those needing a roomier fit. Those armrests can raise and lower, as well as their surfaces moving left, right, forwards, and backward smoothly, and have a gently sloping finish too, making it easier to place your arms when resting with a controller in your hands. They're wide and spacious, and easy to adjust.
To lift the seat there's a lever under the right side of the seat, while a handle on the bottom right lets you adjust the seat depth too. At a maximum of 17.5 inches, the seat depth here is a little tighter than most gaming chairs, so factor that in depending on your comfort expectations.
Lumbar support is not height adjustable, but its two-point flexi pressure points mean it does well to hit the right back spots regardless. Turning either of two red knobs on either side of the lumbar support adjusts its tension. The thoracic support doesn't offer any adjustment but does well to sit from the middle of the average back to between the shoulders — if it doesn't suit you, it can be removed.
As for the neck and headrest, that sits on a rigid, locking arm. Though height is tricky to adjust because of how stiff its slot is, tilting the headrest is easy and hands-free — pushing back slightly with your head and neck lets you easily find the sweetspot for keeping your chin up and face forward. I tended to use it more as a neckrest than a headrest, with its curve a good fit for the nape of my neck.
It makes for a very comfortable chair, and one that does its best to support you in having good posture for as long as you're seated in it. You're well supported from the lowest point of your back right through to the tilt of your neck, with the seat firm enough to keep you from slouching, while soft enough to let you sit for long periods of time without feeling sore. The mesh fabric backrest is very breathable too, meaning you'll never feel like the chair is heating up behind you, even on uncomfortable warm summer days.
Herman Miller x Logitech G Vantum: What's not so good?
This probably says more about my posture and slime-like core strength than it does about the Vantum chair, but if you fancy a good ol' slouch, this chair really doesn't make it easy for you. It's actively trying to make you think about your posture at all times, and works to keep your back and neck in a healthy alignment as best as it can. That can hardly be held against it — but when you've just come last in your fourth Call of Duty deathmatch in a row, you might wish you could jelly your way down into a ball a bit.
The arms of the chair are full of adjustment points, and can be placed exactly where you'd like them — unless you didn't want arms on your chair altogether. While I appreciate the fact that the chair comes almost fully assembled straight out of the box, having the option to remove the arms would be useful for anyone with a lower desk that might not be able to otherwise slide the chair snugly underneath with its arms attached.
Similarly, raising the height of the neck support is quite difficult — it takes such force to raise or lower it that it's difficult to fine tune precisely where it sits, a shame given how easy it is to tweak basically every other element of the set up.
And finally, there's the price. As far as Herman Miller chairs go, this is relatively affordable, and you shouldn't discount the value of having a 12 year warranty attached, either. However, any office or gaming chair over the $300 mark in the current economic climate is unavoidably pricey. It justifies the price tag with a premium experience, but it's worth checking out our best budget office chairs list if your bank balance is a bit more modest.
Herman Miller x Logitech G Vantum: Competition
Competition is fierce in the gaming chair space, and often much more competitive when it comes to pricing than what the premium-directed Herman Miller gear points towards. We recently review (and loved) the updated Secretlab Titan Evo, which comes in at roughly half the price (depending on configuration) and is supremely comfortable. It leans a little more toward standard gaming chair aesthetics, but comes in colorways that aren't too noisy. The Cooler Master Caliber X1C is cheaper still at around the $400 mark and can lean back completely prone if that flexibility is important to you.
Herman Miller x Logitech G Vantum: Should you buy it?
Buy the Herman Miller x Logitech G Vantum if...
You want a gaming chair that would look good in an office space, too.
You want a chair that will encourage good posture.
You're looking for ample opportunity to adjust the fit to your liking.
Don't buy the Herman Miller x Logitech G Vantum if...
You're on a tight budget — there are plenty of affordable options out there.
You want to slouch every once in a while — the Vantum works hard to keep you upright.
You need to be able to remove your chair's arms.
Herman Miller x Logitech G Vantum: Verdict
I've been sitting at the Herman Miller x Logitech G Vantum every day for a few months now, and I've really fallen in love with it. It has great style and adjustability, and its efforts to improve my posture are appreciated — it's like having someone checking in on me at all times, keeping me from curling over.
Though I'd have liked removable arms as an option, and an easier-to-adjust headrest height, all other customization points are within easy reach and well-designed to make finding a seated sweet spot very easy. It's not a perfect fit for larger people, and you'll need a bank account balance on the larger side too. But for those that fit the bill, you'll get many good years of service from the Herman Miller x Logitech G Vantum.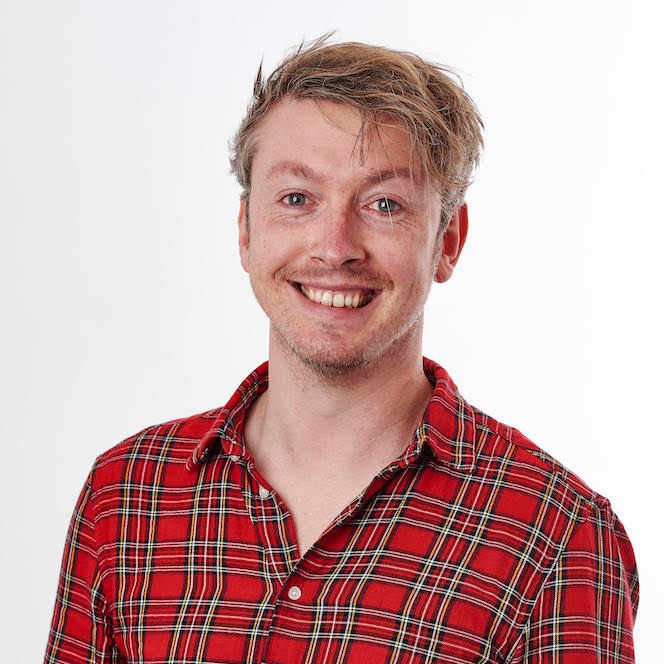 Gerald Lynch is the Editor-in-Chief of iMore, keeping careful watch over the site's editorial output and commercial campaigns, ensuring iMore delivers the in-depth, accurate and timely Apple content its readership deservedly expects. You'll never see him without his iPad Pro, and he loves gaming sessions with his buddies via Apple Arcade on his iPhone 14 Pro, but don't expect him to play with you at home unless your Apple TV is hooked up to a 4K HDR screen and a 7.1 surround system.
Living in London in the UK, Gerald was previously Editor of Gizmodo UK, and Executive Editor of TechRadar, and has covered international trade shows including Apple's WWDC, MWC, CES and IFA. If it has an acronym and an app, he's probably been there, on the front lines reporting on the latest tech innovations. Gerald is also a contributing tech pundit for BBC Radio and has written for various other publications, including T3 magazine, GamesRadar, Space.com, Real Homes, MacFormat, music bible DIY, Tech Digest, TopTenReviews, Mirror.co.uk, Brandish, Kotaku, Shiny Shiny and Lifehacker. Gerald is also the author of 'Get Technology: Upgrade Your Future', published by Aurum Press, and also holds a Guinness world record on Tetris. For real.