In defense of the Apple Vision Pro battery pack (with one major concession)
I'm all for the Apple Vision Pro external battery, even if it is ugly. But one thing needs to improve.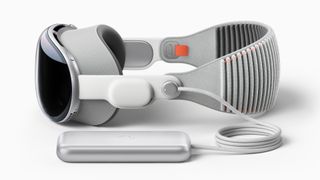 (Image credit: Apple)
WWDC 2023
- WWDC 2023 - live updates
- Apple VR and the Reality Pro headset
- iOS 17
- macOS 14
- iPadOS 17
- watchOS 10
The Apple Vision Pro headset is here, and it's a very futuristic vision of next-generation computing… with a very old-fashioned method of powering the thing.
Like many VR headsets before it, Apple's 'Spatial Computing' device is a wearable that straps over your head, placing high-resolution screens in front of your eyes to mix digital elements with the real world around you. And like the many VR headsets before it, it takes some very carefully managed industrial design ideas to make that a comfortable proposition.
I've strapped into loads of these sorts of headsets in my time as a tech journalist, and seen designs play out with varying degrees of success.
There are those with too much weight on their front section, which either slide off your nose or put uncomfortable pressure on it. There are those that try to place the weight directly on top of your head, which can be uncomfortable for your neck. And there are those that try to distribute weight primarily at the back of your head, which then require a great deal of tightening clamping force to stop them slipping around and causing your vision to blur, as well as increasing the sense of claustrophobia such headsets can produce.
VR headsets are complicated products, and there's not very much you can offload to redistribute that weight. The screens, sensors, cameras and speakers can't really be anywhere else except on the device. And though generational improvements to these devices mean some components get smaller and more efficient, progress also demands more components be added. And Vision Pro has a lot going on — two processing chips, 12 cameras, five sensors, six microphones and much, much more.
The compromise
So the inevitable happens. The battery is one of the few remaining elements that adds considerable weight and can live elsewhere. And so the Vision Pro has a wire coming off the side of it, down to your pocket, where a battery pack that appears to be about the size of an iPhone lives.
But that's a good thing — even if I'm sure it'd send Jony Ive and Steve Jobs into a rage!
It's not an aesthetically pleasing solution, but it is an ergonomically smart one. Anyone familiar with the Meta Quest 2 has likely found themselves hooking up an external battery pack at some point, and it's relatively painless — if it could be as a replacement for additional weight in Meta's headset, it'd maybe even be ideal. (Meta also offers an 'Elite' strap for Quest 2 that adds an additional battery pack into a band at the rear of your head. This works reasonably well and acts as a counterweight to that device's front gasket. But the ultimate goal is to remove as much weight as possible from your head.)
Provided Apple has managed to take considerable weight off the headset and keep it competitively light compared to the headsets we've already used, Vision Pro could be transformational for comfort, and for the length of time you can use the headset before fatigue kicks in. But we won't know that for sure until Apple shares the weight of the headset itself and until enough people have put its headband and gasket to the test beyond Apple's tightly-controlled demo area. Early reports from the likes of Marques Brownlee suggest it may still be one of the heavier headsets.
Now, granted, I wasn't one of the chosen lucky few to get out to Cupertino and strap Vision Pro onto my head. But having tested dozens of VR and AR headsets over the years, and dealt with cumbersome weight distribution and awkward designs, I can still say with confidence that the design choice is a valid one. It may not be a looker, but in terms of ergonomics, it's sensible.
A bigger juicebox
But maybe… perhaps not sensible enough? According to Apple's press release, you can expect to only squeeze two hours of constant use out of the Apple Vision Pro headset and battery pack before a recharge is needed.
That's… not very long at all. And while I would caution against anyone wearing a headset for much longer than that anyway (enjoy the real world too, folks!), that would be barely enough time to do many of the things Apple showcased in its launch, whether that's enjoying it on a long-haul flight, watching a live sporting event, or even something as simple as settling down for a movie — you can bet the Apple TV Plus Napoleon film that featured heavily in the Vision Pro marketing is going to run substantially longer than 120 minutes.
Apple suggests that 'all-day use' is possible when Vision Pro is 'plugged in', but that very much goes against the free-and-easy mobility that the demo reels suggested. It's telling that at no point in the reveal clip do you see someone plugged into a wall outlet, as that's not the ideal product vision for anyone, Apple marketing teams included. It's a good job you can use Vision Pro to beam an IMAX-like screen anywhere you like — as 'anywhere you like' may be restricted to 'the cramped corner of the room with the free plug socket.'
More pocket power
And so that concession from the headline. I do think the battery pack is a wise move, but when you've already made that design compromise, why not go the whole way and make the thing that bit bigger, and capable of greater capacity?
At the point where you've got a powerpack in your pocket you've already lost the truly-wireless battle, so why not double its size, double its capacity, and stick a belt clip on it? You've taken the weight off our heads with the belief that our pockets can handle it — I'd be shocked if those pockets couldn't handle a little bit more.
Master your iPhone in minutes
iMore offers spot-on advice and guidance from our team of experts, with decades of Apple device experience to lean on. Learn more with iMore!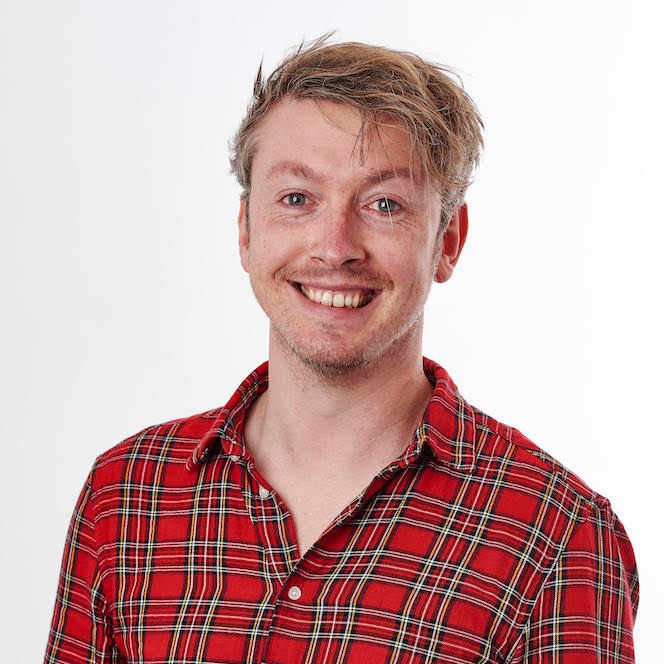 Gerald Lynch is the Editor-in-Chief of iMore, keeping careful watch over the site's editorial output and commercial campaigns, ensuring iMore delivers the in-depth, accurate and timely Apple content its readership deservedly expects. You'll never see him without his iPad Pro, and he loves gaming sessions with his buddies via Apple Arcade on his iPhone 14 Pro, but don't expect him to play with you at home unless your Apple TV is hooked up to a 4K HDR screen and a 7.1 surround system.
Living in London in the UK, Gerald was previously Editor of Gizmodo UK, and Executive Editor of TechRadar, and has covered international trade shows including Apple's WWDC, MWC, CES and IFA. If it has an acronym and an app, he's probably been there, on the front lines reporting on the latest tech innovations. Gerald is also a contributing tech pundit for BBC Radio and has written for various other publications, including T3 magazine, GamesRadar, Space.com, Real Homes, MacFormat, music bible DIY, Tech Digest, TopTenReviews, Mirror.co.uk, Brandish, Kotaku, Shiny Shiny and Lifehacker. Gerald is also the author of 'Get Technology: Upgrade Your Future', published by Aurum Press, and also holds a Guinness world record on Tetris. For real.