Georgia: How I use my iPhone 4S as a therapist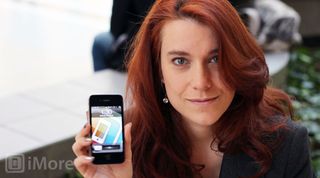 I've been using mobile devices since the Handspring Prism and switched to the iPhone in 2010 when it first arrived in Canada. Slowly but surely, I've come to rely on it more and more, not only for blogging here on iMore, but for managing my day job as a therapist.
My iPhone's built-in alarm wakes me up in the morning. With eyes still half closed, I fumble for it, and peer at Intelliscreen X, my jailbreak Lock screen extender, to see if any urgent SMS messages or emails have come in over night. If nothing's there, I freely admit to hitting snooze and getting as many more winks in as time and family will allow.
Since I spend most of my day seeing clients at my office, where I'm offline and petty much unreachable while in session, I depend on SMS and email to stay in touch and keep track of any scheduling changes and additions. I can't have sound alerts on so unobtrusive visual notifications are really important to me. In between sessions I need to be able to look and see a list of everything that's come in while I've been busy, and respond as quickly and efficiently as possible. I use BiteSMS for jailbreak to handle my SMS heavy lifting. It lets me quickly see and reply to SMS messages even if I'm busy using another app (or game, shhh!) at the same time.
Since I'm often in a rush to get out of the house in the morning, I've come to rely on the Nexia Home Security System so I can do everything from lock my doors to turn on or off lights no matter where I am.
On my way to work I listen to music in the built-in Music app. I actually listen to music all the time. Whenever I'm out and about and hear something I like, I use Shazam [Free - Download now (opens in new tab)] to identify and buy it, and musiXmatch so I can -- yes, I can't believe I'm admitting this! -- sing along!
I'm also constantly taking photos with the built-in Camara app. I take photos of everything -- beautiful skies, outfits that look interesting, nail polish I'm testing out, hairstyles I've tried. You name it, I shoot it. I haven't gotten into any of the App Store photography or sharing apps, but I have used the amazing olloclip to do wide-angle, fisheye, and macro shots.
If I have to set Reminders or create quick Notes while traveling or in between sessions, I use Siri. I've played around with a number of jailbreak Siri extensions, but I don't use any of them regularly.
At work my iPhone becomes -- steady now! -- a phone! I use it to make an return calls. (And yes, I still remember phone numbers and use the dialer to place calls...) I also use the built-in Calculator for book-keeping. I have some events in the Calendar app but those are mostly for family and personal appointments. I still use a good old fashioned agenda book for client appointments.
Whenever I have a free moment, I love to decompress with casual games. My current favs include Draw Something and Zuma's Revenge [$1.99 - Download now (opens in new tab)]. It's not exactly the same as my long, lamented Stoneloops, but it's close.
I now use the awesome iMore app to keep up-to-date with the site, and Tapatalk to read and reply to the iMore forums. I don't use Twitter much, but when I do I'm now using Tweetbot. I also use Notes to rough out my reviews.
When I finally get home, I switch to the iPad and enjoy surfing the web, gaming, and watching videos the bigger screen. When I go to bed, however, it's back to the iPhone. Nothing can beat its mobility.
I'll check my schedule for the next day, catch up on any remaining emails and texts, maybe play a few more games. Then I set my alarm and catch as much sleep as I can before repeating it all the next day!
Interest in seeing how other members of the iMore nation use their iPhones and iPads at work? Check out the full series! Want to share how you use your iOS device? Add your story to our official iPhone at Work or iPad at Work threads in the iMore Forums!
Get the best of iMore in your inbox, every day!
Senior Editor at iMore and a practicing therapist specializing in stress and anxiety. She speaks everywhere from conferences to corporations, co-host of Vector and Isometric podcasts, follow her on Twitter @Georgia_Dow and check out her series at anxiety-videos.com.
I came here looking to get treatment from my iphone 4S, I guess I'm just back to talking to Siri about my problems.

What happens when you forget your phone on the counter while rushing out the door? I've gotten halfway to work and turned around to go get my phone. It is amazing how our phones have become an extension, and its like missing a hand or leg if its not in our possession.

Seriously! Heck, I left my phone at home once just going to Walmart... I turned around in the parking lot and went back to get it. It's as if we're naked without it...

Hi Georgia, I make house calls and I've been using Square for a few weeks in order to accommodate clients who prefer to use credit cards for session payments or just copays. They really seem to appreciate the option, and I think it's great. Sometimes, the swiping is buggy, but I think that's because of my Defender case.

Georgia is a cutie...iLike a red head!

Wow. You're quite the busy young lady, Georgia!
Re: "If I have to set Reminders or create quick Notes while traveling or in between sessions, I use Siri."
We think Reminders is an absolutely brilliant app. It's simple and intuitive for first-timers. But it also has somewhat more advanced features that you can easily drill down into. No, it's not perfect, and there are still a few missing features (re-ordering reminders, for one.)
But the Siri integration is incredibly cool. We love the way Siri can "break off" a piece of the Reminders chrome and display it within the Siri app. It adds yet another visual confirmation that your new reminder has been saved, by showing you a bit of the look-and-feel of the Reminders app embedded in the Siri interface.

So the way you use your iphone... as a therapist... is the same as how I use my phone has a hospital worker or even as a student? And basically how everyone uses their phone in their lives? I just find it odd you had to add as a therapist since this has nothing to do with being a therapist, just how you basically use it every day.

Not a good point. She's a therapist and as such specific apps take center stage as opposed to someone else's vocation. It's not about how the phone excels for the therapist but rather how a therapist gets stuff done because of the phone.

I scan a lot of documents with scanner pro, I do make appointments on the iPhone, both family, and business. The IT people at work realized most of us had iPhones, and iPads. They let us set up an account through the free app Citrix. I can long in, and work on business documents. I use Readdle docs over docs to go. I like Readdle better. Because of sensitive information in Readdle docs, I have it turned off to iCloud sync. I trust iCloud, but better safe than sorry, and yes I still have a hand written day timer to keep appointments in. Sort of a written back up to the iPhone, and iPad.

So you do the therapy or vice versa?
iPhone came out in Canada in 2008 - iPhone 3G.
that will be $5 - next please...

Great pic of you Georgia.