Go Vacation for Nintendo Switch: Beginners Guide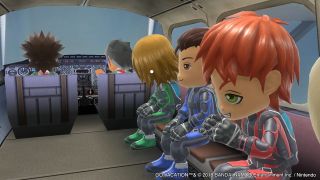 Go Vacation has launched on the Nintendo Switch as the Wii Sports-like party game we've wished the system had. Though technically an HD port from the Wii, the game is seeing a second life on a system that seems like it was made for motion controlled local multiplayer goofiness.
Over 50 games and four massive areas to explore to unlock them might seem like a lot for a relaxing vacation game, though. Take it step by step--here's how to get started with Go Vacation.
What is Go Vacation?
Go Vacation is a port of a 2011 game for the Wii that's been upped to HD for the Nintendo Switch with a few other extras thrown in. The game is very reminiscent of Wii Sports in that it has a bunch of Miis playing minigames. Unlike Wii Sports, however, the games are largely more shallow in gameplay terms, but there are also far more of them. Go Vacation has over 50 games to discover and choose from across the island of Kawawii.
The premise is that you and up to three friends have traveled to the paradise resort of Kawawii and can participate in these activities as you discover them. You can play alone, or have friends and family drop in and out.
How do I play?
Go Vacation consists of four overworlds, each with a different theme and activities: Marine, City, Snow, and Mountain. To start, you'll need to explore each area and happen upon a game to play it. Most games are played simply with either motion controls or simple button presses, and though they all have their own separate controls, you'll be taught the easy set-up for each game, so never fear not knowing what to do.
While exploring, you'll also run across different characters you can talk to, hidden secrets, and sometimes animals you can photograph for a collection. Rewards for thorough explorers include neat items and clothing bits you can use to bedeck your Mii character or decorate a house you have at the hub of the island. You can also select a dog friend, with different breeds unlockable through daily rewards.
Your guide, Lilly, will recommend activities for you to try, but don't feel obligated to follow her recommendations. You'll get to all the activities eventually one way or another.
What are all the different activities in Go Vacation?
There are over 50 sports in Go Vacation, but they aren't all available immediately. You need to explore each area on your own to find the activities before they'll be directly accessible from the menu, and a few hours after the game is out, we're still working on finding them all! The good news is that means there is a ton to do in this game, and if you're inviting friends over to join you, there will be new things to do across multiple get-togethers.
Here are a few of the activities we found:
Motor fest
Dance
Wheel slider
Glass harp
Pie throwing
Table hockey
Hang-gliding
Mini Golf
Sword fighting
Ace pitcher
Marine bike races
Sky diving
Beach volleyball
ATV race
Scuba diving
Surfing
Water gun battle
Marine fishing
Snowball fight
Dogsledding
Snow races
Snowmobile races
Ski jump
Snow tricks
Snow tubing
Snowman making
Horseback riding
Rifle shooting
Kayaking
Tennis
Rafting
Car racing
Mountain fishing
How does multiplayer work?
You can play Go Vacation by yourself, but the game is best with up to three others joining the game locally with Joy-Con controllers on one system, or you can use local wireless with multiple systems. You can use normal or motion controls (which vary, depending on the game).
What are the goals/rewards?
Go Vacation is very reminiscent of Wii Sports in that everything is largely just for fun--there's no story or endgame to follow up on. However, you'll want to pop your head into the game regularly to keep finishing challenges (appearing across the island and swapping daily), finding hidden secrets, and earning rewards to decorate your Mii, dog, and house with. Other than that, it's all about winning against your friends and having a relaxing, fun vacation.
When can I finally relax?
Go Vacation is out now for Nintendo Switch, and costs $49.99.
Any questions?
Want to know more about Go Vacation? Ask anything you want to know in the comments!
Master your iPhone in minutes
iMore offers spot-on advice and guidance from our team of experts, with decades of Apple device experience to lean on. Learn more with iMore!