How to install an iPad in your car dashboard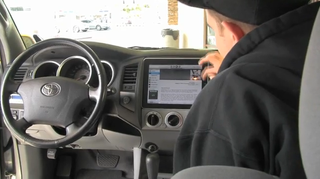 Why would you want to install an iPad into your car dashboard? Maybe you're radio's LED is way too small, maybe you want to be the envy of all your friends and loved ones, maybe you just want to enjoy some multitouch entertainment on the go? Whatever your reason, this video is for you!
Doug Bernards (aka The Sound Man) goes through every step in order to turn a regular dashboard LED display into a megalithic iPad control station. It is incredible to watch and makes me ever so jealous.
Take a peek at this cool car mod after the break!
No doubt I lack the skills to undertake this transformation but those with a bit of technical skill could surely replicate this video. Things needed for the mod includes a McIntosh 6 channel amplifier MCC406M, and a special iPod dock which allows the digital signal to be pulled from the iPad and distributed to the BitOne via optical output it was placed in a Toyota Tacoma.
The final effect is phenomenal but I cant help but thinking this would be a thief's dream, without a cover or way to easily remove it. Any ideas for making it even better?
Senior Editor at iMore and a practicing therapist specializing in stress and anxiety. She speaks everywhere from conferences to corporations, co-host of Vector and Isometric podcasts, follow her on Twitter @Georgia_Dow and check out her series at anxiety-videos.com.
Awesome fit!!! Not for everbody I guess

Very cool... Until the summer hits and the iPad breaks after prolonged exposure to heat. Killed a iPod like that during summer here in Texas. :( Seems a bit wasteful, in the longrun, unless you plan to replace as they break.

I have had one in my mustang for three years now with out any problems but one that was on a super hot day it needed to cool down for a minute I did too so I turned on the AC and we both felt better, I had a Sony player before the Ipad and it got to hot a few times also. All and all the Ipad has out done any stereos I've ever had and at 56 I've had a few!Oh ya at car shows there is always a crowd around lovin it, the trophies are nice too.

I guess I'll keep a sledge hammer in my car now... just in case someone ever hits me and I happen to see one of these in their dashboard with Twitter on the screen.

I think its bad a$$. As far as the last comment about heat what if u had tinted windows would that make a differance.

Seems like a strange idea. Getting the iPad in and out of that holster is probably more trouble than it's worth, for me.

that's cool. i wouldn't put one in my car tho.
why do most car audio installers have the same douchy attitude?? haha. i say that as a brother of one. ;)

@sadie pretty sure they don't intend to take the ipad out. usually when something is glued in, they plan on having it stay there

It's gonna take a looooong time ... Wooohf

Landscape orientation of a wifi ipad? What a massively missed opportunity. This would be a kickass implementation for the enhanced 3G version's GPS and Google Maps for navigation.

you really wouldn't be able to take use of the accelerometer with all the cool apps.

Unconscionable! Car crashes are the largest cause of death and injury in the world... Drivers are distracted enough without a touchscreen media device in their dashboard. This is worse than a 6 pack in the passenger seat. I implore you to remove this from your blog.

You haven't been in an audio store lately have you? or in a Dealership and looked at the new cars with there audio systems? its 2012!

It seems cool .... But as said not made for everyone.... Frm the video it seems they gonna charge another couple of hundred bucks to install that ipad on the dash plus the main thing is insecurity of getting robbed .... Car break in

@sean Good point though actually you should only be looking at the road while driving but I think this is safer since the screen is easier to read.
@rgar3388 Yeah that is true the chosen orientation does not allow optimization of certain apps. Esp the car driving apps which you need to tilt the screen. Though redundant when you are already in a car....

@Georgia:
How is this safer? With a GPS, you touch "Go" and you don''t (aren't supposed to) touch it again. With the iPad, you have over 2,000 apps to use while driving. And young people WILL use them.
In my state, it's illegal to operate a laptop while driving. I suspect this would qualify as the same thing — especially if the driver is alone using it.
The sledge hammer I mentioned earlier wouldn't be used on the iPad. It would be used on the punk driver who hit me while driving and using anything other than GPS (that is, if I even lived).

They should have waited for the 3g version

Dude must be following me on Twitter because I tweeted within the first week of the iPad being announced that I wanted to do this with an old VW Bus... either that or great minds think alike!

Blah blah blah......this is all cool n dandy until Apple changes the formfactor. Then you got a nice sized hole in your dash. Besides idiots texting on their cell phones are bad enough. Can't wait for the first death by maxiPad.

CJ, how is Apple going to change the form factor of the iPad this guy already bought?

This is incredibly cool. If I had mod skills and money to burn, I would certainly do this. The only problem, as others have stated is that they missed a major opportunity by not waiting for the 3G model with GPS.

Can you still connect a laptop to it to update the firmware? If so it's a clean install.

I can afford the iPad... it's just the car I can't afford! lol
http://www.diverse-group.com/menu/blog.html

needs to be easily removable and then it'd be perfect

"Maybe you're radio is LED is way too small,"
Ouch. Even as a french guy, I hurt reading this.

Wow!! I can tell that's a Tacoma install because I have the same truck!! Love it but I wouldn't drop an ipad in it. my indash already is iphone friendly so I dont need all that big screen junk.

Maybe use in the car is a liitle dangerous (texting crashes etc), but my iPad is going to be my total entertainment/mobile computing solution for my boat. Now I can slinbox tv, iPod movies, netflix, mp3, go on-line (mywi), do work, etc from anywhere in the cabin on my deck or someone elses boat. TO F'IN COOL. and to think I was thinking of getting a mac mini last year.

It's really good that you can install iPad in Car Dashboard. iPad is awesome.

Wow. Make a permanent base with ipad holder that lets you remove the ipad from it, with jacks for power and audio out, and, coupled with a 3g version ipad, this would be an excellent alternative to LCD tv's on rooms of boats!. I've seen them do it many times with a mac mini....for boats, and cars (no safety issues if its for the back seat passengers). With an ipad, even better!! No moving parts!! No hard drives to damage with bumps. And when your trip ends, take it out of the base and into your ipad pouch and take it home with you until the next trip. This eliminates theft and corrosion to the ipad. Also, a base for holding it to the back of car headrests (obviously also renovable) would eliminate the need to purchase separate car DVD players for all tour cars, etc... Case/device holder makers LISTEN, TAKE NOTE, AND GET TO WORK!! :)

Awesome!! I've been wanting to do this since I first heard of the iPad. I think it's a great idea and the future of car electronics.

I love that at the 1:58 mark, just as he is ripping the dash apart, you can hear sirens in the background.

Agreed that it would be more practical to have the 3G version, just be able to have mobile access to the web. I bet the install fee is major $$$. It looks sharp in the Tacoma. That guy, though, is the epitome of "too cool for the room".

Howdy ladys and gentlemen,
Excuse me for writing in the "http://www.tipb.com/2010/04/06/guy-installs-ipad-dashboard/" section but I only wanted to say hello and didn't know where to submit it ... ? My pals call me Bronson because I look like Charles Bronson. :) I totally love forums.mactalk.com.au. The members here are friendly and the forum offers tons of information. Until now I've only read topics but I plan to participate in the future.
Ciao from your buddy Bronson!

Hi boys and girls,
Excuse me for posting in the "http://www.tipb.com/2010/04/06/guy-installs-ipad-dashboard/" section but I only wanted to say hello and didn't know where to post it ... ? My pals call me Bronson because I look a little bit like Charles Bronson. :) I really really like forums.mactalk.com.au. The guys here are polite and the community offers tons of information. Until now I've only read on this site but I want to participate from now on.
Byebye from your buddy Bronson!

How will you add songs and videos since its installed and cant be connected to computer to upgrade on load files? Should have left an internel wire connection some where to connect with at least a laptop.

good topic , search this from blogsearch after that good luck for you.just adjoin the rss feed toward my reader,keep bring up to date!

bad idea. an unneeded distraction that will cause accidents and maybe kill someone.

The most thorough and informative information I have found. Enjoyed it immensely….

I would just buy a kit from padholdr.com and install it myself. That is way to much work!

Your post is such informative.

it
never occurred to me that we can do this I mean a good double din head unit costs about 800-1000 dollars here in Canada.
an iPad is half the cost. and you get more for your money. perfect car install. a few suggestions. insted of using the small head unit for the volume you should have used a single din stereo. because if you used the stereo you could have attached the iPad in the auxiliary port which charges it and plays the sound but you don't loose the radio. other than that great install =D and for all the people who don't like this.. this is more practical than a standard car stereo wheather you like it or not car stereos also get stolen more often than you might think :)

when it comes to car audio, Pionner brand and Alpine seems to be the leader specially on car stereo and players:""

car stereos that are made by Kenwooda are the best and very durable~~,

been a typo, Your website seems to be beneficial. Possess a wonderful day.

car electronics are sensitive to static electricity so be careful about static electricity ''~

the car stereos that we bought have built in equalizers and it sounds great "".

Hi guys, you should see all the videos from soundman, regarding the ipad in car, in all his installs the ipad is easilly removable for security reasons. As for who want to take full advantage of the accelerometer, just slide it out. I think is great, I currently have an in-dash DD dvd with the ipod adapter and i have never ever used the dvd i just use the ipod for music and videos. My next proect would be this option.

Great read, just linked to this post

make it detachable & install a release button.

Super Dark Tinted Windows LMFAO!

Can you do the same with the iPhone but a detachable one? Or does it only work with iPad?

Nice biography of the city.That looks great! Love the beer lift.

I carry on listening to the news broadcast talk about getting boundless online grant applications so I have been looking around for the top site to get one. Could you tell me please, where could i get some?

I am curious to find out what blog platform you're using? I'm having some minor security issues with my latest blog and I would like to find something more safe. Do you have any solutions?

Ooooo, we scared, we scared. He probably only need one more strike before he's put behind bars for good, seems like he need to hit the pipe once more to calm his azz down. He's real bad, didn't pay taxes, get the f outta here, guess he couldn't punk Uncle Sam, and is the movie he did still relevant, he's a throw back hoodlum, gangsters are new and improved now.

I think installation is too complicated ah

That takes in-car distractions to a new level - just imagine being mid-game at a set of lights and then you get the green whilst still playing!
Thank you for signing up to iMore. You will receive a verification email shortly.
There was a problem. Please refresh the page and try again.