Hacking the world, one if-check at a time: A developer spotlight on Akshaya Dinesh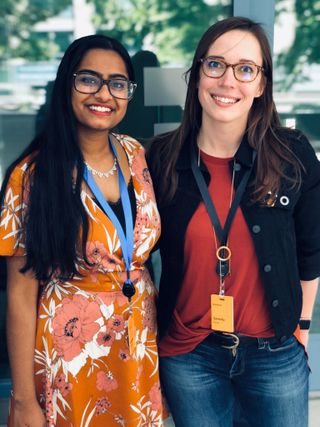 Passion projects can keep you up at night. They nag at your senses, pulling you back when you should be doing any number of other things: sleeping, eating, or in the case of WWDC student developer Akshaya Dinesh — attending a friend's sweet 16 party.
"The first app that I made was actually a tic-tac-toe game. I started coding it in the morning… totally forgot what was going around me. I missed the party, and I was coding through the night, up until like 2AM in the morning." She laughs. "I was scared that I wouldn't be able to know how to do a single-player mode, because I was like: 'Oh, AI. That's so complicated, I don't know how to do that.' And it ended up that I just wrote 100 if-statements and it worked totally fine!"
Dinesh was in her early teens when she found herself lost in the code of her first app; in the few years since, she's become a hackathon enthusiast, AR champion, and most importantly — a role model to thousands of other young women in the northeast. Because Dinesh doesn't just make her own apps: She helps others find their own coding passions with Girls Make Apps, an organization she co-founded with Malavika Vivek in the summer of 2016.
"Girls Make Apps is a national grassroots organization that helps provide free educational programming for girls of all ages. So we work with girls from elementary school all the way up to college students. Essentially, what we do is we provide programs such as camps, workshops, and hackathons. And all these programs are meant to teach young women not only just how to code, but how to use code for social impact."
Dinesh and Vivek have run camps for over 500 women across the United States over the last few years, giving girls in middle school, high school, and college the chance to learn the skills to build their own apps — and bring that talent back to their communities.
Tomorrow there'll be more of us
I met Dinesh through Apple's WWDC scholarship program along with a number of other amazing student developers, but as I reflect on the conference over a month later, I keep coming back to her story.
Tip: Check out Joe Rossignol's story over on MacRumors if you'd like to read more about some of the amazing work the 2018 WWDC scholarship winners are doing.
The App Store and competing platforms have given kids as young as seven or eight the opportunity to learn to code and make their own programs; options like Swift Playgrounds and (coming in iOS 12) apps like Shortcuts can help make the process of learning switches, if-statements, and nested code even easier. From this wellspring, we've seen no shortage of incredible young developers come through with all sorts of brilliant app ideas — camera apps, automation, games, and more.
Dinesh has built a number of apps over her few years in computer science. But where most younger developers focus inward, elevating their own ideas, Dinesh has been almost single-handedly focused on bringing up those same ideas in her peers.
We are what they grow beyond
Listening to Dinesh speak about Girls Make Apps, it's hard to escape her passion for teaching and sharing information. Talking about "social change" is easy. Effecting it is another matter entirely, and Dinesh does so in every course she runs and new developer she teaches.
She credits this fervor in part to the early hackathons she attended while first learning to code. "When I first started out a few years ago — I think it was 2014? — and I went to my first hackathon, there were only five girls there. And I was so intimidated to be in that room. I walked in, I was like: 'Mom, I just want to walk back out. I don't think I can do this anymore!' And she pushed me in the room!
"And so I went, and I talked to those five girls, because that was the only common ground I had [in that room] — I had no friends there. I still keep up with those girls now, and it's been 4-5 years. I definitely think that finding that support group, and that little network of women is so important in retaining minorities in tech."
At our cores, we're a tribal species. We take cues from each other, and build our experiences and path forward from there. Dinesh's hackathon experiences built the base that helped her create an even better space for young women going forward. And who knows? Those young women she's taught may build communities that are even better still. This is how we grow the technological world we want: if-check by if-check, line by line, story by story.
"Coming from a background where I didn't have that many women role models in tech: When I thought about tech, I thought about nerdy people geeking out on their laptops in the dark." Dinesh laughs. "But then, once I actually found out what being in technology meant, I knew that all the stereotypes were so incorrect. I totally started getting into programming more, and I built a lot of programs and apps now that I never would have been able to do if I hadn't found more role models."
Dinesh will leave New Jersey for the west coast and Stanford this fall, but she's not giving up on her company just yet. "It would break my heart for me not to work on Girls Make Apps, so I'm definitely going to continue working on it. But I think I might have to delegate more of the responsibilities away from myself."
The organization is currently seeking new board members as their co-founders move into the next stage of their young lives, but Dinesh and Vivek also have support in the community of women — and their parents — they've helped train. "The people that support us the most are the people we have supported."
You can learn more about Girls Make Apps on its website (which Dinesh built).
Master your iPhone in minutes
iMore offers spot-on advice and guidance from our team of experts, with decades of Apple device experience to lean on. Learn more with iMore!
Serenity was formerly the Managing Editor at iMore, and now works for Apple. She's been talking, writing about, and tinkering with Apple products since she was old enough to double-click. In her spare time, she sketches, sings, and in her secret superhero life, plays roller derby. Follow her on Twitter @settern.