Harry Potter: Hogwarts Mystery: Everything you need to know!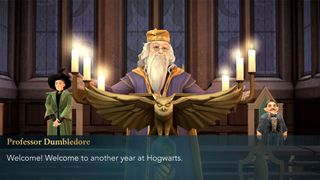 Let's be honest: All of us are still waiting for our Hogwarts letter to arrive via owl post. I personally am on my fifteenth 11th birthday, and I must say, I'm disappointed that there's still no word. Thankfully, Warner Bros. Interactive Entertainment's new label Portkey Games is giving us the next best thing — a mobile game that allows users to experience all Hogwarts has to offer. Looking to learn everything you can about Harry Potter: Hogwarts Mystery? Look no further.
What's new with Harry Potter: Hogwarts Mystery?
September 5, 2018: Hogwarts is back in session - Year 5 unlocked!
Time to grab your books and jump on the Hogwarts Express because Year 5 has finally begun in Harry Potter: Hogwarts Mystery. We've been waiting so long it feels like summer would never end, but as of today, you can continue your adventures in the hallowed halls.
You'll finally be able to see what's around the corner in Knockturn Alley, meet Professor Cuthbert Binns, and who is to be the new Defense against the Dark Arts teacher. You may even cross paths with another member of the Weasley family.
If you've been waiting for Year 5 to begin, it's time. Don't forget your Prefect badge!
July 12, 2018: Harry Potter: Hogwarts Mystery gets multiplayer Duelling Club
Wands up Harry Potter fans! You've learned the basics of dueling, and have mastered your skills against the best in your class. Now, you can compete against other real-life players in Harry Potter: Hogwarts Mystery's first-ever multiplayer event.
Join the Duelling Club by logging into the game starting July 12. You'll be able to join a match against another player by handing over a Duelling Club ticket. You'll get three tickets total.
You'll then be paired up with another real-life player where you'll duel it out. The winner gets to keep their Duelling Club ticket and receive a special price. Their opponent forfeits their ticket.
This first Duelling Club event lasts just four days, ending July 15.
Don't worry, though. There will be more Duelling Club meetings in the future. Jam City plans to have more multiplayer Duelling Club events throughout the summer. You can follow along on Facebook and Twitter to stay up to date on future Duelling Club events.
June 27, 2018: Pets have arrived at Hogwarts!
Today, your magical education just got a little bit more interesting. With the latest update, you can have an owl, rat, cat, or toad to join you as you uncover the mystery of what happened to your brother.
After updating to version 1.7.0, launch the game to see a new quest added to your Side Quests log. Visit your dormitory. Instead of just hanging out in your common room, you will actually be able to visit your sleeping quarters. There, you can pick up to four different pets.
When you head out to explore Hogwarts, pick one pet to accompany you, and it will appear in various locations throughout the grounds.
Your pet gives you an energy boost when they are woken from their sleep.
Pets, of course, aren't cheap. You'll have to pay out anywhere from 160 to 320 gems to add a pet to your party.
April 25, 2018: Harry Potter: Hogwarts Mystery is live in the App Store!
Wandering Wizards! Your term at Hogwarts has just started. If you've been waiting for the day when you can finally start training to be a witch or wizard, head over to the App Store right now and download the game for free.
Free - Download now (opens in new tab)
We'll have a full guide to playing the game as soon as we've had some time to play. Stay Tuned!
April 5, 2018: Harry Potter: Hogwarts Mystery arrives in 20 days!
Jam City, the mobile game studio that is behind Harry Potter: Hogwarts Mystery announced the official launch date for April 25. In a press release, the company also confirmed six of the actors from the original film series will be doing the voices of their characters including: Dame Maggie Smith (Professor McGonagall), Michael Gambon (Professor Dumbledore), Warwick Davis (Professor Flitwick), Sally Mortemore (Madam Irma Pince), Gemma Jones (Madam Pomfrey), and Zoe Wanamaker (Madam Hooch).
You can still sign up to pre-register for the game from the official website for iPhone and iPad users, or directly from Google Play (opens in new tab) for Android users.
What is Harry Potter: Hogwarts Mystery?
Harry Potter: Hogwarts Mystery is a story-driven roleplaying game created by Portkey Games and JamCity (opens in new tab) in which users play as students at Hogwarts in the 1980s. In the game, you'll be able to create your own customized avatar, attend classes with famed Hogwarts professors, perfect your spells and other magical abilities, build relationships, and duel your enemies. Though it is set before Harry Potter himself was of age to attend the acclaimed school of witchcraft and wizardry, it still features many familiar faces like Nymphadora Tonks (sorry, Tonks), Bill Weasley, and Professor McGonagall.
In the same vein as a choose-your-own-adventure (without actually being a choose-your-own-adventure), the game is heavily decision-based, and each choice you make while playing will affect the outcome of your Hogwarts story. As beloved headmaster Albus Dumbledore once said, "It is our choices, Harry, that show what we truly are, far more than our abilities." Everything you decide to do will alter your quests, how other characters interact with you, and the legacy you'll leave behind. Though the announcement suggests that you don't choose a Crabbe and Goyle-style path, it might actually be fun to see how that turns out.
As you play and hone your skills, you'll be able to continuously upgrade your avatar's look, unlock new locations, gain new spells, and even adopt animal familiars (that hopefully aren't animagi in disguise). The magical expertise you gain as you progress though the game will also come in handy during the missions you undertake within the narrative.
What devices can I use to play it?
Though the game hasn't officially been released yet, it will be available from the App Store, Google Play, and Amazon's app store "soon in 2018." Once the game launches, links for Apple, Android, and Amazon will be added below. If you'd like to receive updates about the game's release, you can pre-register using your email on the Harry Potter: Hogwarts Mystery website. You can also follow Harry Potter: Hogwarts Mystery on Twitter, Facebook, and Instagram.
How do I play the game?
If you're just getting started playing Harry Potter: Hogwarts Mystery, head over to our beginner's guide.
Is this the same game as Harry Potter: Wizards Unite?
Nope! Though both are official HP games, they are completely separate adventures and will have different gameplay systems. Harry Potter: Wizards Unite is an AR game from Pokémon GO developer Niantic Labs.
Any questions?
Have any further questions about living your best Hogwarts life? Sound off in the comments and I'll do my best to help you out.
Get the best of iMore in your inbox, every day!
Tory Foulk is a writer at Mobile Nations. She lives at the intersection of technology and sorcery and enjoys radio, bees, and houses in small towns. When she isn't working on articles, you'll likely find her listening to her favorite podcasts in a carefully curated blanket nest. You can follow her on Twitter at @tsfoulk.
Hello, I was just curious if you could restart the game and create a new character after its released?

Why cant i choose my own name?

Jam City's support page notes that "some names are unavailable for use." If you think your name was mistakenly excluded, you can ask Jam City's support team for help here.

I hate these types of games where you have to constantly pay in order to keep playing. Deleted after it wanted money to let me advance, because I know where that's going.

Any game that's free either does this or throws ads in your face. Apple did everyone a favor by changing the "FREE" button to "GET", which is far more accurate. Very little on the App Store is truly free, but one time purchases are often worth the cost.

Hello. Is there any chance you can change the house after you already chose one? Thank you for the answer

You can't change your House after you've been sorted. If you don't identify with the House you chose, Jam City recommends contacting their support team: https://tinyco.helpshift.com/a/harry-potter-hogwarts-mystery/?s=how-to-play&f=how-do-i-change-my-house&l=en

This isn't a game, its a click through story. And not a good one at that.

Can i change my character's sexe ? Im already at chapter 6 and dont want to restart

At this time, you are unable to change your character's gender. It is possible there will be an update added later, but I wouldn't count on it since some of what you do in the game relates to your gender (who you're friends with, etc.).

Will there be a 4th year? Because it only talks about 1st, 2nd, and 3rd.

The Game Is My Favourite It's Brilliant, But While In Between Missions What Can You Do In Hogwarts And Outside Hogwarts ???

You can't leave Hogwarts in the game, but you can continue your lessons. The more lessons you get through, the higher your attributes, which will help you respond to certain situations that might be otherwise unlocked if your attribute is too low. This is especially helpful for earning House Points.

Hi, does anyone know what's the point in those sleeves that are like 6000 coins or 25 diamonds worth? When I go to customize my player and I check out accessories or whatever, it focuses on the arm and the sleeve but nothing is really different, so what is that for?

I was wondering the same thing until I costomize my character to whear a normal shirt and than when I went to accessories it showed the wrist and the bracelets you can get.

Change to a short sleeve top- then go look. The wrist decorations don't show under a robe sleeve.

If you finish a chapter, will the side quest you started during the chapter go away?

IS there's a year 4-5-6-7 because it doesn't give us any information on those years.

can i restart and create a new character once i finish the game? also does the energy level resyart or do i get to keep it?

You can restart and create a new character only if you delete your current game. Energy does not carry over to a new game.

Hi how do I delete my game to start another? I can't find where to do that.

Dose anyone here know how I can contact the developer or a help desk?

You can contact Jam City via email here: Jam City Support

Ah yes! Another way for them to make money off of children!

Any parents should have the kids on the family group so that they have to authorise any payments that go through. If anything it's making money out of young adults, but they're old enough to decide what they want to spend their own money on, no matter how stupid it is

how many times can i play it? can i play it more than once or can i play it again once i finish it?

Why does it keep tell me to please be patient

It's being written as we play. Year five, but only chapter one so far...

Can I dating? I have not found information about it, I've only found speculations published 3 months ago, and I wanna know if I can do this already, and if LGBT relationships are available now. Thanks

Sorry. No dating in this game yet. Your interactions with non-player characters are limited to pre-scripted conversations. There is, at this time, no player interactions.

What if I time out on the prefect Adventure? Can I repeat it ever?

Year five, Defense against the dark arts, detecting hexes test: how does this work? It says tap- I tap. Sliding the icon upward works, but I can't keep it in the green for one full second.
Can anyone help me???

Hey carolynfreitas - try tapping the icon to keep it green. Not frantically but just enough to keep it in the green. Sorry I hit report on your post instead of reply.