How to go hiking with your Apple Watch
How your Apple Watch can help you outdoors.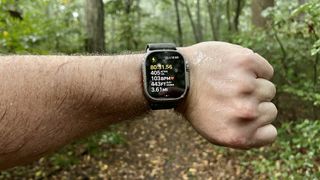 (Image credit: Future)
If you're an Apple Watch user tempted to embrace the great outdoors, you might be interested in learning how to use your Watch to help you navigate on the trail, record your progress, or activate safety tools in case of emergency. Hiking is a lot of fun, but after all, you need to know where you're going and make sure you're able to alert others if you get into trouble.
The best Apple Watches come chock full of features to help you as you make your way over hills, through woodlands, and across the countryside, and we'll explain how to use all these features below. The Hiking profile in Workouts can be used to record your progress, but your Apple Watch can do so much more. Depending on the Apple Watch model you have, it can be a compass, interactive map, or even – in the case of the Apple Watch Ultra – an emergency siren.
How to use the Hiking workout profile
Just like accessing the Outdoor Run or Strength Training workout profiles, turning on the Hiking workout profile to record your progress is very easy.
Open Workouts
Scroll down using the digital crown or the touchscreen to the Hiking profile. It will be set to "open" by default, but you can also set a specific goal, such as Time or Kilocalories burned, by tapping the three dots on the top-right corner of the profile
Open the workout profile with a tap to start recording your progress. When you're finished, swipe right and press the red "end workout" button
Once your workout has finished, you'll see a map of the route you walked, along with your total time, a graph of your heart rate, distance traveled, calories burned, and the elevation you climbed.
How to use the Compass app
The Compass app can be useful on a hike, especially if you're following simple directions from a guidebook or map, and it can be a very useful tool if you're lost or need to retrace your steps. You can also set Waypoints, to help find your way back to notable points of interest.
Open Compass
The compass will automatically offer a readout of latitude, longitude, your current elevation, and the incline of a slope you may be standing on. Holding the watch in front of you, as if you were checking the time and moving around will cause the compass to move just like the real thing
Tap the Footprint icon at the start of your hike. Once it's begun recording, it will turn into a Pause icon, recording your location every two minutes
Tap the Pause button, and a prompt will come up, asking if you want to retrace your steps. Tapping Retrace Steps will create an orange dot on the compass, allowing you to follow a digital breadcrumb trail back to where you started
You can also set a Waypoint if you encounter a point of interest, such as an aid station or local landmark. Tap the Waypoint icon on the bottom-left of the Compass app screen. It opens an option to create a custom name for the Waypoint, such as "river crossing" or "country pub", and assign it a symbol or color
Press the green tick icon. By twisting the digital crown, you can zoom in and out in the Compass app, allowing you to see where your Waypoints are in relation to your current location.
How to use offline Maps on your Apple Watch
Using Apple Maps on your phone or watch can call up a full-color map of your surroundings and your live location, which renders most other navigational tools moot. However, if you do not have cellular connectivity on your Apple Watch or your iPhone is out of signal, you can circumnavigate this by downloading maps onto your iPhone in iOS 17 before you begin your hike, which you can then use on your Watch. Here's how:
Open Maps on your iPhone
Find the location you want to search for, such as "Chiltern Hills" and tap B. Select Download Map and choose how much of the area you wish to download
The map will now be searchable and viewable on your watch, even if your iPhone has no cellular signal.
Safety features on your Apple Watch
Apple Watches from Series 8 onwards and the Apple Watch Ultras have Fall Detection, which can alert emergency services or an emergency contact if the watch detects you've had a nasty fall. You can enable this function by tapping the Settings icon and then selecting SOS > Fall Detection.
The Apple Watch Ultra has an ear-splitting Siren functionality useful for attracting attention from passers-by. You can do this by holding the Action button until the option for the Siren appears. By either continuing to hold the Action button or sliding the Siren icon over to the right, the Watch will begin to emit the loud Siren sound. Don't test these indoors!
Best third-party apps for hiking with your Apple Watch
The Apple Watch's hiking tools are impressive, but you can also get third-party apps to bring the experience up to the standard of dedicated outdoor watches such as Garmins. Footpath and AllTrails are two of the best third-party apps available: both offer live GPS route tracking and in-app route creation, which Garmin doesn't do.
Footpath allows you to create routes of your desired length quickly and easily, while AllTrails looks at popular community routes, ranks them by difficulty, and shows you the paths most traveled in the area by other AllTrails users.
By downloading either app on your iPhone, they will appear on your paired Apple Watch, along with any routes saved in-app.
Master your iPhone in minutes
iMore offers spot-on advice and guidance from our team of experts, with decades of Apple device experience to lean on. Learn more with iMore!