Here are the winners of the 2016 Apple Design Awards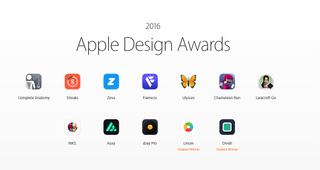 At WWDC 2016, Apple showcased the iOS and Mac apps that "set a benchmark for excellence" when it comes to "usability, excellence in design, excellence in innovation, and excellence in technology adoption." Here are the winners of the 2016 Apple Design Awards.
Apple Design Award 2016 winners
Track up to six tasks you want to complete every day. Your goal is to build a streak of consecutive days. Streaks works with the Apple Health app to help you achieve your fitness goals.
Six tasks: Stay focused, get them done.
Streaks automatically knows when you complete tasks linked to the Health app
Includes a blazingly fast Apple Watch app, including Complications, Glance screen, and Rich Notifications.
Customize the app color
Hundreds of icons to choose from
Customizable reminder notifications keeps you on track
View your current and best streak, as well as your completion statistics
Zova

(opens in new tab)

- Free
Ulysses for iPhone and iPad is your one-stop writing environment on iOS. Whether you're a novelist, a journalist, a student or a blogger – if you love to write and write a lot, Ulysses gives you a uniquely streamlined toolset, covering every phase of the writing process:
A powerful, yet simple text editor.
A familiar, no-nonsense text library.
A reliable iCloud sync across all devices and Ulysses for Mac.
A comprehensive and truly flexible multi-format export.
Of course, the heart and soul of a writing app is its editor. And Ulysses is said to have the best text editor in the world. It offers everything you need – from markup to images and footnotes, from links to comments and code –, and it still manages to stay completely out of the way. It's a beautiful and focused experience, which turns writing on mobile into actual fun.
But since Ulysses takes writing seriously, it does not stop at the editor. Its unified library offers unprecedented access to everything you'll ever write, be it snippets and ideas, be it blog posts or manuscripts. Every text is at your fingertips, and Ulysses perfectly scales from scratchpad to diary to Great American Novels – and to everything in-between.
Best of all, Ulysses offers fully-fledged, no-holds-barred, all-out iCloud sync. Ulysses is available for all your devices, be it Mac, iPad or iPhone, and every connected device has access to everything and anything you'll ever write.
And once you're finished, export is only a tap away. Ulysses can transform your text into beautiful PDFs, web pages, ebooks and Word documents. You can copy as HTML, save to the cloud as Markdown, and even publish a draft to your Medium account.
Chameleon Run is a unique, fast and challenging autorunner with a colorful twist. Jump, switch and run through expertly crafted levels that will have you running back for more.
Your goal is to switch your color to match the ground as you run and jump from platform to platform. Sounds easy right? Well think again!
Fast paced running, jumping and switching colors
Fun jumping mechanics like "double jump" and "head jump"
Pixel perfect physics
Stylish, super smooth and colorful graphics
Non-linear levels with 3 special objectives in each one
Compete for the fastest time on each level
Simple two button controls
INKS.

(opens in new tab)

- $1.99
INKS updates pinball for a new generation. It combines the joy of pinball with skilful tactical challenges, and allows you to create wondrous works of art as the ball smashes around the canvas.
Blocks of colour burst like beautiful fireworks across the surface, building up in vivid layers and recording a visual history of your game as you perfect your score.
Beautiful and elegant design
Over 100 unique tables to play
Perfectly balanced gameplay
Each canvas tells the story of your game
Share your favourite levels and high scores
Auxy

(opens in new tab)

- Free
Student awards
Linum

(opens in new tab)

- Free
Dividr

(opens in new tab)

- Free
Apple Design Awards 2016 (opens in new tab)
The clumsiest man in tech.
Why it's so hard for iMore team to put 1 or 2 photos of the apps, so people know, what they actually look... Saving space or what? The is the only part I hate from iMore... Plain boring text in articles!

Seriously. I saw this in my feed reader and thought maybe they block photos in their feed. So I came here. Still no images. This is retarded.
Thank you for signing up to iMore. You will receive a verification email shortly.
There was a problem. Please refresh the page and try again.