How to replace the vibrator assembly in your iPhone 3G or 3GS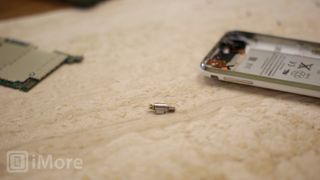 Disclaimer: As with any repair, iMore nor PXLFIX can be held responsible for any damage you may do to your device. It's also worth considering that opening up your device to perform any repair or modification can and will void your Apple warranty. If you don't feel comfortable opening your device, don't. Use extreme care and caution when performing a repair on any device.
Symptoms
Your phone never vibrates even if vibrate is on in Settings
Even if you flip your phone from vibrate to loud, you never get any feedback from the vibrate function
What you need for a DIY vibrator assembly repair
iMore recommends using only quality and genuine parts from a reputable supplier like iFixYouri. They have quality parts, tools, and much more for all your repair needs.
A sad iPhone 3G or iPhone 3GS
A replacement vibrator assembly
A #00 Phillips screwdriver
A suction cup
A plastic pry tool or spudger
This repair will be performed in exactly the same manner regardless whether you have an iPhone 3G or iPhone 3GS.
Power off your iPhone
Before performing any repair or removing any screws or parts, always power off your device.
Remove the dock connector screws
Using your #00 Phillips screwdriver, remove the 2 screws located on each side of the dock connector.
Remove the digitizer & LCD assembly
This part can be a bit tricky so please do this with extreme care so you don't tear any cables during the process.
The easiest way to remove the digitizer assembly is by using a suction cup.
Position the suction cup on the screen directly above the home button.
Using your other hand, hold down the frame while gently pulling up on the suction cup.
The goal is to get the bottom of the digitizer loose. Do not pull directly up. There are 3 cables attached in the top right of your iPhone. You do not want to tear these. Just pull up until the bottom of the assembly pops out.
After you have the bottom up you can remove the suction cup.
Remove the cables that attach the digitizer assembly to the logic board:
Once you have the bottom of your digitizer assembly popped up we can remove the cables attaching it to the logic board.
Gently lift up your digitizer enough to have a clear view of the 3 cables in the top right of your iPhone.
With your plastic spudger or pry tool, you'll need to pry up the first two cables that attach the digitizer and LCD. They should be labeled with orange stickers numbered 1 and 2. Simply pop them off the logic board gently.
Underneath these cables you'll see one other labeled as cable 3. This one is a bit trickier as it is clipped down. You'll need to gently pop up the clasp holding it into the fastener. It is a tiny white clip. Simply pop it upwards and the number 3 cable should then slide right out.
Remove the digitizer & LCD assembly and set it aside.
Remove your SIM card
Using your SIM tool or a paperclip, either works, remove your SIM card and tray from your device.
Unclip cables from the logic board
<
ol>
(opens in new tab)
Towards the top left of the logic board, use your pry tool to pop up the two cables labeled 5 and 6.
(opens in new tab)
Towards the bottom of the logic board, 3G owners will only see one cable to the left labeled 4. 3GS users will see two cables (one on each side of the dock connector) labeled 4 and 7. 3G users will just pop up the number 4 cable while 3GS owners will need to pop up both the number 4 and 7 cables.

Remove your logic board
(opens in new tab)
(opens in new tab)
(opens in new tab)
(opens in new tab)
(opens in new tab)
The vibrator assembly is located on the right hand middle side of your iPhone. We will remove the old one now and put in the new one.
Remove the two screws holding the vibrator assembly in place.
Gently lift the old vibrator assembly out of your device.
Line up the new vibrator assembly and screw it down.
Reassemble your iPhone
In order to reassemble your iPhone, just follow these directions in exact opposite order or watch the video above, which includes reassembly instructions.
And ...done!
Now that your phone is complete re-assembled you can power it back on to test the vibrator functionality. If all went as planned, your phone should be back to working order. If you do run into any problems, let us know or check out our forums below where members will be more than willing to lend a hand.
Get the best of iMore in in your inbox, every day!
iMore senior editor from 2011 to 2015.
Great how-to Ally! If we ever have problems with our iPhones, we're sending them to YOU.

u mean to tell me people still have an iPhone 3g? really? i thought still having a 3gs would be bad but a 3g?

Lots of people have them. I still have my iPhone 3GS that isn't really used very often, but I keep it just in case I need a backup phone. This was the case last year when my iPhone 4 bit the dust. Took my 3GS to the AT&T store and get a new sim for it and was able to use that until the 4S came out. The 3G is plenty good for those who aren't heavy data or media users. It's kind of unfair to trash the phone though.

The iPad has almost exalcty the same features as the iPod Touch, but it lacks multi-tasking, and it gained eBooks (Stupid online book store >.>)Also it does not have flash compatibility, and it's no good if you want to play games on it

iPad 2 case is the must have accessory to the new iPad. On March 11 Apple has lahceund iPad 2 and it sold out in less than 48 hours. Even the accessories are no more available and the manufacturers are facing the headache of satisfying the customers demand.

Does anyone know of any instructions like this for the 4? The vibration went out one day when I dropped the phone, and I cannot get it to come back consistently.

Nevermind, there are instructions for the 4 in the "Additional Resources" links.

Glad you found it. :) going to start on CDMA iPhone 4 stuff this coming week as well.

Hi, I notice the issue when in HTC mail clinet. The way how they implement the mail editing view is not the standard way(which only work best with their own keyboard). That makes third party keyboard unusable in their app in landscape. I'll inspect more to see if there is a workaround and I'll mail to HTC to see if there's a solution. Thanks.

Insert immature comment here

users the Ace family of games is also avlalabie in the iPhone App Store and Word Ace even launched on Facebook late last year. Blackjack on your phone is fun, but playing against (and taunting) other players makes it that

Hi I'd like to get in touch with you.I've managed to mod the kebyoard from the XDA forums to include the accented slovenian letters and display all the shortcuts for numbers. It also has the default slovenian dictionary form the gingerbread version. But it does not work on the Desire HD, which your's does.If I could email you the apk, maybe you could add it to your KB.PS: you can find screens of what I'm talking about on my blog.

Followed ur guide, worked perfect!!
Vibration still doesn't work :(
I dropped my phone in the bath a few months ago, done the old trick of the iPhone in the bag of rice, it worked and my phone is ok, besides having no vibration
Any ideas what the problem (besides me dropping it in the bath) is? It's doing my head in lol!!!
Thanks
And yes, I am an idiot

Hey, it's onerous to come back by good gaming and tech blogs lately, i am a regular reader and i am putting a link of your web site on my blog, was wondering if you could do the same, thanks! Your website link: http://gamerxploits.com/recommended-sites/

It's the second time when i've seen your site. I can see a lot of hard work has gone in to it. It's actually good.
Thank you for signing up to iMore. You will receive a verification email shortly.
There was a problem. Please refresh the page and try again.