HomeKit Secure Video: Everything you need to know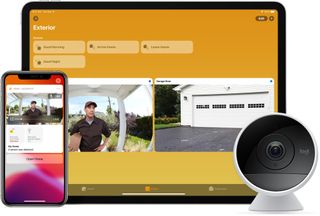 (Image credit: Apple)
HomeKit Secure Video, announced back in June at Apple's annual World Wide Developers Conference (WWDC), has finally arrived. The feature which has rolled out to select cameras and doorbells, delivers private and secure video recording to everyone using it. Here's everything you need to know about the latest and greatest HomeKit feature.
What is HomeKit Secure Video?
HomeKit Secure Video is Apple's latest HomeKit feature that brings camera streaming, recording, and activity notifications directly to the Home app, which is built-in to iOS. Of course, since it is from Apple, it does all of this in a secure and private way compared to the competition.
What's so secure about HomeKit Secure Video?
For starters, live video streamed through the Home app has end-to-end encryption, meaning only you or those whom you have invited to your home can see it.
You can even assign when specific users can view your videos, either while they are in your home, or anytime. This also applies to any footage that is sent to iCloud — not even Apple can see your recordings.
Also unlike other smart home cameras that rely on the cloud to analyze what is happening in front of them, HomeKit Secure Video processes everything locally to determine what caused a motion event and can distinguish between people, pets, or cars.
So what is actually analyzing my video?
Your HomeKit hub is doing all of the leg-work locally. This means that whatever device that you have set up for your home, either an iPad, Apple TV (4th generation or later), or a HomePod is working silently in the background at all times.
How fast is this process? Will I get notified of events immediately?
When a motion event occurs, you'll receive a notification from the Home app that includes the type of activity seen, such as a "The Front Door Camera has detected a person", along with a thumbnail image. Tapping on the notification will take you directly to your camera's live feed, and you'll also be presented with toggles for devices that are in the same "room" as your camera, such as lights that you can turn on with just a tap.
If everything is done locally, where are my videos saved?
HomeKit Secure Video utilizes iCloud for storage of motion events. Apple stores the last 10 days of events automatically, and provides them in a timeline in the Home app.
You can review all of your footage any time, and each event on your timeline has a small indicator depicting what type of motion was seen, such as an image of an animal, making it easier to find what you're looking for. You can save these videos using the standard share sheet built into iOS, including sending them via messages, or saving them to the Files app.
Is there a subscription fee for HomeKit Secure Video?
Nope! Apple provides 10 days of recordings completely free for owners of HomeKit Secure Video supported cameras. However, HomeKit Secure Video is only available to those that have purchased an iCloud storage plan either at the 200gb level for $2.99 a month, or the 2tb plan for $9.99 a month.
Will my video recordings use my iCloud storage?
No. Despite an iCloud storage plan being required, HomeKit secure video recordings do not count toward your monthly iCloud storage.
What kind of controls do I get with HomeKit Secure Video?
For recorded video, you can review, save, and share it at any time, as long as you do so before the rolling 10-day period ends. Basic controls for the camera are also available in the Home app, such as toggling on and off night vision, and status LEDs.
Notification controls are available as well, giving you the ability to filter out nuisance alerts, such as a dog running by your camera. This also applies to recording video, as you can set the Home app to only record people, or cars if you wish. You can also control who has access to your cameras, and when and what others can see.
How do I assign who can see my cameras?
Assigning access to your cameras works pretty much the same way that you assign other permissions within the Home app. After you invite others to your home, all users will be able to able to steam video from your camera while they are within your home. You can also grant them the ability to view your cameras while they are away from your home if desired, and you can also allow them to view recordings.
Which cameras work with HomeKit Secure Video today?
Currently, the Logitech Circle 2, and the Netatmo Smart Indoor Camera are the only cameras available that support HomeKit Secure Video. Logitech's support is listed as a "beta" but it is available to all owners of the camera through the Logi Circle app. If you want to upgrade your camera to HomeKit Secure Video, check out our guide below.
Indoors and out
Secure video

The Logitech Circle 2 camera was the first to support the HomeKit Secure Video feature through an update in 2019. This camera has all of the bells and whistles, including 1080p video, 2-way audio, and weather resistance.
Welcome in
Netatmo Smart Indoor Camera
Secure video

Netatmo's Smart Indoor Camera recently got the HomeKit Secure Video love with a free update for existing owners. In addition to HSV support, Netatmo's camera has power artificial intelligence features and support for saving videos to Dropbox.
What cameras will support HomeKit Secure Video in the future?
In addition to the cameras currently available, there are a handful of cameras that will support the feature in the near future. Netatmo has promised an update to its Presence Outdoor Camera, as well as Eufy with its Eufy Cam 2 and 2C cameras that should release sometime in 2020. The Eve Cam, which was announced at CES 2020 will support the feature at launch.
What about video doorbells?
Yes, HomeKit Secure Video is available for video doorbells as well with the same exact features as other cameras. Robin's ProLine Video Doorbell and the ProLine Compact models support the feature currently, however, they are only available in select countries in Europe. Netatmo also plans to support it with their upcoming Smart Video Doorbell which was announced at CES 2019.
Will I lose any features upgrading to HomeKit Secure Video?
This depends entirely on your camera. For the Logitech Circle 2 Camera, your camera will be converted to work entirely through the Home app. As such, you will lose the ability to view and manage your camera through Logitech's App. This means that you will lose any features that you may have grown accustomed to, such as the handy "Day Brief" feature, as well any recordings saved through their subscription service.
You will also lose the ability to view your Circle 2 camera via the web, or on other platforms, such as Android. If you want to get these features back, you will need to contact Logitech's support team as it is not something that can be done on your own. Motion zones and sensitivity adjustments are also not available through the Home app.
Unlike Logitech's method, The Netatmo Smart Indoor Camera still allows users to view and manage their cameras just like they did before. This means that users can still rely on Netatmo's artificial intelligence features and storage options, but also get the HomeKit Secure Video hotness over in the Home app.
How is the feature working so far?
Video quality, speed, and responsiveness have all been fantastic so far. However, some users are experiencing an abundance of notifications being sent from the Home app. This could be due to the lack of sensitivity adjustments in the Home app, and some settings for notifications seem to not apply correctly, resulting in alerts for things that are turned off.
Anything else?
Video analyzation, which works great in most instances, is not 100% accurate, leading to some funny instances where a person is flagged as an animal. Apple states this feature as being their "best efforts" attempt at detection since it is done locally, so this is to be expected. All of these will no doubt be fixed or improved in future software updates, but it may be frustrating or confusing for a while.
Master your iPhone in minutes
iMore offers spot-on advice and guidance from our team of experts, with decades of Apple device experience to lean on. Learn more with iMore!
Christopher spends most of his time writing and dreaming about all things HomeKit and the Home app. Whether it is installing smart light switches, testing the latest door locks, or automating his households daily routines, Christopher has done it all.