HomePod round-up: Critics claim killer sound, knock so-so smarts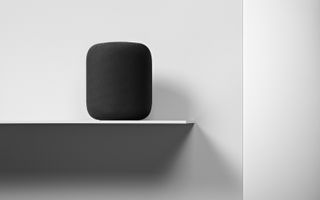 The HomePod is almost here, and that means that it's time for the first set of reviews. There's been a lot of discussion as to whether or not it will measure up to other smart speakers both in sound and in assistant capabilities. iMore's own Rene Ritchie called the HomePod "Retina for your ears," but what does everyone else have to say about Apple's first smart speaker?
CNET
Megan Wollerton, writing for CNET:
The Verge
Nilay Patel, writing for The Verge:
He also calls HomePod as a "lonely" product:
USA Today
Ed Baig, writing for USA Today (opens in new tab):
The Wall Street Journal
Joanna Stern, writing for The Wall Street Journal:
But Stern also had some Siri-related frustrations:
TechCrunch
Matt Panzarino, writing for TechCrunch:
BuzzFeed
The New York Times
Brian X. Chen, writing for The New York Times:
The Loop
Jim Dalrymple for The Loop:
But Dalrymple also ran into some head-scratchers, namely from Siri:
After you've checked out all of the reviews (including Rene's), come back and let us know: are you picking up a HomePod?
Get the best of iMore in in your inbox, every day!
Joseph Keller is the former Editor in Chief of iMore. An Apple user for almost 20 years, he spends his time learning the ins and outs of iOS and macOS, always finding ways of getting the most out of his iPhone, iPad, Apple Watch, and Mac.
Siri was always going to be the down side to this product. That said...Alexa & Google assistant are also massive let downs. Where is jarvis???

I ordered this the day it became available, but canceled the following Wednesday. Airplay only for other services and the weakness of Siri didn't make this a better option than the wireless speakers I already have, points made by most reviewers. I will watch for improvements.

What I don't understand is why is everyone comparing it against the sonos one? There's almost a 50% price difference. A more fair comparison would against 2 sono one since 2 of them cost the same price

A few of the reviews also touted the HomePod's audio superiority over the Amazon Echo and non-Max Google Home which also seems a somewhat unfair comparison.

Ok so time for my personal HomePod review..which is solely based on my 30+ years as a professional sound engineer in the live music industry. I currently live in a caravan temporarily while going through a divorce.
Smallish area to cover with audio.
I own 10's of thousands $$$ of professional live audio speakers which amount to nearly 12,000 watts RMS. I've been using a 1000 watt 2x12" subwoofer + 2 x mid/high speakers containing a 10" mid and 1.75" tweeter, both a 1000 watts each, in my caravan since moving in.
These speakers are physically biggish and are designed to cover small to medium venues of up to a couple hundred people. Completely overkill in a caravan...but hey, that's all I have right now.
They are all modern and contain extensive digital sound processing so sound pretty **** good from a tonal perspective.. As they take up ridiculous amounts of space in my caravan I decided to "scale down" size wise.
My new HomePod is the Perfect size for the tiny area in my caravan, and due to the many glowing reviews it received in regards to "filling regular sized living rooms in a family house with big full sound" I thought it would be perfect for me in both size and audio respects. I still have my large sound system in the van so I could switch back and forth in real time to compare.
My large sound system gives me chest pounding thump even at very low volumes.. and this is expected given the size of these speakers. The HomePod sounds great..from a "tonal" perspective.
Everything in the mix is crystal clear and spatially defined.
For its physical size it's "tone" is incredible! But as for "filling" a larger area than a small bathroom with a "full sound spectrum" it doesn't even go vaguely close!
Step away a few feet and it sounds only a little better than a medium sized "boom box". And even though up close my spectrum Analyser tells me it has a nicely balanced amount of low frequencies below 100 Hz (kick drum, bass guitar for example) when I move away a couple of metres+ the low frequencies all but vanish. Switching back in real time to my large speakers (set at a lower volume than the HomePod) and the cupboard doors rattle, cups vibrate off the sink, and I can FEEL the low frequencies through my body. Just like a cinema experience.
No they don't sound as tonally pleasant as the HomePod, but at least it's an all encompassing sound I can both hear, AND FEEL! I fully expected this before I ponied up the $499 AU for the HomePod so it's absolutely no surprise. (It's a teensy tiny speaker with a single teensy tiny 4" woofer after all)
And I'm generally happy overall with my purchase given my tiny living constraints.
Plus the HomePod is MUCH more convenient to use due to its integration of Siri and Apple Music.
I'm loving it ..as long as I have my ears within a metre or two of the HomePod. (I have it positioned on my bedside table less than a metre/yard from my head, and it's perfect for that) My issue is with all the glowing reviews about how wonderfully the HomePod fills a living room.
This is a complete load of BS written by reviewers who's ears must be painted on...or who are alternatively being paid money to write amazing stuff..or both.. Once again..this is a teensy tiny speaker, and no amount of technology will compensate for the physical lack of sheer power grunt, and speaker size that is available in decent quality and physically Larger speakers.
Logical physics. In my pre-divorce home's average sized living room my professionally educated guess would be that I'd need at least a dozen of these tiny little things to give a similarly physically rewarding experience to my large/cumbersome speakers. (12 x $499AU = $5988AU)
Liken it to the thundering audio you hear/FEEL in a cinema.
Think about it.. The HomePod IS a tiny little speaker and therefore is simply NOT capable of moving air, and producing a physically felt bass response. If I worked for Apple I would be pushing them to develop a complementary subwoofer for the HomePod to solve the glaring inadequacies in bass/sub frequency response.
It would need to be a bit bigger, and contain a much larger speaker than the single teensy 4" HomePod woofer to be able to actually move air and be felt. Oh and I think a good name might be the "WoofPod" ..or maybe "SubPod" lol
Thank you for signing up to iMore. You will receive a verification email shortly.
There was a problem. Please refresh the page and try again.