HomePod vs. Libratone Zipp: What's the difference?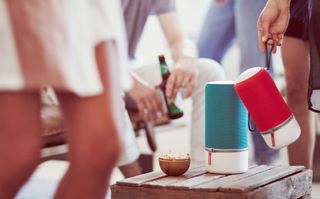 What's the HomePod?
Apple's long-rumored "Siri Speaker" is called the HomePod, first previewed at WWDC 2017 and coming later this year. It's a small speaker that packs seven tweeters and a woofer, and Apple says it can map a room and then intelligently adjust the sound to fill it. It also offers Siri to let you control Apple Music and stream it directly from iCloud. But if you want another music app on the HomePod, you'll have to first send its audio from one of your iOS devices using AirPlay 2, an update to Apple's wireless streaming protocol that debuts with iOS 11 and macOS High Sierra this fall.
The HomePod will also let you control HomeKit devices on your network, as well as ask about your calendar, the weather, and so on.
OK, then what's the Libratone Zipp?
The Zipp is a Wi-Fi-equipped speaker from Libratone that looks like a more colorful HomePod. Along with Wi-Fi and AirPlay, it also has Bluetooth, which makes it more versatile than the HomePod for streaming. It doesn't sense the size of the room or its location therein, but the ZIPP does have what Libratone calls "360-degree FullRoom Sound" designed to send sound waves in all directions to fill the space. It also has a 10-hour rechargeable battery for on-the-go play, while the HomePod has to stay plugged in all the time.
Unlike HomePod, however, the ZIPP is not a smart speaker, it doesn't ship with a voice assistant like Siri or Amazon's Alexa. (Well, not out of the box, anyway—it does have a line-in port so you can connect an Amazon Echo Dot and add Alexa support that way.)
How do they compare on price?
Take a guess. Yup, you're right, Apple's HomePod is more expensive — likely because of the built-in voice assistant and microphone technology. The HomePod will sell for $349 when it debuts, while the Libratone Zipp is currently available for $299.
Libratone also sells the the Zipp Mini for $199. The Zipp's little brother has the same features but a smaller size, different speaker array, and 60-watt output, compared to the Zipp's 100 watts, and is less comparable in sound and size to the HomePod.
What about the specs?
HomePod: 7 beam-forming tweeter array, one 4-inch, Apple-designed woofer, 6-microphone array, Siri support, 802.11a/b/g/n/ac Wi‑Fi with MIMO, multiroom speaker support with AirPlay 2, capacitive touch controls on top of the device
Zipp: 100 watts total power, from two 1-inch soft dome neodymium tweeters, 2 4-inch low-frequency radiators, 4-inch neodymium woofer, 360-degree reflector. Dual-band 802.11b/g/n Wi-Fi, Bluetooth 4.0 aptX, AirPlay, DLNA, Spotify Connect. Touch controls, hush gesture detection, 5 programmable internet radio stations, noise-isolating microphones for Bluetooth speakerphone feature, 3.5mm analog audio-in, USB play-in/charge-out (charges your phone while music plays), 10-hour rechargeable battery, interchangeable speaker covers
Zipp Mini: 60 watts total power, from one 1-inch soft dome neodymium tweeter, two 3-inch passive radiators, 3-inch neodymium woofer, 360-degree reflector. Dual-band 802.11b/g/n Wi-Fi, Bluetooth 4.0 aptX, AirPlay, DLNA, Spotify Connect. Touch controls, hush gesture detection, 5 programmable internet radio stations, noise-isolating microphones for Bluetooth speakerphone feature, 3.5mm analog audio-in, USB play-in/charge-out (charges your phone while music plays), 10-hour rechargeable battery, interchangeable speaker covers
How big are they?
All of these speakers are sized to fit almost anywhere in your home; keep in mind, however, that the Zipp is rechargeable, while the HomePod will need to be plugged into AC power at all times.
HomePod: Measures 6.8 inches high, and 5.6 inches wide and deep. Weighs 5.5 pounds.
Zipp: Measures 10.3 inches high, 4.8 inches wide and deep. Weighs 3.3 pounds.
Zipp Mini: Measures 8.8 inches high, 3.9 inches wide and deep, and weighs 2.4 pounds.
How do I control each speaker?
The HomePod has touch controls on the top for volume and play/pause. There aren't readily labeled buttons in the previews we've seen, so we're assuming it's likely a tap/swipe kind of deal. You can also control playback with your iOS device, since the HomePod shows up as an AirPlay 2 speaker, or by using Siri.
The Zipp has controls on the top, too, but the speaker is much more liberal regarding the amount of controls and their labels. You can tap buttons to play/pause, skip forward/back, link multiple speakers together, and access your saved favorites. To adjust volume, swirl your finger clockwise to elevate the sound, or counterclockwise to turn it down. There's even a "hush" gesture — place your hand over the top of the speaker to mute it. Zipp also comes with the Libratone app, and since it's just a regular Bluetooth and AirPlay speaker, you can control playback from your music apps as well.
If I subscribe to Apple Music, the HomePod is pretty much built for me, right?
Pretty much. The HomePod can start playing Apple Music at any time, directly from the Internet — even if your iPhone, iPad, or Mac isn't available. All you have to do is ask Siri.
The ZIPP can also play Apple Music, though, right?
Yes, just not as directly. ZIPP has Bluetooth and AirPlay, so you can send it music from Apple Music or any other audio app on your device, but you can't control it directly from the speaker. It also doesn't let you summon Siri, so if you want to use Siri to change your music, you'll have to summon the assistant from a compatible iOS device first.
If I don't subscribe to Apple Music, do either of these have an advantage?
Spotify Premium subscribers should definitely consider the Zipp, since it has Spotify Connect support. That means you can stream your Spotify collection and playlists directly from the Internet; if your phone rings while you're listening to music, for example, the music keeps playing. (This requires Spotify Premium, the service's paid subscription — it won't work with a free Spotify account, though users of the free tier can still stream Spotify music to the Zipp over Bluetooth or AirPlay.)
You can also control the playback from the Spotify app on any device, even if you didn't start playback from that device. It kind of works like AirPlay: You make your selection in the Spotify app for iOS or Android, and then tap the Spotify Connect speaker symbol in the app.
But wait, there's more. The Zipp's touch interface lets you store your five favorite Internet radio stations, but Spotify users can also program it with their five favorite Spotify playlists. That way, you don't even need your phone nearby to start a Spotify dance party.
What about multiroom audio? Will HomePod support this?
Yes! Because the HomePod will ship with AirPlay 2 support, you can combine multiple HomePods (or other AirPlay 2-compatible speakers) in the same room or different rooms, and then choose which combination of speakers to send your audio to. Previously, with the AirPlay protocol, you could only stream to one AirPlay speaker at a time.
Can the Zipp do multiroom audio as well?
Not currently. But Libratone officially announced AirPlay 2 support is coming via a firmware update "later this year," likely when iOS 11 ships in the fall. That will let you send audio to two or more ZIPPs, HomePods, or other AirPlay 2 speakers from a device running iOS 11 or macOS High Sierra.
Zipp also has its own solution called SoundSpace, which lets you link up to six Zipp and Zipp Mini speakers together. You can put them in the same room, or multiple rooms, and use the Libratone app to play music to the entire group. It's not quite as versatile as true multiroom audio, however; if you decide you only want music to play on one of the speakers in a SoundSpace group, you have to unlink it first to get it to show up as an individual speaker again.
Do both speakers come with controller apps?
The Zipp does; Libratone's app is available for iOS and Android. This is where you'll add the speaker to your home network, set up your favorite Internet radio stations or Spotify playlists, play Internet radio, and link speakers together to create a SoundSpace.
Apple didn't unveil a companion app for the HomePod at WWDC, but that doesn't mean we aren't getting one. The HomePod has an A8 chip that does a lot of heavy lifting to improve the audio as it plays, so it's possible Apple would provide an app that lets you peek in on that process and tweak the sound to your liking. We'll probably find out more about the HomePod, since Apple is expected to hold one more big event—the iPhone launch in the fall—before the HomePod ships.
We talked about AirPlay, but what other connection types do these speakers support?
Based on what Apple has announced, the HomePod will only support AirPlay 2 at launch: No Bluetooth, no DLNA, no external 3.5mm jack.
Besides Bluetooth, AirPlay, DLNA for the Andriod crowd, and the forthcoming AirPlay 2, the ZIPP has a 3.5mm audio-in jack for connecting pretty much anything with a headphone jack, even a TV. Plus, its USB port lets you plug in a phone or tablet, and charge that device from the ZIPP's battery while playing music. You can even load up tracks on a USB flash drive formatted as FAT32, and the tracks will play, whether they're MP3, LPCM, WAV, FLAC, WMA, Ogg Vorbis, AAC, AIFF, and ALAC. Whew.
And now the money question: How do they sound?
Apple went all-out to make the HomePod sound blow away its small size — Rene had a chance to listen to an early version of the HomePod and called it "Retina for your ears.". With its A8 chip and custom algorithms, the HomePod tweaks the frequencies of your music, punching up vocals and smoothing out bass. Its seven beamforming tweeters can provide 360-degree sound if you place it in the center of a room, or send very narrow beams bouncing off nearby surfaces for a surround-sound effect from what's technically a mono speaker.
(Keep in mind that these are first impressions based on a demo at WWDC—as of this writing, no one's gotten to take a HomePod speaker home and write a full review.)
The Zipp has been on the market a bit longer and been positively reviewed by Wired, SoundGuys, Tom's Guide, Sound & Vision, and PC Mag, among others. iMore even named it a best alternative to Sonos earlier this year.
Of course, sound is subjective, and the most important opinion is yours. Are you holding out for the HomePod, or taking a closer look at the Zipp? Let us know in the comments.
Get more iMore in your inbox!
Our news, reviews, opinions, and easy to follow guides can turn any iPhone owner into an Apple aficionado
Susie is a tech-obsessed writer and mom, and former Executive Editor of Macworld and Mac|Life. Follow her on Twitter @sfsooz.