Airplay 2: Everything you need to know!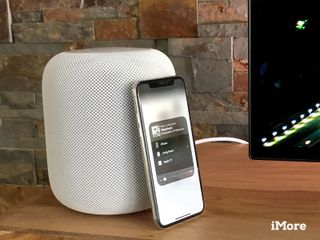 (Image credit: iMore)
Apple just pushed out iOS 11.4, HomePod 11.4, and tvOS 11.4 with support for AirPlay 2. If you've got a HomePod (or two) you can finally take advantage of the upcoming features. If you're wondering how AirPlay 2 works with HomePod or with third-party Airplay-supported speakers, keep on reading.
What is AirPlay 2?
It's a new feature in iOS 11.4 that lets you send audio to multiple AirPlay speakers at once, from anywhere in iOS. This lets you assemble a multiroom audio system from any compatible speakers, and control it from iOS's AirPlay controls or inside third-party apps.
How does it know where your speakers are?
If you have any HomeKit devices, you're probably already using the Home app. Now you'll be able to add speakers to the rooms of your home, and then they'll show up in your iPhone or iPad's AirPlay controls as Living Room, Bedroom, Tree House, Man Cave, and so on.
Can I use AirPlay 2 with my Apple TV?
Yes, once you upgrade to tvOS 11.4, your Apple TV can send audio to speakers around your home as well. You could put your party playlist on the Apple TV's Music app, play it on the living room speakers plus out on the deck, and control it with the Apple TV remote or iOS app—or with Siri.
How do I pair a second HomePod using AirPlay 2?
Well, the first thing you'll need to do is make sure all of your HomePod speakers are updated to HomePod 11.4, which is the software update that includes AirPlay 2 support. You'll only see AirPod 11.4 after you've updated your connected iPhone to 11.4 or newer, and if you're hoping to sync up your dual HomePods to your Apple TV, you'll have to be running tvOS 11.4, so make sure all of your software is up to date.
How to update your HomePod software
After both speakers have been updated, open the details of one of the HomePods in the Home app and tap Create Stereo Pair to pair the two speakers together. Then select a second HomePod to connect them together.
You'll then be asked to identify which HomePod is on the left side of the room and which is on the right. Tap on each one to make sure they're playing the right channel. If they're backward, tap the orange swap button to switch them. Tap Back once you've confirmed their set up.
The two HomePods will now be in a group identified by which room they are in.
Do two HomePods in the same room mean true stereo?
Because each HomePod houses its own A8 processor chip, it will provide separate left and right audio channels for true stereo sound when both HomePods are in the same room. It's kind of like magic, except it's anything but magic because a lot of people worked very hard to make this a reality.
Syncing up is perfect. I can stand in any spot in the room and not even realize both HomePods are playing music, and I mean that in a good way. They both fill out the room perfectly without any overlap or lag. It's as if they are hardwired to my stereo.
How does multi-room music playing work?
If you are playing tunes through two different HomePods and they're not paired in a group, you can either ask Siri to control playback and it will trigger on both AirPods or you can control playback and volume (individually or together) from Control Center. When you pause audio, it stops in both rooms. When you play, it plays, with scalpel precision, the exact same moment in the track without even the slightest lag.
If you've grouped multiple HomePods in one "room," meaning they're synced to always play at the same time in the same room without the ability to separate what is being played, volume controls, and the like, and you move one of the grouped HomePods into a different room, you'll still be able to have audio play perfectly in sync, but you will only be able to trigger Siri commands or Control Center playback from one of the HomePods.
By default, this is the left HomePod, but you can switch the default to the right HomePod by long-pressing on the touchscreen on top. This is actually a very easy way to use Siri on a different HomePod if the two are grouped and you happen to want to take a different one into another room. Just long press on the touchscreen and then ask Siri anything. You can switch back by long-pressing the left HomePod touchscreen anytime you'd like.
Are there syncing issues with same-room HomePod 'stereo'?
Not even a little. Once you've paired your HomePods into a group and identified which is the left and which is the right, they're synced up and running like they are hardwired to your stereo or Apple TV. Whether you play, pause, fast forward or rewind, both speaker act in tandem with each without any hesitation every single time.
I tried a couple of different tests with Siri and Control Center to play content with grouped HomePods creating a stereo sound and they never failed me.
I've played audio tracks that play separate sounds between the right and left channels and can confirm that they are set up like a set of stereo speakers, not like two mono speakers playing the same thing at the same time.
Can AirPlay 2 make two HomePods a better Apple TV speaker experience?
As far as sound is concerned. Yes.
Having a single HomePod is fantastic and really fills a room. When connected to Apple TV, however, I sometimes have to turn up the audio to the max in order to hear a movie at what I would consider "loud."
Having two HomePods, both connected to my Apple TV, makes the audio really fill the room and doesn't require me to be at full volume in order to get a serious sound set up. Dual HomePods has definitely solved my volume issues.
As for connections issues...
I've had a single HomePod connected to my Apple TV since day one. It's my main use for HomePod. To my great annoyance, my HomePod disconnects from my Apple TV all of the time — like, nearly every day. Will having two HomePods fix that? Probably not, but I'm hoping that HomePod 11.4's software update includes secret stability support to fix the problem. I haven't been using the dual HomePod connection long enough to know for sure if it's fixed or not. I'll let you know when it's been a few days.
Does AirPlay 2 work with AirPort Express?
Yes! As of August 29, Apple has added AirPlay 2 support for AirPort Express! Make sure you've updated your firmward to v. 7.8. Once you update and plug in any audio system, it'll join the list of available sources. Then it's just a matter of invoking Siri, or tapping the interface, to tell it to play.
Does AirPlay 2 work with Sonos (or other speakers)?
Sonos does support AirPlay 2 on four of its speakers: Sonos One, Sonos Beam, Sonos PlayBase, and the second-generation Play:5. As for other third-party speaker companies, support has been rolling out throughout the year.
Libratone has also added support for its current line of Zipp speakers, as well as their upcoming second-generation Zipp and Zipp Mini.
Apple's AirPlay support page lists the following speakers (in addition to HomePod) that either have or will receive an update to support AirPlay 2:
Apple HomePod
Bang & Olufsen Beoplay A6
Bang & Olufsen Beoplay A9 (2nd gen.)
Bang & Olufsen Beoplay A9 (3rd gen.)
Bang & Olufsen Beoplay M3
Bang & Olufsen Beoplay M5
Bang & Olufsen Beosound 1 (1st gen.)
Bang & Olufsen Beosound 1 (2nd gen.)
Bang & Olufsen Beosound 2 (1st gen.)
Bang & Olufsen Beosound 2 (2nd gen.)
Bang & Olufsen Beosound 35
Bang & Olufsen Beosound Core
Bang & Olufsen Beosound Edge
Bang & Olufsen Beosound Essence (2nd gen.)
Bang & Olufsen Beovision Eclipse
Bluesound PULSE 2i
Bluesound PULSE FLEX 2i
Bluesound PULSE MINI 2i
Bluesound PULSE SOUNDBAR 2i
Bose Home Speaker 500
Bose Soundbar 500
Bose Soundbar 700
Bowers & Wilkins Formation Bar (Coming soon)
Bowers & Wilkins Formation Wedge (Coming soon)
Denon HEOS HomeCinema HS2
Devialet Phantom (Coming soon)
KEF LSX (Coming soon)
Libratone ZIPP
Libratone ZIPP 2
Libratone ZIPP Mini
Libratone ZIPP Mini 2
Mu-so
Naim Mu-so, 2nd Generation (Coming soon)
Mu-so Qb
Naim Mu-so Qb. 2nd Generation (Coming soon)
Naim ND 555 (Announced)
Sonos Amp (Coming soon)
Sonos Beam
Sonos One
Sonos Play:5
Sonos Playbase
Teenage Engineering OD-11 (Coming soon)
Companies are still announcing support for AirPlay. We update this list regularly
Any more questions?
Do you have any questions about AirPlay 2? Let me know and I'll find out everything I can for you.
Updated April 2019: Updated with additional speakers with AirPlay support.
Get the best of iMore in your inbox, every day!
Lory is a renaissance woman, writing news, reviews, and how-to guides for iMore. She also fancies herself a bit of a rock star in her town and spends too much time reading comic books. If she's not typing away at her keyboard, you can probably find her at Disneyland or watching Star Wars (or both).
Hey Rene,
I think one of the AVR receivers you listed was a typo. You listed "Denon AVR-X6500H". This is not a model number being used by Denon. However "Denon AVR-X6400H" is a model they make and I think this is probably what they had in mind.

Nevermind... I see now that all the Denons listed are "future" models

Thanks for your note. The speakers listed here are the exact ones listed on Apple's AirPlay 2 support page. If it turns out they made a typo, I'll be sure to change our info, too. Otherwise, this may be a new smart speaker that hasn't launched yet.

Can a Mac be used as part of a simultaneous multiroom AirPlay 2 playback session with HomePods and appleTVs, or is the Mac treated like an AirPlay 1 speaker?

macOS has not yet been updated with AirPlay 2 support, so your Mac will still work like an AirPlay 1 output.

With the new update / AirPlay 2 is it possible to AirPlay video to the Apple TV with the HomePod handling the audio? Prior to the update I had the HomePod setup as the audio source for the Apple TV and if I would send a video via Airplay on the iPhone to the Apple TV the audio would route through the HomePod successfully. Post update the audio automatically is routed via the HDMI source and if I scroll down to the Audio drop down menu and select the HomePod as the speaker the video disconnects from the TV and plays back on the iPhone and the audio is routed via the HomePod. Nothing I've tried so far has been able to have AirPlay video playing on the AppleTV with audio via the HomePod. Native Apple TV content still works fine with the HomePod.

Airplaying from iPhone, as well as mirroring from iPhone, switch back to the TV's audio source (not Apple TV's audio source). :(

I'm noticing an unexpected behavior when using my HomePod as the audio output device for my Apple TV via AirPlay 2. Unlike when I used Bluetooth to achieve this, system sounds (beeps, clicks, etc) still play via my TV speakers while content audio plays from my HomePod. The volume control on my Siri remote adjusts the TV volume when you are in the tvOS UI, and adjusts HomePod volume when playing content. It can get a bit confusing managing two volumes. I wish I could play all sound via AirPlay 2 and disable my TV's built-in speakers.

That does sound annoying. You can try resetting your HomePod to see if that fixes the issue. Another option may be to simply mute the TV volume (not a fix, but at least a workaround).

I have several questions, but, maybe they can be answered in one, using this page for reference: https://support.apple.com/en-us/HT208728 : If I update my iPhone to 11.4, does that mean it works with AirPlay and AirPlay 2? ("AirPlay lets you...", "AirPlay 2 adds the ability to...") I have: iPhone SE, iPad Mini (1), 2010 MBP w/Sierra, ATV3, ATV (4th gen.) If I update iPhone and ATV (4th gen.) to 11.4, what will happen? 1) I have a Mac (2010) w/Sierra that can currently AirPlay from iTunes and videos within Safari, Quicktime, other apps, (depending on source), to my ATV 3 & 4. (It does not do AirPlay mirroring or for a second monitor).
2) I have an iPad Mini (1) that is limited to iOS 9.3.5, will it be still able to AirPlay to ATV 4-11.4?
3) Will my iPhone w/11.4 be able to stream to ATV 3? Apple seems a bit vague about it all. Is AirPlay 2 a whole new "protocol" or something or is it just additional functionality?

Great question. Simple answer. Your updated devices are backward-compatible with AirPlay 1 devices. The only difference is that you won't see the option to pair multiple speakers if they're on AirPlay 1.

Does Airplay 2 allow you to stream to multiple Apple TVs? Does it work the same for audio and Video?

Not at the moment. AirPlay 2 is currently designed to allow multiple smart speakers to be connected as one to play back audio. It's possible Apple will add more features to AirPlay 2 in the future, though.

You can certainly stream audio to multiple ATV4...just not video. I'm not sure if your answer clearly distinguishes the two.

A question—when it is being released in Japan?

Are there any products that can act as just an audio bridge for Airplay 2? I have two sets of speakers that are currently driven by Airport Expresses. Since they are apparently not being updated to support Airplay 2 what are my options?

So, I may be doing something really stupid, or not doing something I should. Both AppleTV and iDevices are upgraded to their respective latest version, and I can see the AppleTV as a speaker in the control panel on iPhone. However, when I ask Siri to play music on AppleTV, it replies that it can't find that speaker. Am I being daft? Thanks in advance.

I am finding that when I'm watching video from Apple TV with 2 HomePods connected the volume is quite low (almost unbearably low) even when set at 100%. This is not the case when I play music from Apple TV to HomePods. Is this a problem that others are having? Is there a way to correct this problem?

Hello, are you still having problems with Apple TV disconnections?
Another question, when you're connected to Apple TV and ask a question to Siri, do you get disconnected? If yes, does it connect back?

Airplay and Apple TV: Sounds like we've used the two the same way so far! Volume was my concern and this article was helpful in addressing that, good to know that a second AirPod is worth the investment there. About your disconnect issue... I felt the same way till I correlated using the speaker independently from the TV and the TV and speaker no longer being connected next time I powered up the Apple TV. HomePod seems to stay connected to Apple TV until you use HomePod for another purpose. My biggest issue with AirPlay 2: When I stream a video from my phone to the Apple TV using AirPlay, Apple TV drops the audio connection to the HomePod. This used to function flawlessly prior to AirPlay 2. With a swipe down using the Apple TV controller I can see the audio option and even select HomePod, which causes the AirPlay from my phone to immediately disconnect. Last try was selecting the TV and the HomePod both from the AirPlay menu on the phone. The moment both are connected the TV drops
Video and shows a file name for the audio stream instead. Both issues we have are related. I expect better when all of my devices live within the Apple walled garden. Solution: Apple,
Please Allow me to pair the HomePod(s) with the Apple TV permanently, even if that means the TV turning on and showing nothing but my screensaver or a Siri orb when I use HomePod.

I'm interested in a setup of a Sonos Beam connected to the TV, a Sonos subwoofer, and two rear Apple HomePods. I'm sure I could AirPlay audio to every speaker in the room at once, but I'm interested in the other scenario. Will the HomePods play TV audio even when it's originating in the Sonos Beam? I don't think we'll know for sure until someone gets a hands-on, but the HomePod's lack of audio inputs means additional audio equipment is required for all non-Apple-TV TV audio.

I have a question that wasn't answered in the FAQ's. If I buy a pair of Air Play 2 compatible wireless speakers, can I set them up as stereo speakers? Can I designate them as L and R speakers like a paired set of HomePods? I would like to be able to have stereo and not just a single speaker.

Hi Lori! You have the best voice ever. :) I have a question. I have Apple TV 4K connected to a Bose home theater system. (Bose ST300 with subwoofer and sattelites). Can I use these speakers along with Homepod(s) on the same network? (Play Apple music from my phone, synced between my home theater and Homepod? ) Or should I just buy another Bose speaker which will surely work. (My preference is Homepod, mostly for design)

Hello! I've just bought a Sonos One, but the main use that I'd like to give it is to watch video using my Mac and stream the audio of the video by Sonos One.. Do you think that Air Play 2 will support it? Thanks!

Hi Lory, Susie. I have a Sonos One grouped with other older Sonos products and can Airplay 2 to that group no problems. If I then also group in either of my Apple TV 4s with the Sonos, there is a good 1/4-1/2 a second playback delay on the Apple TVs. This effectively makes that whole combo unusable which is a real shame. Both the ATVs are plugged into sound bars (different manufacturers) using HDMI. Have you heard of any problems with sync or delays using this combo? Cheers.

Hello - Does anyone know if/when airplay 2 will be available for MacBook/Sonos?

What is the trick for adding Airport Express devices? I've already updated the firmware on all three that I have. They show up as airplay options on my phone (and in my Apple TVs) but do not show up in the Home App. I tried "pairing" them by having the Home App open next to them as recommended by Apple but still no joy. I've also rebooted them. I cannot find any more instructions in Apple's support site.