How to access Legend of Zelda special save on Switch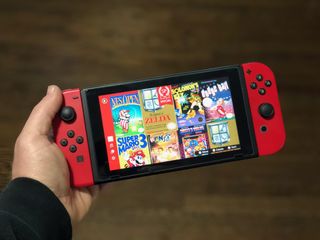 Nintendo has made good on their commitment to update classic NES titles on their recently released Nintendo Switch Online platform. In addition to dropping three new titles into the library, they have also offered a special treat for fans and those with an interest in The Legend of Zelda.
Not only did The Legend of Zelda launch one of Nintendo's most powerful and long-running IPs, but it also brought the idea of saved games to the world of home gaming consoles. Unlike so many other games that were being released on the Nintendo Entertainment system at the time, The Legend of Zelda was demanding of your time. It was a game that would require more than one sitting to complete. To that end, Nintendo dropped a small watch battery into the cartridge and the first game with save functionality was born.
If you never got a chance to utilize that little watch battery to make your own Zelda saves, Nintendo has been thinking about you. Knowing that the original game is long and difficult, Nintendo now offers a special saved game of Legend of Zelda that will start you off with 255 Rupies, some bombs, some keys, and just about all of Link's endgame gear.
If you want to fast track your Legend of Zelda playthrough by accessing all this sweet gear, accessing the new save is super easy to do.
Open up NES Nintendo Online and you will see all of the newly released NES titles on top.
You will see a new version of Legend of Zelda. It has a red banner on it that has "SP Special" printed on it. Select that.
You will immediately be launched into a new game of Legend of Zelda where you will be geared up to the gills.
Of course, if you want to access this content, you are going to have to have a Nintendo Switch Online subscription. If you don't already have one, you can head over to Amazon and get a whole year for only $20
See at Amazon (opens in new tab)
It really is that simple. What I wouldn't have given to have this saved game at my disposal when I was eight years old. Now get out there and save Princess Zelda and the kingdom of Hyrule from the evil clutches of Ganon!
What do you think about Nintendo releasing special saves for their legacy titles?
Let us know below!
Get the best of iMore in in your inbox, every day!
Thank you for signing up to iMore. You will receive a verification email shortly.
There was a problem. Please refresh the page and try again.