How to add Apple Music to your iTunes library on the Mac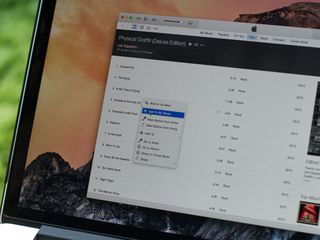 When you subscribe to Apple Music, you can add to your own iTunes music library the many millions of tracks available through the service. It's important to note, however, that you don't own these tracks. Really, you're renting them. So if you sign out of Apple Music, or let your subscription expire or lapse, these tracks will disappear.
Still, this is a great way to fill out your collection with tons of great stuff that you can listen to whenever you want — as long as you have an active Apple Music subscription. You will not be charged anything additional to make these songs part of your own iTunes library, but you do need an active subscription. If you don't, the music you've added will disappear — unless you buy your own copy from iTunes (or another music service) and add it to your library permanently.
How to add Apple Music tracks to your Mac iTunes library
Open iTunes.
Find the Apple Music song or album you want to save.
To add a specific track, select it and click the ellipsis button next to it, then click Add to my music.

To select the entire album, click the + button in the album's title bar. It will change to a check box.


To confirm that the album or song has been added to your music library, click on the My Music tab.
Note that the new song or album you've added is in the Cloud, but hasn't been downloaded to your Mac yet. To download it, click the Cloud button.


Sweet Music
(opens in new tab)
Millions of songs in your pocket.

Apple's music streaming service boasts over 70 million songs, live radio stations anchored by renowned personalities, and thousands of curated playlists spanning every genre you can imagine.
Welcome back, Peter! Where the heck have you been?! Re: Apple Music. I have a Apple Music subscription and I've added a lot of tracks to My Music with my iPhone. What's the easiest/fastest way to use iTunes on my Mac to view just those tracks and buy them with iTunes without having to
1) go back and forth from the Apple Music list to the iTunes store and
2) doing a search and then buying the track as we always used to do? Does that make sense? Thanks!
Get the best of iMore in in your inbox, every day!
Thank you for signing up to iMore. You will receive a verification email shortly.
There was a problem. Please refresh the page and try again.