How to use filters, emoji, sketches, and lenses in Snapchat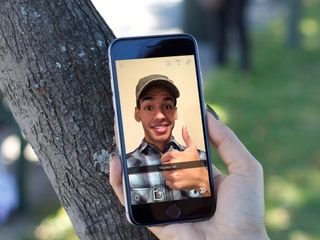 So you know how to use Snapchat, take your photos and selfies, and shoot your videos, but now you want more. You're looking to add some emojis and Bitmojis, play around with filters, add captions, maybe even draw sketches. Here's how you do all that!
How to add emoji and stickers in Snapchat
You can add emoji in the caption box by switching to the emoji keyboard. But you can also add resizable emoji and Bitmoji and loads of other illustrated stickers.
Tap on the stickers icon in the top right corner of the screen to bring up the stickers palette.
Tap the sticker you want to add.
Tap and drag the sticker to move it around the photo.
Pinch to make the sticker bigger or smaller.
Turn your fingers to rotate the sticker.
Tap and drag the sticker to the trash if you want to remove it.
Geostickers are sets of stickers related to your location. So depending on where you are, you'll see a different set of stickers themed according to the area.
First thing's first: You'll need to have your location services enabled if you want to use Geostickers. They only show up in certain locations, so the app needs to know where you are.
You can enable location services within the Snapchat settings menu (looks like a gear).
Head to Snapchat's Settings menu.
Scroll down to Additional Services and tap Manage Preferences.
Tap Permissions.
Tap Edit Permissions.
Make sure Location is set to While Using Snapchat.
If your location permissions are all squared away, all that's left is tapping the right buttons.
Take a photo.
Tap the sticker button (looks like a peeling sticker).
Swipe over to the location category (looks like a map pin).
Choose your sticker!
How to add filters in Snapchat
Snapchat has two different types of filters — the first adds information and context to your photo, the second changes the appearance of your photo à la Instagram.
If you give Snapchat your location, you can access special filters called Geofilters that feature artwork related to a specific location.
Swipe right to access the Geofilters and information filters (like time, temperature, etc.).
Continue to swipe until you find the filter of your choice.
Swipe left to access photo filters.
Continue to swipe until you find the filter of your choice.
How to adjust text in Snapchat
If you find the caption box is too small to really convey the message you're sending, you can adjust it.
Tap the text icon in the top right corner of the screen.
Tap once to left align text.
Tap twice to center it.
Tap three times to return to the default text bar.
Tap and drag the text to move it around.
Pinch to make the text bigger or smaller.
Turn your fingers to rotate the test.
How to draw sketches in Snapchat
Sketches let you doodle right on top of your snaps.
Tap the pencil icon at the top right.
Tap and drag on the palette bar to change colors.
Doodle with your finger to sketch.
Tap undo to the left of the pencil icon to remove any mistakes.
How to use Snapchat lenses
Snapchat Lenses are live effects that actually track your face as you move — it can add a fun, dynamic look to a video or photo. Best of all, Snapchat updates them regularly so there are almost always a few new Lenses to try out.
With your profile in frame, tap in the middle of the screen until you see a series of white lines appear over your face — this is the face-tracking software at work.
If Snapchat was able to recognize your face, you should see a row of circles appear at the bottom of the screen — these are lenses. Swipe left to switch between them. (Tap the "X" below the shutter button to turn off lenses.)
Lenses have certain movements tied to them (raise your eyebrows, open your mouth, etc.). Performing these movements will trigger an animation or sound.
Tap the shutter button to snap a photo or hold it down to record a video — either way, you've got a hilarious (or frightening) image to send to a friend.



○ Download Snapchat (opens in new tab)
○ How to use Snapchat for iPhone
○ How to delete your Snapchat account
○ Snapchat help
○ Shapchat news

Get the best of iMore in your inbox, every day!
Mikah Sargent is Senior Editor at Mobile Nations. When he's not bothering his chihuahuas, Mikah spends entirely too much time and money on HomeKit products. You can follow him on Twitter at @mikahsargent if you're so inclined.
Can we please get a tutorial on uninstalling Snapchat?

Long press the Snapchat icon on your device's home screen.
Tap the red circle with a white "x" in it when the icon starts to jiggle.
Press the home button to escape "jiggle mode".
Voilà! (as to remove your Snapchat account from their server, that's a different tutorial)

I think the original post was 'tongue in cheek' based on the large number of Snapchat posts of late.

We wrote that article last year! One of our most popular of the year! I do wish people would understand that everyone finds different things valuable and important, and try to be more generous with each other.

While you say it was written last year it wasn't obvious to me. I'm guessing that I, like others, noticed a sudden number of SnapChat articles by an author I hadn't seen before. It seemed 'funny' with the timing. I completely understand your point about different articles appealing to different people & demographics.

Wow! I guess somebody did pay to promote Snapchat. I thought this was supposed to be a site about all things Apple. Maybe it's time to start looking at alternatives.

While I'd much prefer a comment like: "Hey, iMore, why the sudden focus on Snapchat?", I'm happy to answer either way: Like I said at the beginning of the year, in 2016 we're putting the MORE in iMore. We've gotten TONS of questions from people confused about how Snapchat works, asking us to do our typical awesome help and how to stuff for Snapchat. This is really nothing new, Snapchat is just a big subject. We've done how-tos on Overcast, Castro, Facebook, Twitter, games, and tons of other apps over the years. It saddens me when comments are cynical but it's our job to make sure you understand the context for what we do, so I apologize if you got caught off guard. Also, while we'd love for you to read and enjoy every post, there's no way everyone is going to value everything, so if Snapchat isn't your thing, please skip to another article that is. Win, win!

Don't read if you don't want to. It's not hard.

They provide articles for popular things, which makes sense because if they're popular people are going to want to read them. So yeah you've got Snapchat and Pokemon Go, both very popular apps so iMore displays plenty of articles for the people using them

oh God don't encourage them. i kid. Sidenote: those goblins and stuff girls put over their face on snapchat or instagram look freaky. I installed snapchat twice. tried it but honestly couldn't figure out the point. I think in the end I couldn't figure it out simply because it's not my thing. The bad thing: I'm old. The good thing: it's one less social media platform for me have to curate.

who does not know this it tells you when you make and acount