How amiibo works on Nintendo Switch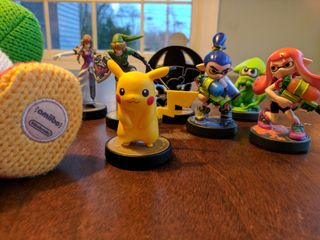 (Image credit: iMore)
While the Wii U itself may not have been a huge moneymaker for Nintendo, there is one part of this experience that exceeded every expectation. In the height of the "Toys to Life" explosion, Nintendo revealed a series of figurines from all of their most popular games, which could interact with the game console with a tap. They're called amiibo, and not only are they available on Nintendo Switch, but it's clear the company is doubling down on this experience.
Here's how amiibo works with Nintendo Switch!
NFC readers are everywhere now
On the Wii U, the only way to send an amiibo into the digital world is via a little square on the Gamepad. Tapping the base of an amiibo to this square sends whatever information you had saved to this figurine into the game you were playing. It works well, but if you're playing a multiplayer game or just plain don't want to use the Gamepad, there's a problem.
Switch does things very differently. The NFC reader is built into the left Joy-Con, which means it sends amiibo data at any time, no matter how you have it connected. The Pro Controller for Switch has an NFC reader built in as well, so any player at any time can use an amiibo to interact with the Nintendo Switch.
This setup resolves a significant user experience bottleneck from the Wii U and makes it much easier for everyone to keep their favorite amiibo nearby and summon them into games when needed.
How to set up amiibo on Nintendo Switch
Collecting time has begun!
There are a ton of amiibo to collect and display, and some that have specifically launched for the Switch. Nintendo has done an amazing job releasing high-quality figurines for amiibo, and it's clear this is still a significant part of the Nintendo experience for Switch players, too.
The best amiibo for your favorite Switch games
We've spent plenty of time collecting amiibo and playing with them on our Switch. Here are some of the best amiibo to collect. Hopefully, you've started early so you don't end up spending a fortune on the resale market.
Have you started an amiibo collection yet? Which is your favorite?
Get the best of iMore in in your inbox, every day!
Thank you for signing up to iMore. You will receive a verification email shortly.
There was a problem. Please refresh the page and try again.