How to buy an iPhone 8 unlocked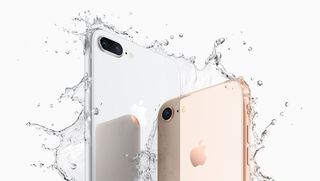 Whether for frequent international travel, ease of switching carriers, or some mysterious other reason that's frankly none of my business, carrying an unlocked iPhone gives you more flexibility than using one locked to a particular carrier. Many iPhones in the U.S. are still sold locked to their carriers, but there are good options out there for getting an unlocked iPhone out of the gate.
So if you're looking to get an iPhone 8 that's unlocked right out of the box, here's how you can do so.
SIM-free
Your most straightforward option for getting an unlocked iPhone 8 is to purchase a SIM-free model directly from Apple (opens in new tab), either online or in an Apple Retail Store. The SIM-free model comes unlocked and is compatible with any major U.S. carrier.
Keep in mind that you'll be paying the full price for your iPhone 8 up front, which starts at $699 for the 64GB model, while the iPhone 8 Plus starts at $799 for the same storage capacity.
See at Apple (opens in new tab)
iPhone Upgrade Program
Apple's own iPhone Upgrade Program offers customers an unlocked phone no matter which carrier they use. You pay in monthly installments and are eligible for one iPhone upgrade per year after 12 payments. The program also includes the AppleCare+ protection program in its cost.
Verizon, AT&T, and Sprint customers can purchase enroll in the program online (opens in new tab), while T-Mobile customers can head to their nearest Apple Store in order to get on the program.
See at Apple (opens in new tab)
Verizon
If you buy your iPhone 8 or iPhone 8 Plus through Verizon, that device should be SIM unlocked at the time of purchase. The carrier says that it's policy not to lock their LTE-enabled phones, with a couple of statements on the subject:
So whether you buy your iPhone on a Verizon installment plan or pay for it all up front, you can just pull the Verizon SIM card out of the phone and insert another one.
Just remember that if you bought your iPhone from Verizon on an installment plan, then later want to switch to another carrier you'll need to pay off the remaining cost of your phone before you do so.
See at Verizon (opens in new tab)
Other U.S. carriers
While this piece primarily focuses on buying an unlocked iPhone, I wanted to mention the unlocking situation with other U.S. carriers.
First, a note on these carriers. While each one does allow you to unlock your iPhone, you should note that you'll need to a wait a bit before doing so. AT&T requires you to wait 14 days before unlocking your device if you've just upgraded your iPhone. T-Mobile will let you unlock your phone after 40 days, and Sprint after 50.
iPhones sold directly by Sprint, T-Mobile, and AT&T can be unlocked if you follow the right procedures. However, there's an important caveat here when it comes to AT&T and T-Mobile: while the SIM-free iPhone 8 will work with CDMA carriers (like Verizon and Sprint) and GSM carriers (like AT&T and T-Mobile), the iPhone 8 for T-Mobile and AT&T will only work with other GSM carriers.
So while you're fine if you need to use the phone with AT&T and T-Mobile, or most other GSM carriers around the world, if you decide to move to Verizon or Sprint, you'll need to shell out for a new phone. An iPhone purchased from Sprint, once unlocked, should work with any carrier, but remember that you may need to pay off the rest of the cost of your iPhone before moving carriers.
Questions?
If you have any questions about buying an unlocked iPhone 8 or iPhone 8 Plus, be sure to ask us in the comments!
Joseph Keller is the former Editor in Chief of iMore. An Apple user for almost 20 years, he spends his time learning the ins and outs of iOS and macOS, always finding ways of getting the most out of his iPhone, iPad, Apple Watch, and Mac.
Hi, I'm a U.S. T-Mobile customer who's interested in purchasing the iPhone X. I have a Best Buy gift card that I'd like to use to make the purchase but Best Buy does not carry the T-Mobile version. Can I buy an iPhone X from another carrier (Verizon or AT&T) but use it on T-Mobile and if so can I use it immediately also, would it work identically to the T mobile version? Thank you in advance for any assistance

Yep, you're good. It'll work.

It's unfortunate the 8's from T-Mobile or ATT won't support cdma. This started with the 7 model. I bought a 6s from T-Mobile and it was nice to be able to pop in a Verizon sim when I went into the mountains. Will this be the same with the X as well? It was reported last year this would only be a temporary issue with the intel modems...

To the commenters above, it's worth noting that Best Buy ONLY carries iPhone 8 in the sim-free/unlocked models. The store associate today told me they use the same models for all carriers, the difference from the old Verizon unlockeds being that they now support all bands. I just double checked the model number I purchased (asked for Verizon for use on T-mobile) and it is MQ6M2LL/A, which is a SIM-free model and does return all of BB's supported carriers (Verizon, AT&T, Sprint) when searched on their site.

I'm currently an AT&T customer on the iPhone Upgrade program. Is there a straightforward way for me to upgrade but request a Verizon / CDMA-compatible Model for maximum flexibility (and performance)?

Hi,
i did buy iphone8+ in your shop(Cennential) a few weeks ago, even though i was told this phone is completely unlocked and will work for me worldwide, im now struggling to get the phone unlocked.
I did use Tmobile(prepaid) in US and everything went fine, now back in Europe im getting SIMLock and im not able to get it unlocked either by Tmobile or Apple as both claims they do not have any record of any lock for my phone. Is there anything you folks in BB have to do? Its really annoying as i have for 2weeks 1000$ brick which i cant use for anything. Thanks

Did you get your Sim Unlocked?. I'm thinking of buying the iPhone 8 or 8 Plus Unlocked Sim Card Free from the Apple Store, buy a Prepaid Sim Card whilst I'm still living in the US until I move to the UK next Summer then buy a Sim Card there. From your comment I'm hesitant to do it as I don't want to waste my money buying the phone in the US if the Sim is Locked and I can't use the phone in the UK, then I might as well buy the phone in the UK and use another phone in the US until I leave. Any help with this would be appreciated, thanks.

Hello, I just ordered 2 Iphone X but t-mobile. And I have cricket provider i know it will work with it but do you think i can get it unlocked from t-mobile since it paid off and i am not T-Mobile customers
Thank you for signing up to iMore. You will receive a verification email shortly.
There was a problem. Please refresh the page and try again.