How to buy songs you like from Apple Music and Beats 1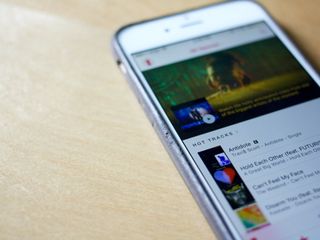 Find a track on Apple Music that you have to own? Whether you want to support a new favorite artist or just want the peace of mind of owning that track or album, it's easy to do with Apple Music's built-in iTunes Store linking.
How to purchase songs you like from Apple Music
On your iPhone, iPad, or iPod touch
Find the song or album in question you want to buy.
Tap the More (•••) button next to the song or album.
Tap Show in iTunes Store.


Find the song or album in question you want to buy.
Click the More (•••) button next to the song or album.
Click Show in iTunes Store.


How to purchase songs you like from Beats 1
On your iPhone, iPad, or iPod touch
Open the iTunes app.
Tap on the Wishlist icon in the upper right corner.
Tap on the Radio tab*.



Tap Buy next to any song in your listening history you want to purchase.
*It doesn't appear that the Radio tab exists in all countries due to licensing restrictions, unfortunately.
Open iTunes and click on the Radio tab.
Start playing any Apple Music radio station, Beats 1 included.
Click the Up Next list icon.



Select the History icon to view your listening history, where songs available on the iTunes Store will show a buy button.
Still need help?
Having issues buying songs you like? Ping us in the comments below and we'll try and help you out.
Get the best of iMore in in your inbox, every day!
Serenity was formerly the Managing Editor at iMore, and now works for Apple. She's been talking, writing about, and tinkering with Apple products since she was old enough to double-click. In her spare time, she sketches, sings, and in her secret superhero life, plays roller derby. Follow her on Twitter @settern.
It would be useful if they add a link between iTunes store, like i previewed a song in the store and i want to stream it over apple music with a simple button i can switch to the music app with the album page Sent from the iMore App

The folks here at iMore (Serenity Caldwell) do a great job of explaining how to use Apple Music. However, I've been a Mac user since 1988, and I've never seen a product from Apple that's required so many tutorials. I mean, doesn't that say something about Apple Music?

I'd really like to know if there's a way to buy a playlist. If a friend sends me a great playlist and I'd like to buy every song on it. Is that even possible in a smooth/smart way?

The problem I have is I cannot purchase music I've added to My Music through Apple Music on my Mac. The Buy button is replaced with Play instead in the iTunes Store.

true... and before it works like described in the article, but now it's not.
what to do?

not very good way to do it is to delete loaded song from local library and then go to itunes store and buy it. but clumsy way..

1 year later, iOS 10.0.2, and I'm in the same boat you are (were?). I've downloaded to my Mac and iPhone about a dozen songs I learned from Apple Music I like. Now I want to buy them so I can stick them on the old iPod touch used in the car (which is trapped at iOS 4.2.1). All of this is fine except when I select under ... Go to Song in iTunes, I get the play instead of pay! Stupid if you ask me. I realize I'm paying a subscription, but I won't forever and I discovered music I legitimately want to buy and can't (without deleting it, remembering it, finding it again in iTunes Store, and then buying it, putting it back into playlists and star ratings, hoping I didn't forget any locations, etc.). Again, stupid. Let's hope Apple fixes it THIS year.

I'm curios to know whether I'll still be able to use Apple Music if I stop my subscription. I know I won't be able to save songs for off line, but will I still be able to stream music at all, or is it useless without the subscription? Spotify lets you use their system to a certain point without subscribing, but will Apple Music?

I cancelled my Apple Music subscription and I can still stream the Radio stations. They just limit you to 5 or 6 skips per hour.

The Show in iTunes Store menu choice does not appear anywhere in iOS 9.2 Apple Music. Can anyone else find it?

Nope, it appears to be gone. It doesn't make any sense to me.

I suspect that it is a push to be constantly subscribed and streaming from the apple music service -- vs buying individual songs. I'd say more power to them except for the fact that apple is not good at making versions for the number 3 platform and lower. This also means that when you really do want to buy a song, you'll be going away from apple. Having said this, on my iPhone7 (whichever version 10 ios this is..), i had downloaded a song by looking it up through iMusic. Not finding the link (following the failed instructions above), I opened itunes, a separate icon, and looked up that same song there. I was able to purchase the song that way. I just wanted the song to be mine -- I'm not worried about playing it on another device yet. So I don't know the state of my library on the iPhone. If the iMusic one prevents the iTunes one from saving, the song may be untransferable. Maybe the iTunes version is the one on the phone. Or perhaps there are ways to 'export' the songs you have purchased. Or perhaps the PC / OSX version of the iTunes application allows more options.. Good luck!
Thank you for signing up to iMore. You will receive a verification email shortly.
There was a problem. Please refresh the page and try again.