How to change Reminder sync settings on iPhone and iPad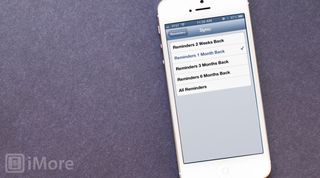 The Reminders app on the iPhone and iPad functions as a great way to make sure you're getting the things done that you need to in a timely manner. If you find yourself creating a lot of reminders, you may notice the Reminders app becoming quite cluttered. To tame the clutter you can change the sync settings in order to only sync more recent events. You can also choose to have it sync reminders further back if you like to refer to older items.
Follow along and we'll show you how.
Launch the Settings app from the Home screen of your iPhone or iPad.
Tap on the Reminders section.
Now tap on the Sync option.
From here you can choose how far back you'd like the Reminders app to sync. Choose a longer time to show older reminders and a shorter time to only show more recent items.
That's it. The Reminders app will now only sync the specified events that fall within the time frame chosen.
iMore senior editor from 2011 to 2015.
1. I love iMore and I love Napkin, too. 2. The napkin diagrams with circular callouts that have been appearing in the last few days are cool but not easier to understand.
The older skitch-style diagrams where you directly circle the relevant UI element in each screen shot is actually easier to read and comprehend. The magnified callout is way cool, but really only needed if there is a UI element that is hard to see in the screenshot. Not saying don't use napkin, but just circle the things people should tap on!

Isn't the purpose of creating reminders to help you remember to get those things done ?? When you go them why not check them off??
Thank you for signing up to iMore. You will receive a verification email shortly.
There was a problem. Please refresh the page and try again.