How to create an Apple ID for a family member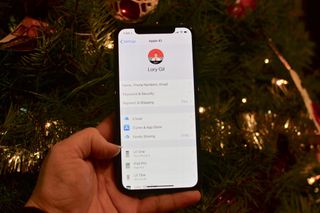 Apple products and the holidays go hand in hand, whether we're talking the company's winter ads or a wrapped iPad next to your tree. I've received (and given) many an Apple product over the years, and part of the fun is the setup process — customizing that device exactly how you (or your recipient) like it.
But perhaps the most important part of the setup process is hooking up your iPhone, iPad, or Mac to an Apple ID. This account gives you access to iCloud, iTunes, the App Store, Apple Music, and your major backup options. If you (or a relative) received an Apple product over the holidays, here's how to get your family set up with an Apple ID.
What is an Apple ID?
An Apple ID is your online account for Apple's software and services: These credentials are used to download content from iTunes or the App Store; they're also used to log into iCloud, which can help you sync and back up your data, access email, and more. Additionally, your Apple ID will sync any TV app content between your current device and any other devices you have that are also logged into that account.
And if you don't have access to your iPhone, you can even use your Apple ID at iCloud.com from any web browser on any computer, phone, or tablet. iCloud.com offers most of your device's features online, including Mail, Notes, iWork document sync, Find my iPhone, Photos, and more.
In short: Your Apple ID is your online passport to all things Apple, and helps all your devices stay in sync no matter where you're working.
Before you start: What you need
In order to sign up for a new Apple ID, you'll need the email address and password of the person you're creating the Apple ID for. Of course, you don't literally need the password, but you'll need your mom, or your cousin, or whomever you're creating a new Apple ID for, to know their correct email address and password to access the email inbox.
You'd be surprised to know just how many people don't know their email password or know how to access it.
If you're helping someone set up an Apple ID, there's a chance that you're not near that person's home computer. If they don't know their email password, they won't be able to log in to check their inbox for the confirmation email that Apple sends.
Before you start, make sure that the person you're helping to set up an Apple ID for is able to log into their email account.
How to create a new Apple ID
If you are getting a new Apple ID for anyone over the age of 13, getting set up is very simple. You can complete the entire process right on that brand new iPhone or iPad. Just open the Settings app and tap Sign in to your iPhone. The process to create an Apple ID will begin after you select Create Apple ID. Remember, you'll need to be able to check the email of the person you're creating the Apple ID for so you can confirm the process. So make sure that's possible before you begin.
We've got a detailed guide to setting up an Apple ID for the first time if you need more help.
How to create a new Child Apple ID
If this is the year you've decided to get one or more of the kids their own iPhone, iPad, or iPod touch, you can create an Apple ID just for them without having to go through all of the steps you'd go through for an adult's Apple ID. This allows you to create an Apple ID using a specially-created email address just for that child. You can even set up parental controls that make it possible for you to monitor what apps or games your child wants to download from the App Store and what books, movies, and music they want to buy.
Check out our detailed guide for creating an Apple ID for a child and how to move a child's Apple ID to your Family Sharing plan.
How to create and manage your Child's Apple ID
If you're concerned with how your little one is going to use their iPhone or iPad, you can set up Parental Controls to restrict the device's usability.
You can also sign up for a full monitoring service like Qustodio to keep track of websites, apps, and games your kids are using. Want to put a time limit on their screen time? No problem.
How to add someone to your Family Sharing account
Family Sharing is Apple's way of letting you share much of your content with people you trust. If someone is on your Family Sharing plan, they can download the movies, music, ebooks, apps, and games that you've purchased. New purchases made within the Family Sharing account will be charged to the family organizer's credit card, which is nice for the kids. Don't worry, they won't go buying up all the movies and games all willy-nilly. Anyone under the age of 18 can have the Ask To Buy restriction enabled, which means you'll be able to remotely allow or decline any purchases.
Family Sharing also makes it easy to keep track of everyone using location sharing or Find My Friends. You can share a family calendar and let everyone know where you'll be any day of the week.
Once you've helped your family get set up with an Apple ID, if they're a close member, you should consider adding them to your Family Sharing account (you can have up to six people in your group).
Apple has also added iCloud Family Sharing to the list of shared account options. You'll have to pay a minimum of $2.99 per month for 200 GB of iCloud storage (the minimum for a Family Sharing plan), but it makes it possible for everyone in the family to store their photos, videos, documents, device backups, and more in iCloud where they're safe if something happens to their device.
How to add a family member to a shared iCloud Storage plan
How to delete an Apple ID
Before you read too far down and get frustrated with the answer: There is no easy way to completely delete an Apple ID. Rumor has it if you call Apple support and ask for a Senior Advisor, you might be able to get it deleted, but if you can't, there are ways to make an Apple ID inert by deactivating it, deauthorizing it in iTunes and the App Store, and signing out on the iPhone or iPad that has been associated with it.
There are quite a few steps to completely shutting down an Apple ID once it's created, but we know the steps.
To all a good night
Happy second day of our Twelve Days of Tech Tips, iMore readers! We hope you're enjoying this series. If you're still feeling a little unsure about how to create or manage an Apple ID, Put your questions in the comments section and we'll help you out.
Get the best of iMore in in your inbox, every day!
Lory is a renaissance woman, writing news, reviews, and how-to guides for iMore. She also fancies herself a bit of a rock star in her town and spends too much time reading comic books. If she's not typing away at her keyboard, you can probably find her at Disneyland or watching Star Wars (or both).
Just make sure your family member or friend is an active participant in making the Apple ID. Make sure the information being entered is accurate and relevant to your friend or family member. If the information entered is incorrect or forgotten, this will cause huge headaches in the future and in worst case scenarios, blocked access to their device.
Thank you for signing up to iMore. You will receive a verification email shortly.
There was a problem. Please refresh the page and try again.