How to delete Stocks and other Apple apps in iOS 10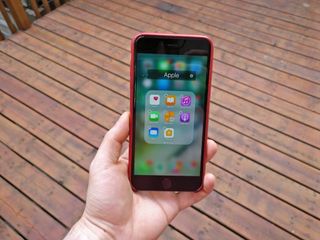 If you want to cut down on the apps you don't use in order to keep your iPhone organized, Apple has a solution for you: In iOS 10, you can easily remove unwanted pre-installed apps. Here's how.
Which pre-installed Apple apps can I delete from my iPhone and iPad?
Calculator
Calendar
Compass
Contacts (iPhone only, contact information is retained in the Phone app)
FaceTime
Find My Friends
Home
iBooks
iCloud Drive
iTunes Store
Mail
Maps
Music (if removed, you won't be able to use it with CarPlay)
News
Notes
Podcasts
Reminders
Stocks
Tips
Videos
Voice Memos
Watch app (you'll have to unpair your Apple Watch before deleting it)
Weather
How to delete a pre-installed Apple app
Deleting a pre-installed Apple app is as easy as removing any other app on your home screen. Here's how.
Open a folder or locate an Apple app you want to delete.
Push down lightly on the app icon until it starts to dance.
Tap the small x icon that appears on the top left.
Tap Remove.
After removing the app, its icon will disappear from the folder or home screen.
One note on removing pre-installed apps: Don't do this if you need to free up some storage space on your iPhone or iPad. Because stock apps are part of the system bundle — some of them are deeply integrated with Siri, in fact — when you delete them, they aren't actually removed — they're just being hidden from the home screen. (It's very similar to the toggle for Apple's iCloud Drive app in iOS 9.)
How to re-install a hidden Apple app
Launch the App Store from your Home screen.
Tap the Search tab on the lower portion of screen.
Enter the name of the app into the search bar. If that doesn't work, you can also search for Apple, then select the developer's page to see a list of all pre-installed apps.
Tap Search in the bottom right corner.
Tap the download button next to the result from Apple. It looks like a cloud with a downward arrow inside it.
That's it! Right now, it's a bit difficult to find Apple's first-party apps through search, but that should get easier after iOS 10 has been released to the public. In the meantime, searching for a well-known Apple app like the Apple Store app and getting the company's listings through there is the easiest way.
Questions?
Can't find an app you uninstalled? Having problems with the process? Let us know in the comments!
Daniel Bader is a Senior Editor at iMore, offering his Canadian analysis on Apple and its awesome products. In addition to writing and producing, Daniel regularly appears on Canadian networks CBC and CTV as a technology analyst.
I understand the concept here, the app (eg Calendar) is gone from the home screen and the data is still there. What if I get an email with a calendar invite? I click on the attachment (ical file) what happens next? Does it launch the stock Calendar program (which is still installed it's just hidden) or can I designate say BusyCal or Fantastical as my default calendar app so it launches in the default app?

As I understand it, no, you cannot choose a new default app. iOS lacks a default app picker. There's the share app which has app intents, but it isn't going to be like Android where it asks you which app you want to be default. As I understand it, it will ask you to re-download the Apple Calendar app.

This really wasn't well thought out. It's like someone decided to implement this at the last minute. This should have gone hand-in-hand with a default app switcher. Half-baked implementation

It cracks me up that the stock app is nominated as the first to go.
How about:
Tips (totally useless)
And...
Podcasts (there are plenty if better ones.)
Apple Watch (u less you have one) I actually use stocks. Sent from the iMore App

Podcasts is great, it syncs with the Podcasts app on your Apple TV and other devices. If you watch Podcasts, why use any other app?

Tips is useful for people new to iOS devices, but yeah pointless if you know what you're doing

Useless after you've had an iphine for awhile hence the desire to eventually delete it.

You basically have to be an old white rich dude to even *care* about stocks. Or in other words, the typical Apple employee. The proportion of Apple's actual users who fit that mould however, is really quite small and always has been.

I'm an old, white, not so rich dude but I have investments. So that makes perfect sense. But I made my first stock buys in my early 20s. Do you millenials not invest? Do yourself a favor and throw a few bucks into some stocks while you're young and otherwise invest what you can. As long as wall st doesn't steal it you'll be glad when you're older.

Thanks Taylor, can't even afford health care to care of ourselves in the present, but as soon as that becomes a possibility again, I'm sure we'll look at investing in our futures once more.

The real mystery is why they ever thought that anyone wanted the stock app in the first place, and why for almost ten years, they didn't realise how offensive it was to have it as part of the base app collection. Calendar and the others at least make some kind of sense, they are things that everyone uses for the most part. Maybe one rich a-hole out of a few tens of thousands uses the stock app though.

The iPhone was originally aimed at business people, and it's just stuck there since. I don't see how it's offensive in anyway, you don't have to be investing in stocks to want to see how the stock prices are doing, plus it's a good indication of how businesses in general are doing, and I find it quite interesting to see how the prices have dipped and risen over the years

Having a stock app is offensive? What? How is this possibly "offensive"? Unnecessary for some, sure. But certainly not offensive.
Anyone can invest, and most people's retirement accounts (401(k), IRA, etc. - for those who are smart enough to contribute) are matched to certain indexes. It never hurts to keep track of how they are doing either. Not that it really matters for me. I have at least 35 years before I can touch those funds, haha.

Offensive? Get a ******* grip. What a moronic description.

Wow, so you are one of the reasons the world is so fkd up! You are OFFENDED by the stock app? Maybe if you had bought a few shares of something on the NASDAQ instead of your iPhone, you would understand that buying stocks is NOT for rich people! I am guessing you're in the category of people who buy things like iPhones, big TVs and cars first, then live in a trailer and blame everybody else for you not having any money!?

Nice remove all that inferior Apple apps with apps designed from companies who know good UI design.
As Rene says iPhone is the best phone since everyone brings their 'A' game. Hopefully Apple steps up their game with some of their apps.

What's wrong with Apple's UI design? Apart from some of their apps being fairly basic compared to the competition, Apple's apps are really small and run really fast, it's incredibly noticeable on an old device. I have an iPhone 4S and most of the apps now take 3 seconds or longer to load, Apple's ones load almost instantly still

This is all about making people like the commenters above think they deleted an app. As the article points out the icon is gone but the code remains because many of the stock apps are interdependent on each other. No freeing up of space by "deleting" an app. It's just a feel good gesture by Apple for those wanting to delete, as they whiningly call them, Apple's crappy apps. Whatever floats one's boat.

Don't be so condescending. We know the binary remains. We just don't want to have to shuttle them all to a garbage folder. Besides, the binaries take up so little space it's negligible. It's not about saving space, it's about removing the icon (and user data.)

Nope. Also about saving space.

All native apps' binaries total about 150MB. So you're space savings is negligible. I bet the stocks app is about 16MB.

It's not about saving space because they don't really use any

They take up space that is better used for something else. Use some common sense. I don't care if it takes up 1 byte. It's wasted with useless apps.

That's the opposite of common sense.

What can you possibly do with 150mb more, and that's only if you removed every system app. Chances are you'd remove about 4-5 of them, maybe about 30mb's worth? What are you going to do with that "valued" space? Most App Store app's won't fit in that space, you won't even get an album of songs in that space. It's completely nonsensical to have that space freed

There are not delete they are hidden. Still using storage

The space that would be saved by deleting them is negligible, it's pretty much pointless for them to be fully deleted

Most exciting new "feature" in years :D (for me) Yes, I'm a minimalist clutter-freak

It's not about the space they use up (cca 90 mb are occupied by unused apps on my phone), it's about the space they use up on the homescreen.. And even if you put them into a folder - they get on a minimalist's nerves :)
The change on iOS10 is therefore welcomed!

Wondering if anyone knows how I might be able to restore the AppStore icon in iOS 10 beta or if this might be one of the bugs to report. Somehow I accidentally deleted it. Thanks

I believe this is a bug to report. Apple's official website states that you must use the App Store to get back hidden apps, and you obviously can't use the App Store to get the App Store back if you don't have the App Store. You should report the bug with the OS in its current state, then do a restore

Not on iOS 10 yet so excuse the ignorant question;
Does it allow us to specify our preferred third party app (eg; email) as default now or do we still get a prompt to reinstall the stock app we deleted? Yes, it's great that I can remove apps I don't need at all like Tips and Watch, but I fail to see how this will work for stuff like email, unless Apple allows me to set a different client as default - eg; tapping an email address on a web page or text message.

Not a iOS 10 user yet so excuse the ignorant question;
Does it allow us to specify our preferred third party app (eg; email) as default now or do we still get a prompt to reinstall the stock app we deleted? Yes, it's great that I can remove apps I don't need at all like Tips and Watch, but I fail to see how this will work for stuff like email, unless Apple allows me to set a different client as default so that I can tap on addresses on web sites or text messages and be taken straight to a compose screen within my preferred client.

The fact that they aren't removed but hidden makes me wonder why Apple didn't just have a toggle in the Settings App to hide these apps. So if we "delete" these apps whats being downloaded from the App Store when we restore an app?

Most people think of removing the apps from the home screen by holding down, waiting for them to jiggle then pressing the X. If they put it in settings barely anyone would know it exists, it'd be one of those where you'd have your friends saying "Hey, let me show you this hidden feature in iOS"

I wouldn't trust seeing a phone without some or any Apple-created apps on the home screen. I'm all for customization but something looks fake when there's not a recognizable app from Apple.

Interesting perspective, people will still end up having contacts/phone/messages on their home screen anyway

Rather than searching, why not just go to "Apps by Apple" on the main page of the App Store? Do they not show up there yet? One of the first places I went when I got my iPhone. Of course, Apple's apps all (mostly) come preinstalled. Whereas with Google/Android it's about 50/50. Varies by manufacturer. (This last sentence is one of the biggest reasons I'm happy to be on Team Apple now. Though really, I love both platforms.)

Remember Your not deleting stock apps, you're just hiding them :)

A lot of people in the comments have already clarified this. The fact is, they're so small anyway that actually "deleting" them would have no benefit whatsoever

The fact we all used to create folders before and stick all the apps we one folder and shoved it out of the way somewhere, so we didn't have to look at it tells us something.. The fact we can hide stocks apps now, its all visual.... We get a fuzzy feeling if we can't see them...

Getting better. First thing I did was delete maps, email, stocks, etc. Just need the ability to delete Health, Home and Photos and I would be even happier. Posted via the iMore App for Android

BTW there are not deleted only hidden. just saying is something different
Thank you for signing up to iMore. You will receive a verification email shortly.
There was a problem. Please refresh the page and try again.