How to earn discounts on Apple products for business with Joint Venture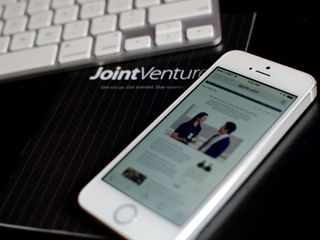 If you find yourself buying lots of Apple products, and you own a business or are self-employed, you might be eligible for discounts and other benefits under Apple's Joint Venture program. Not only does it let you accumulate loyalty points towards new products, you and your employees can receive training, help from dedicated business specialists, VIP level technical support, and more!
How to get more information about Joint Venture and Apple product discounts online
To get started with Joint Venture for your business, the first thing you want to do is contact a business specialist from an Apple Store near you. Here's how:
Visit Apple's website: Joint Venture and One to One

(opens in new tab)

Fill out the Have Us Contact You section on the page in step one.
On the following page, fill out the information completely and then put in the description something about Joint Venture.
A business specialist from one of your local Apple Stores should contact you within a few days. They can explain to you all the benefits of Joint Venture and talk to you about the membership fees associated.
Have any of you become members of Joint Venture? Has it saved your business money? Let me know in the comments!
Get the best of iMore in your inbox, every day!
iMore senior editor from 2011 to 2015.
"...the fees associated with membership."
I'm generally leery of these types of deals. I hope to see some input from others to get a perspective on the value of this program, or lack thereof. Sent from the iMore App

+1 Sent from the iMore App

Joint Venture is $499 a year - it's on the link provided above.

The not-for-profit organization I work for & with are Joint Venture members. This is has been, for us, an invaluable association with Apple. We have less than 100 employees, but our users are between 40 Mac users; and we don't support Android mobile devices, only iPhone/iPad. Benefits? New hires who are asked to use Apple equipment already in place/workflows already working are added to Joint Venture; and free training, free computer tune-ups for work from home/mobile users, and such has been huge for us. Another BIG benefit is Genius Bar call backs. I take excellent notes on steps taken with misbehaving/non-functional machines; and as a result, when the Genius calls me back, they decide after checking serial #'s that a repair, machine swap, or full replacement is in order. That same Genius (usually calling from Austin TX) then can schedule a Genius Bar appointment at my local Apple Store for me. This is huge. They "take care of me." It's also nice being able to just walk in to my local Apple Store with a Joint Venture-attached machine and get instant Genius Bar attention, no appointment required. I try not to do this often, it makes those with appointments wait…but I've had 2-3 emergencies in the past & it's been very, very handy. Also: loaner machines. For an org the size of ours, when a Mac has to be shipped out/or needs to be out for several days for repairs, the offer of a loaner machine has been BIG. I take the loaner back, do a Time Machine restore, and 1-2 hours later, the user is back up & running and can work. It's pricey. It costs us $500-$600 per year, and when you run out of Systems (1 System = 1 Mac, 1 iPhone, 1 iPad, 1  Display, 1 iPod), you have to add another one for $99 a year. But we're shrewd with how we use our Systems; we move stuff around & haven't had any issues yet. So it's not for everyone. Some IT guys I know are still in the "I WANT TO DO EVERYTHING MYSELF I KNOW BETTER" mindset, and that's fine…but not me. I'll take any help I can get with managing IT for my company, and Joint Venture works for me. They give nice discounts on machines as well, anywhere from 5% up to 15%. Doesn't sound like much, but a discount is a discount & we'll take it.

JaxBearsFan, thanks for the input, much appreciated. Great explanation of your use case. This is a service I was unaware of until Ally made this post today.
Maybe I better get looking into this to determine if it has benefits for my very small company. Thanks again. Sent from the iMore App

Thanks Jax. I'm currently not in a position where I feel this would be useful, but I'm drawing up plans for a (very) small business (initially) and this could be something worthwhile when the time comes. And thank you to Ally for pointing this out as well! Good to know it's there as an option, even if it's not the right option for me. Sent from the iMore App

I would like something like this but at that cost I wouldn't get any benefit. We are a 2 person operation with 2 macs, 2 iPads,and 2 iPhones. Sent from the iMore App