How to enable Single Sign-On for the Apple TV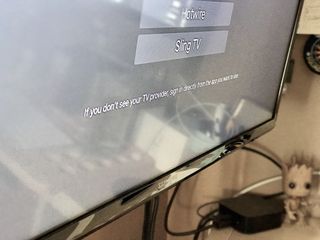 (Image credit: iMore)
Single Sign-On is a feature of the Apple TV that lets you sign in to Settings with your cable provider credentials, then use those credentials to sign in to various apps that can connect to your cable account. This way, you don't have to enter your credentials multiple times. Instead, you just click a button in each app or click Allow when automatically prompted.
What providers support Single Sign-On?
While it launched with only 11 providers, Apple's Single Sign-On feature has been adopted by a wide swath (opens in new tab) of available U.S. cable providers. Additionally, Single Sign-On is supported by cable providers in Denmark, Finland, Ireland, Norway, Portugal, Sweden, and Switzerland.
What are the privacy issues in regards to Single Sign-On?
In the TV Provider preferences pane, Apple offers a section called "About TV Providers and Privacy," which offers users an overview of what information their TV providers will be able to see after logging in. In essence, here's what you're giving to your provider and third-party apps upon connecting them to your Apple TV:
Apps, Apple, and your provider can exchange information about your subscription account (to allow you to access various shows across apps)
Your provider can share your user ID, household ID, and account zip code along with information about your subscription package
Your Apple TV will store your provider name and user ID locally for authorization Much like with iOS's location permissions, when you open a new app, you'll have to OK each one to use your subscription data; if you choose not to authorize that app, it'll default to its original authentication method.
How to enable Single Sign-On
Open the Settings app.
Click Users and Accounts
Click TV Provider under Apple TV Accounts.
Click on Sign In.
Search for or click on your TV provider.
Click Continue to sign in automatically, or Sign In Manually to enter your user credentials yourself.
How to authorize an app with Single Sign-On
Authorizing an app is as simple as opening the program and selecting OK to authorize the sharing of your subscription data.
Before your third-party app can talk to the Single Sign-On feature, it needs an update from its developers; this is because the app currently doesn't know to look for the Single Sign-On data. With the official launch of Single Sign-On, we'll likely see apps begin to push out updates that incorporate this feature soon.
How to find apps that work with your subscription
Open the Settings app.
Go to Users and Accounts.
Click TV Provider
Click Find More Apps.
You'll then be brought to an App Store collection that highlights compatible apps with your specific subscription.
How to turn off Single Sign-On
Open the Settings app.
Go to Users and Accounts.
Click TV Provider
Click Sign Out.
Click Sign Out.
After you sign out, apps will revert to individual authentication options.
Any questions?
Have any questions about Single Sign-On? Let me know in the comments.
Get the best of iMore in your inbox, every day!
Serenity was formerly the Managing Editor at iMore, and now works for Apple. She's been talking, writing about, and tinkering with Apple products since she was old enough to double-click. In her spare time, she sketches, sings, and in her secret superhero life, plays roller derby. Follow her on Twitter @settern.
I'm curious to see which apps actually work with the Sling subscription. Last time I tried linking a few apps to Sling, the results were not encouraging.

Currently none -- but the fact that they're an early provider in the SSO beta is in itself rumor-worth and has be wondering if my SlingTV subscription is about to offer more value :-)

Thanks. Let's keep our fingers crossed! :)

I actually stand self-corrected. Currently, SlingTV as a service authenticator is limited to just 3 network apps. PSVue is much better at this -- I'm currently nearing the end of my trial membership and app or network website authentication as well as being able to skip commercials for DVR'd content are making me wish I hadn't let my Sling subscription auto-renew this month... o_O The fact that SlingTV is listed as a SSO provider is the first indication I've seen that Sling may finally be launching more comprehensive app authentication in tandem with SSO :D http://help.sling.com/articles/en_US/FAQ/How-do-I-use-Sling-TV-as-authen...

I certainly hope that pretty meager list of providers isn't a harbinger of things to come... Sent from the iMore App

This is by far the one feature I can't wait to go live, and as a Dish subscriber I'm excited to see they are on the beta. I've had subscriptions to Dish, DirecTv and Time Warner and Dish blows the others out of the water, their technology has always seemed better than the rest.

Don't give data to any company. Right Rene? Especially Apple who is just a pretender.

The tech world doesn't work in an anonymous vacuum. It would be impossible for content distributors to make any deals with content providers. At least Apple (and iMore) is transparent about the data collected and shared.

I wonder when DirecTV will be available.

it currently is available, but I want to know when Directvnow will be avaialble

Thankyou for useful information Sent from the iMore App

I just signed up for direct TV now. Any good news for me? Sent from the iMore App

What exactly is single sign on? Sent from the iMore App

c'mon Apple. Add DTV NOW Please.

So far, ABC has the best Single sign on integration experience. I'm disappointed a lot of content Apps from channels on DirecTV aren't single sign on compatible. They day they become so, may be the day I turn Apple TV on first rather than the DirecTV box. .