How the Equifax breach affects your enrollment in the iPhone Upgrade Program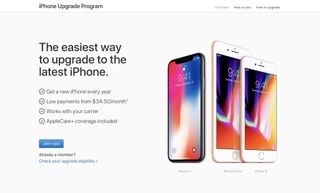 Recently, Equifax announced it had been compromised and as many as 143 million U.S. residents may have had their personal information exposed, including home addresses, birth dates, credit account information, and Social Security numbers. One suggestion from the credit reporting agency, as well as many banks and credit card companies, is to freeze your credit report.
A credit freeze is a way for you to restrict access to your credit report to protect you from identity theft. If you've put a freeze on your credit report, it doesn't affect your credit score or keep you from being able to apply for loans. There are some caveats though.
If you've put a credit freeze on your credit report, there are a few things you should know about applying for your iPhone Upgrade Program loan.
If you're already signed up with the iPhone Upgrade Program
If you are already signed up with the iPhone Upgrade Program, Apple will still be able to access your credit report for a credit check because you have an existing account with Citizen One Bank. The Federal Trade Commission states:
You'll still need to provide Apple with a valid credit card, your Social Security number, your carrier's account login credentials, and two forms of ID if you are re-enrolling in-person at an Apple retail store.
The credit check process should go through without an issue. If there is a problem, call Citizens One at 1-888-201-6306 and make sure you have your 16-digit loan application number nearby.
Joining the iPhone Upgrade Program
If you are joining the iPhone Upgrade Program for the first time, Apple can still run a credit check, but you'll want to first temporarily lift the freeze on your credit report.
I spoke with a customer service representative with Citizens One who said that Apple will run the credit check when you first enroll in the iPhone Upgrade Program. All four credit bureaus will be contacted, starting with Equifax first. Then, Experian, Innovis, and TransUnion.
The credit report agencies must lift the freeze within three business days of your request.
Fees typically range in price from $5 to $10 but are different in each region.
Here are the numbers for the U.S. credit report agencies:
Equifax — 1-800-349-9960
Experian — 1‑888‑397‑3742
TransUnion — 1-888-909-8872
Innovis — 1-800-540-2505
You'll need to provide these credit reporting agencies your name, address, date of birth, Social Security number and some other personal information.
More questions about the iPhone Upgrade Program?
If you're joining the iPhone Upgrade Program for the first time this year or re-enrolling for a brand new iPhone, read through our guide to everything you need to know so you'll be totally prepared when it comes time to preorder your iPhone.
Get the best of iMore in your inbox, every day!
Lory is a renaissance woman, writing news, reviews, and how-to guides for iMore. She also fancies herself a bit of a rock star in her town and spends too much time reading comic books. If she's not typing away at her keyboard, you can probably find her at Disneyland or watching Star Wars (or both).
Thank you for doing the research and posting this info! Very helpful!

Nice and timely article. One question I have, however, is do all four credit agencies need to be unfrozen? If at least one of them comes back with good credit, would that satisfy the bank? I haven't locked my credit yet, but spending $40 and having to wait 3 days every time I need to access my credit seems like a real pain (and expensive).

The first run might satisfy the query, but I'm not sure it'll be enough. If you're not in a big hurry, try just unfreezing with Equifax (that's who Apple contacts first). Then, if something goes wrong, you can always unfreeze the other three and try again later.

Wish things were this clear cut. Even the current business access to frozen accounts provision is not 100%. This was borne out last week when I helped my mother and sister each apply for an additional amex card. Given the current long term relationship we expected amex could pull; no dice. I called AMEX to ask which service (al though I suspected Experian because they work together in other areas). The lower level agent would not say. I asked for a supervisor and they said they couldn't say either, but just to apply, be rejected, placed in pending and wait for email and next day call from the New Accts Dept. The next day call advised that Amex could use the single entity PIN generated by Experian (for free) to do the credit pull. However, neither the random generated PIN nor the PIN defined by me worked when amex tried to use it. I ended up having to pay the 10$ to do a time-limited lift, and within 5min Amex approved the application. I went through this extended routine both times, so my results, n=2, are consistent. (Oh, and I will call amex to dispute the Experian charge because their free PIN feature did not work.) Of course, while YMMV wrt other merchants and credit bureaus, I still recommend you 1) ask merchant which service the pull from, 2) if they can use a single entity PIN, 3) and if these fail, consider adapting my AMEX experience to your own situation. Regards.

Thank you. I was wondering about this exact issue earlier today.

What about the carrier's iPhone program? I have Verizon and I'll be using their Yearly iPhone program to get the X.

This information is the same for any type of credit query. If you are already with Verizon, they will be able to request your credit report because they are an existing creditor. If you are signing up with Verizon for the first time, you'll want to unfreeze your report first.