How to exchange an unwanted Android or Windows gift for the iPhone or iPad of your dreams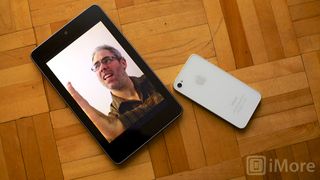 Did Santa somehow leave you a lump of Android or Windows in your stocking instead of the bright, shiny, iPhone or iPad you really wanted? Did your Apple hopes get dashed by the cold, hard realities of a Galaxy, Nexus, Droid, Lumia, Kindle, or Surface? If think you mistakenly got put on the naughty list instead of the nice, don't cry and certainly don't pout. Here's why -- you can exchange it and still get the iPhone, iPod touch, iPad, or iPad mini of your dreams!
How to return your Windows or Android device
This is the most obvious solution, and the route you should take if you're within the return period, is taking your Android or Windows gift back to the store. Regardless of whether the phone or tablet was purchased from a carrier or electronics store, they all have return policies.
If you have the receipt (or can get it from the person who gifted the device to you), and haven't opened the box, it should be as easy as walking in with your Android or Windows device, making the exchange, paying any difference in price, and walking back out with your iPad or iPhone. Worst case, you might have to pay a small restocking fee depending on the retailer and the reasons you give them. (Hint: shop at friendly retailers and give them good reasons for exchange.)
How to sell your Android or Windows device
If all else fails, you can't exchange your Windows or Android device, and you still desperately want an iPhone or iPad instead, you can still sell it.
We've taken a look at tons of these services and many of them take Android and Windows devices in exchange for credit or cash.
Amazon will take almost any device you can think of for a trade-in. It's an extremely simple process and you'll know exactly how much you're getting for the device before you even send it in.
The only hitch here is that you'll be given payment in the form of an Amazon gift card. If you're looking for cash to put towards a new iPhone right now and don't want to wait for Amazon to have it in stock or if the model you want isn't available, it's not the best option.
If you don't mind waiting or Amazon already carries the iPhone or iPad you want to get, Amazon is a great option.
Gazelle offers a service that lets you easily turn most electronic devices into cash. Simply send in your Windows or Android device and Gazelle will send you money after confirming the item condition. The first thing you'll need to do is tell Gazelle what you're selling and what condition the item is in. You can choose from poor, fair, good or excellent condition, and it's important to be honest when rating the condition so there's no hiccups or snags along the way.
It also helps if you have the box and original documentation and cables with your item. Considering you've just recently received the device, this probably isn't an issue for most.
Selling your unwanted device on eBay is a pretty simple process. If you've ever used eBay for selling things in the past then you know the selling process isn't all that tricky, however there are still some things to keep in mind when using eBay to sell things. For instance, eBay charges fees for each auction based on the item you're selling and how much it sells for, among other things, so here are five quick tips to help you get the most out of your auction:
Only ship to the buyer's confirmed Paypal address if using Paypal.
Price competitively, especially if you're using Buy It Now as an option.
Make sure the pictures you use follow your description and are good quality - post pictures of any physical blemishes and be up-front in your description.
Use a fast shipping service and make sure you include that in your item description. People are impatient by nature so sellers that offer fast shipping tend to sell items quicker.
Use keywords in your title and in your item description to attract more potential buyers.
You may also want to consider insuring your item in case anything goes wrong during shipping. Watch out for low-feedback buyers and also keep in mind that Paypal charges processing fees as well.
Craigslist allows you to list items for sale in your area so you can perform the transaction locally and face-to-face. This is a quick way to get some cash to put towards your new iPhone or iPad on the spot and also an easy way to let the buyer check out the merchandise in person before committing to the purchase. As long as you were honest about the condition and specifications, you should have no issue in completing a painless transaction with a buyer.
Don't ever put your personal or home address in an ad. Ever!
Price your devices competitively. A good way to do this is to find existing ads on Craigslist in your area for the same model device and price accordingly. If your ad shows up next to someone else's and yours is grossly overpriced, it won't sell.
Some buyers prefer being able to text or call you immediately about an item and it may increase the likelihood of a quick sale. Having a phone number that they can reach you at is ideal. Only do this if you're comfortable with putting your phone number on the internet. This is a good time to use a Google Voice number or other forwarding number if you have one.
Meet in a public place, preferably in the daytime. A coffee place like Starbucks is a good idea. It's also never a bad idea to bring a friend or relative with you. While most buyers are perfectly friendly, there are shady people out there. If the person doesn't want to meet in a public place, pass on them and wait for someone who doesn't have an issue with that.
Watch out for email scams, something Craigslist is notorious for. Anyone offering to pay you a great deal more than the list price or who asks you to ship the item to a foreign country is a scammer. Delete their e-mails and correspondence immediately and wait for a legitimate buyer to come along.
Sell to a family member or friend
Okay, so maybe you aren't an Android or Windows fan, but there are lots of people out there that are. Selling to a family member or a friend is an easy way to get cash and you already know you won't get scammed. If you really think about it, you can probably find someone in your circle of friends and family that's in desperate need of a phone or tablet upgrade.
Perhaps your uncle is still using a flip phone and has been talking about upgrading to a smartphone for years. Here's your chance to finally talk him into it. Just keep in mind that selling to family or friends that may not be in dire need of the device may lower the selling price so we'd only suggest this route if you're after a quick sale and don't mind covering any potential differences.
More help selling Android and Windows devices
Still need help offing some Windows and Android devices? Our sister sites, Windows Phone Central and Android Central both have marketplace forums that can be a great resource for finding buyers. You already know the viewers are fans of that platform so it may be a great place to find a buyer.
Master your iPhone in minutes
iMore offers spot-on advice and guidance from our team of experts, with decades of Apple device experience to lean on. Learn more with iMore!
iMore senior editor from 2011 to 2015.